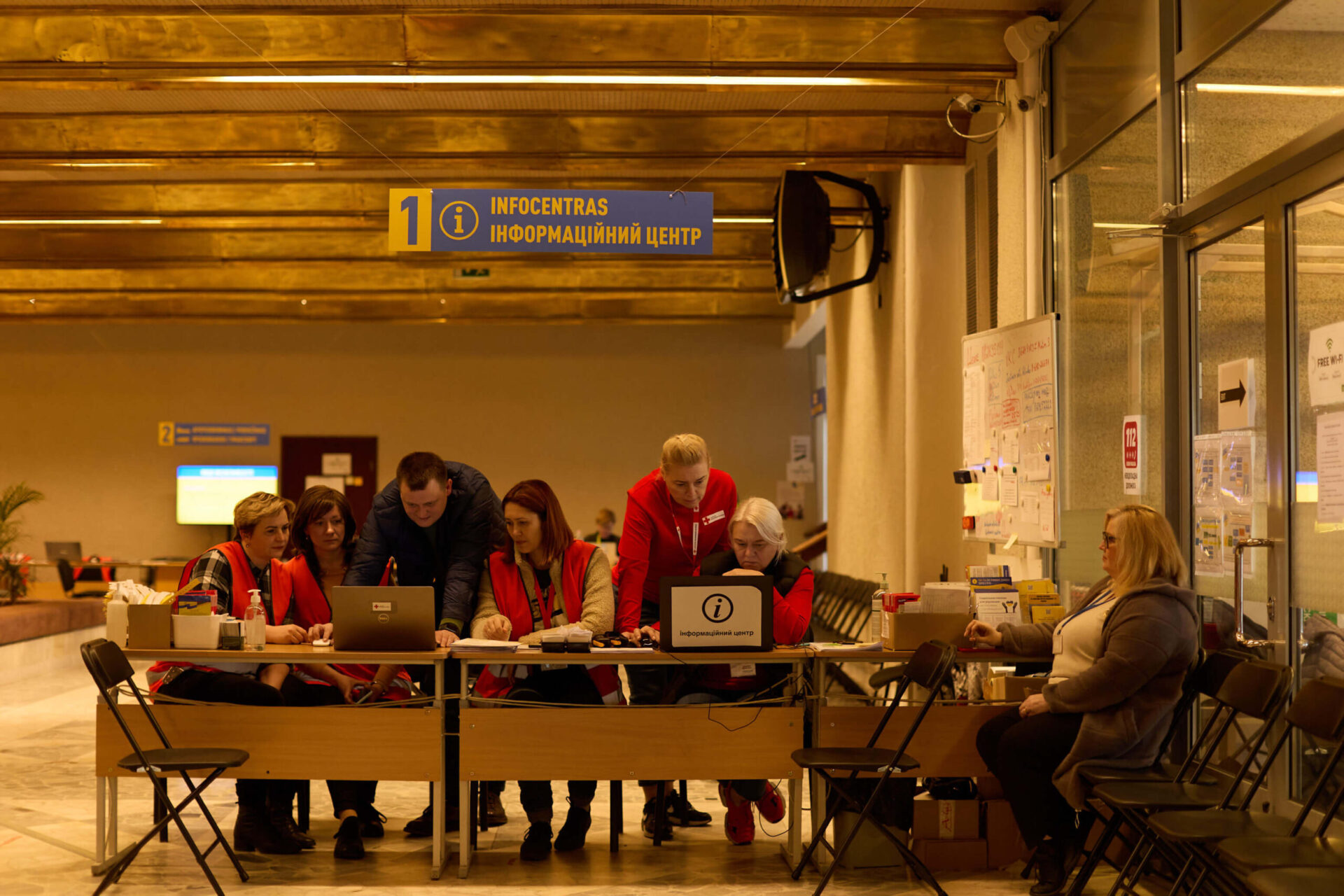 This Is Our War Too
Why Lithuanians are so enthusiastic to help Ukraine. Report from the first center for Ukrainian refugees in Lithuania
On that day, the basketball team of the Alytus Police Department lost to their colleagues from neighboring Marijampolė. On his way back, Mantas Struсkas, the 37-year-old head of the rapid response unit and center on the Alytus team, thought a lot about the war. It started in the morning, and he, like the others, found out the moment he woke up. He read in the news that Russia had fired missiles throughout Ukraine and launched a large-scale offensive with troops. A few hours later, traffic jams formed at the exits from large cities and at the border. "On the way home, we discussed with the boys how we'd have felt if we had to send our children and wives abroad, and stay in our country to defend it," he later recalled. While talking about this, he received a phone call from his senior management: "Hi Mantas. You are going to be the head of the city center for refugees from Ukraine."
Exactly two months later, he retells this story in the lobby of the Alytus Cultural Center. Under his leadership, and thanks to the efforts of the City Hall staff, the local police and numerous Red Cross volunteers, the Food Bank charity organization and Save the Children, in three hours, the spacious three-story building was transformed into the first Lithuanian center for the reception of Ukrainians fleeing the war. The first refugees were welcomed as soon as 25 February. So far, more than 7,200 Ukrainians have passed through the center. In total, Lithuania has already received more than 44,000 refugees from Ukraine.
***
Ukrainian flags in Lithuania are everywhere: on the flagpoles of official institutions, in the windows of private houses and apartments, in shop windows, in street decorations and graffiti, on advertising boards and television. Not only the flags themselves, but also fabric and anything in blue and yellow—blue flowers, for example, to combine with yellow ones in bouquets—quickly became scarce, locals say.
Further support is felt in the people's sympathetic eyes when they find out that you are from Ukraine. Lithuanians are willing to help as much as they can, and in particular with accommodation. So far (at least in the 50,000-strong Alytus), there has been no need for any municipal or state housing to resettle people from Ukraine. This surprised me, but not the Lithuanians with whom I spoke: the locals take everyone into their own homes. Lithuanians can offer accommodation or transportation from the border and within the country through the Strong Together (Stiprūs karta) website. Or, it can be done directly in centers similar to this one.
Ramunė Lamsargitte, 43, an international purchasing manager at a furniture factory, wanted to help. After the shock of the first days, she filled out an application to volunteer at the center. After a few days without receiving an answer, she went there in person. "So do you need volunteers or not?" she asked at the doorway. And she stayed. Now, a few days a week in her free time, she is on duty at the center for 4 hours with the team of Red Cross volunteers.
"What drove you to come and help?" I ask.
"It was fear," she says without thinking. "I was watching the news and was very scared. Not for us, but for Ukrainians. It was scary that this was even possible in our time."
***
Ramunė is responsible for the registration of newcomers. Everything in the center is arranged to make it as easy as possible for the arrivals who are tired from their long journey. The lobby is divided into separate zones. Each step has a number, and there are signs with explanations in Ukrainian. The first point is registration. Ukrainians fill out a short form and receive vouchers for food and hygiene products, which are given to them immediately.  The next steps are: registration with the migration service, and searching for housing and work if necessary. To ensure bureaucratic issues are resolved as fast as possible, the center has 30 workplaces for migration service workers, with several devices for recording biometric data. Each registered person receives a residence permit in Lithuania for one year, with the possibility of extension.
Ukrainians can stay in the center for up to 72 hours. On the second and third floors, there are beds for 300 people. Folding beds, blankets, towels—all bought by the state from the emergency reserve fund of Lithuania.
"Now it is almost empty, but there were nights when almost all the beds were occupied," says Mantas Struckas, coordinator of the center. And he remembers one such night when overnight accommodation was provided to Ukrainians who were on their way to Finland.
"They had escaped from places where intense military operations were underway. I do not remember where exactly. At first, they were evacuated by train across Ukraine, then to Poland, then to us. They spent several days on the road; there were children who I'm sure could have died of fatigue and dehydration. I was carrying one such 4-year-old boy in my arms. He was barely moving."
That day, Mantas returned home and burst into tears over dinner. His three kids were waiting for him at home.
"I have been serving in the police for seven years, I have seen a lot. But this completely derailed me."
Buses from Ukraine still arrive daily, although since mid-March the flow of refugees has reduced. Kautra, one of the largest Lithuanian bus companies, which serves about 6 million passengers a year, was the first to help transport Ukrainians. They provided their buses and drivers, who took people from Ukraine for free and brought them here. One trip costs EUR 2,500. So far, they have made more than 200 such trips, with 50 people on each bus. In the beginning, the initiative was funded by the non-governmental organization Blue/Yellow, which has supported Ukraine's military resistance since 2014. Later, the Strong Together NGO and Ministry of Transport and Communication began to co-finance the project.
60-year-old Larysa from Skadovsk (Kherson region), which is now occupied by the Russians, arrived in Lithuania on a Kautra bus.
***
She reminds me of my mother. They are of similar age, both are ordinary Ukrainian women from the Russian-speaking south with a strong pro-Ukrainian stance. Larysa smiles at me sincerely, as if I am her own daughter—maybe that's why I feel that way. She enthusiastically talks about her hometown.
"Skadovsk is a resort town. We normally earn our money in summer. But in recent years, things have been difficult—because of COVID, there were few tourists, and people have struggled to make any money," she says. She sold pies and cakes to the tourists with all sorts of fillings, such as cheese, apples, and plums.
When the war broke out, Larysa was not at home; she had gone with her eldest daughter to Moldova for eye surgery. Maybe it was for the best that they were not around to witness how in mid-April, the occupiers removed Ukrainian flags from the Skadovsk City Council building and raised the tricolor of the Russian flag.
"We stayed in Moldova for a while. And the youngest daughter and her husband were in Skadovsk all this time. She said that the Russians set up positions on Dzharylhach and launched missiles from there across our town towards Kherson and Mykolaiv. My daughter left a few days ago—taking side roads. They say that after them, no one was let out of the town. They are going from house to house, looking for our men," she sighs.
Larysa's journey from Moldova to Lithuania took 34 hours. Silence reigned on the bus, she recalls—the people were broken and exhausted. All the more reason to enjoy the local hospitality.
"I actually wanted to go to Vilnius. But fate brought me to Ramunė," she smiles at the volunteer who had let her in to her home.
"At that time, there was almost no available housing in Vilnius. We couldn't find a good option for Larysa there, so I decided to talk to her in the hope of finding her a place here with us. We got talking, and I could not stop thinking about her. I called my daughter and told her emotionally, 'I almost took a person in today!' I thought she would talk me out of it, but, on the contrary, she asked, 'So why didn't you do it? I left, the room is free.' So that's how we live now."
Next month, Larysa is to start working at a rehabilitation center—she is trained as a masseuse and has experience. While she is waiting to start her job, other volunteers from the center are booking her massage services on a private basis.
"Do you miss home?" I ask her.
Until now, a smile had never left Larysa's face and she had been chirpy, but she suddenly went quiet. She does not reply, so I continue. I talk about Kyiv, about my apartment in Tatarka, which I haven't been to for two months. I tell her that the things I miss the most are the tablecloths in the kitchen, my mugs, and the flowers on the windowsill. 
"Me too. . .," Larysa wanted to say something, but couldn't. We are silent for a minute, both holding back tears.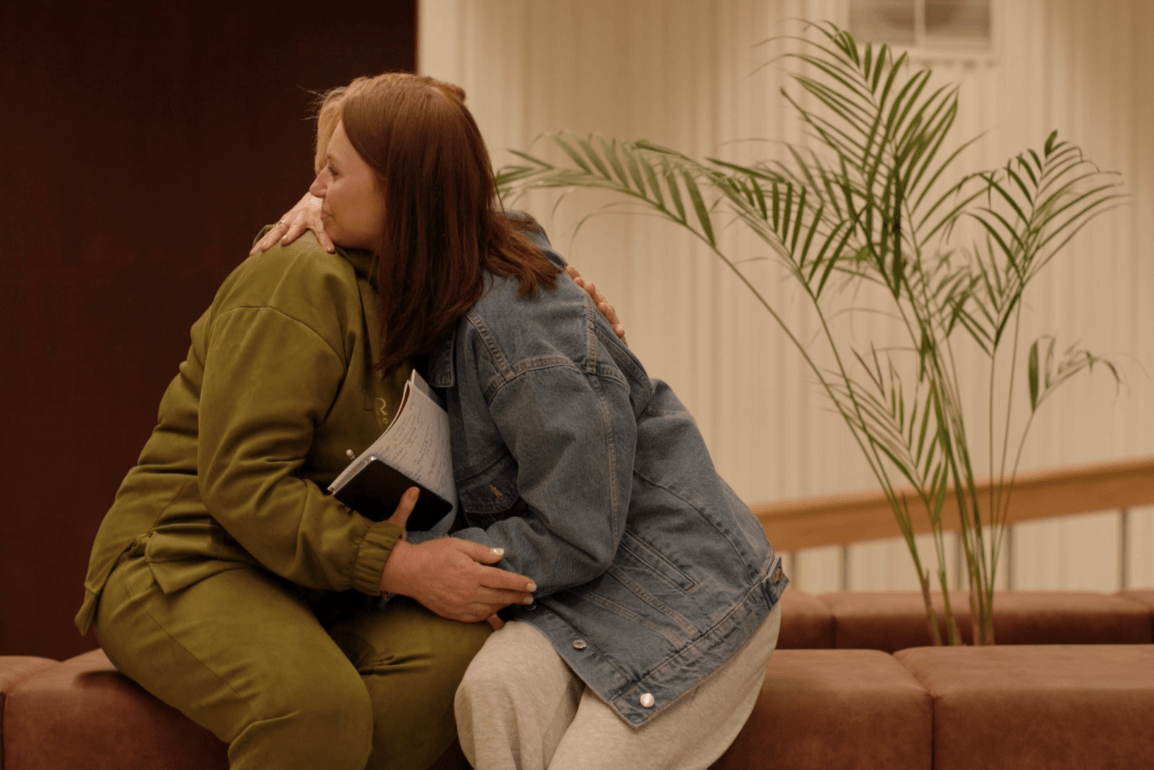 ***
This spring, the Alytus Cultural Center was supposed to host an event called the Days of Culture of Different Nations. Instead, the center is receiving Ukrainian refugees. "We thought that helping those in need was also part of culture," said Vilma Liaukuvienė, head of the local culture department.
She has been here since the very beginning to help coordinate the work of the volunteers as a representative of the city's local government.
"It has been easier for me here," she admits. "Especially during the first days. I got acquainted with families from Mykolaiv and Zaporizhzhia. When you are doing something with your hands, occupying your thoughts, and helping out, you simply don't have time left to endlessly scroll through the news feed. I just come home in the evening, and take one look at the news, so I can sleep better."
We are talking in the second floor corridor, looking at the large children's area where several Ukrainian kids are playing.
"Lithuanians, Latvians, Estonians—we know very well what it's like to live next door to Russia," says Vilma, struggling to get the words out in Russian. "That is why we immediately came to the aid of Ukrainians. People living further away—the French, the Italians, other nations—simply do not have the experience we have. They do not know how cruel the Russians can be, unfortunately."
Vilma recalls her mother's stories about how during World War II, the Russians took everything from the people, down to the last chicken. She recalls the stories of her husband, whose parents both spent their youth in Siberian camps.
"My father-in-law was born into a large family of 22 children. One of his brothers was a high-ranking Lithuanian military man. When the Soviets came, this meant that the entire family was recognized as enemies of the people. Several brothers fled into the woods and became partisans, the rest were sent into exile. My husband's father spent 10 years at a coal mine in Siberia."
"Ten whole years," she repeats. "From 18 to 28. These should have been the best years of his life, but he spent them underground. It hurts to think about that. This is just one story out of thousands. We all grew up knowing such stories. Our parents often talked to us about this cruelty."
I understand very well what Vilma is talking about. My Lithuanian family also has several similar stories.
"I am proud of my people," says Vilma, "that we, so small, were able to resist. But today, I am just as proud of the Ukrainians. Sometimes I feel so bad, but then someone breaks out in song or makes a joke. Your common sense, sharp humor, your patriotism will save not only Ukraine but the whole of Europe."
***
Olha and her 7-year-old daughter Mariia came to the center to get a EUR 115 one-time food voucher. They came to Lithuania from Rubizhne, Luhansk region. At home, the family had lived for a month in the basement of a high-rise building. When they left, all the windows in their apartment were broken, and the neighboring building was completely destroyed. The town was already occupied.
"We were well received here," says Olha shyly. "They gave us a house in the village. Its owner lives next door and helps us. My eldest son stayed in Ukraine—he is fighting in the war, and I am very worried. But at least my daughter is safe. She was so happy to finally be able to walk her dog in the open air instead of around the basement. She is still amazed by this."
Thousands of such families have already been welcomed in Alytus. No one knows how many more will arrive and how long they will have to stay here. But the locals are no less enthusiastic to help.
"We have 40 to 200 volunteers a day," says the coordinator of the center, police officer and basketball player Mantas Struckas. "It's difficult since this is a small town and not so many people. They all have jobs, but they keep coming to help. I think some of them are tired, but I am grateful to them for their continued help." 
"This is our war too," he says. "And each of our volunteers, and me here—we are fighting on our own front. We are being told, 'You're next!' and we understand this perfectly well. And it's our duty to help you."
The Lithuanian volunteers can be supported at the websites of Strong Together or Blue/Yellow.
Our media can be supported
Дочитали до кінця! Що далі?
Далі — невеличке прохання. Будувати медіа в Україні — справа нелегка. Вона вимагає особливого досвіду, знань і ресурсів. А літературний репортаж — це ще й один із найдорожчих жанрів журналістики. Тому ми потребуємо вашої підтримки.
У нас немає інвесторів чи «дружніх політиків» — ми завжди були незалежними. Єдина залежність, яку хотілося б мати — залежність від освічених і небайдужих читачів. Запрошуємо вас приєднатися до нашої Спільноти.