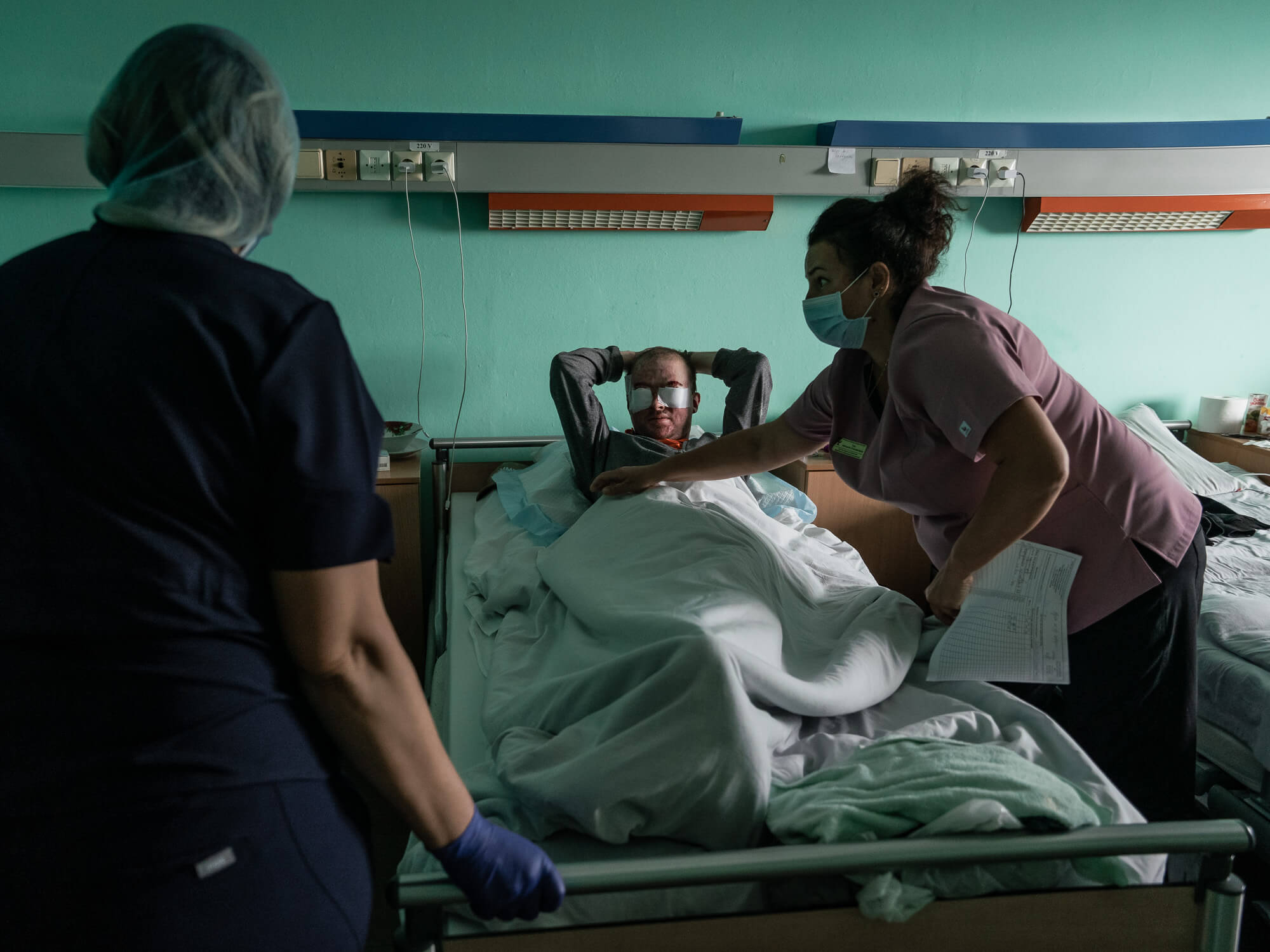 Patched Up Souls
US plastic surgeons operate on Ukrainians whose faces were scarred by the war. Photo story
The hospital elevator groans under the weight of a dozen passengers—patients and doctors—climbing to the upper floors. The 745-bed Ivano-Frankivsk Regional Clinical Hospital receives about 25,000 patients every year. It is never empty here: 15 local surgical departments perform approximately 15,000 operations a year.
"But the ones you are about to witness," says one of the doctors, "are completely new for us. There has never been a similar exchange of experience between Ukrainian and American doctors."
In the long corridor, ENT specialist Dr. Nataliia Komashko immediately attracts everyone's attention. She hurries between the manipulation room and the wards, ever so slightly worried, holding in her hands the personal files of numerous patients. Today is a big day for her and other local doctors because it is the start of a new joint mission of American and Ukrainian surgeons—"FACE TO FACE Ukrainian Medical Mission" organized by the American Academy of Facial Plastic & Reconstructive Surgery together with the Razom for Ukraine and Ingenius organizations.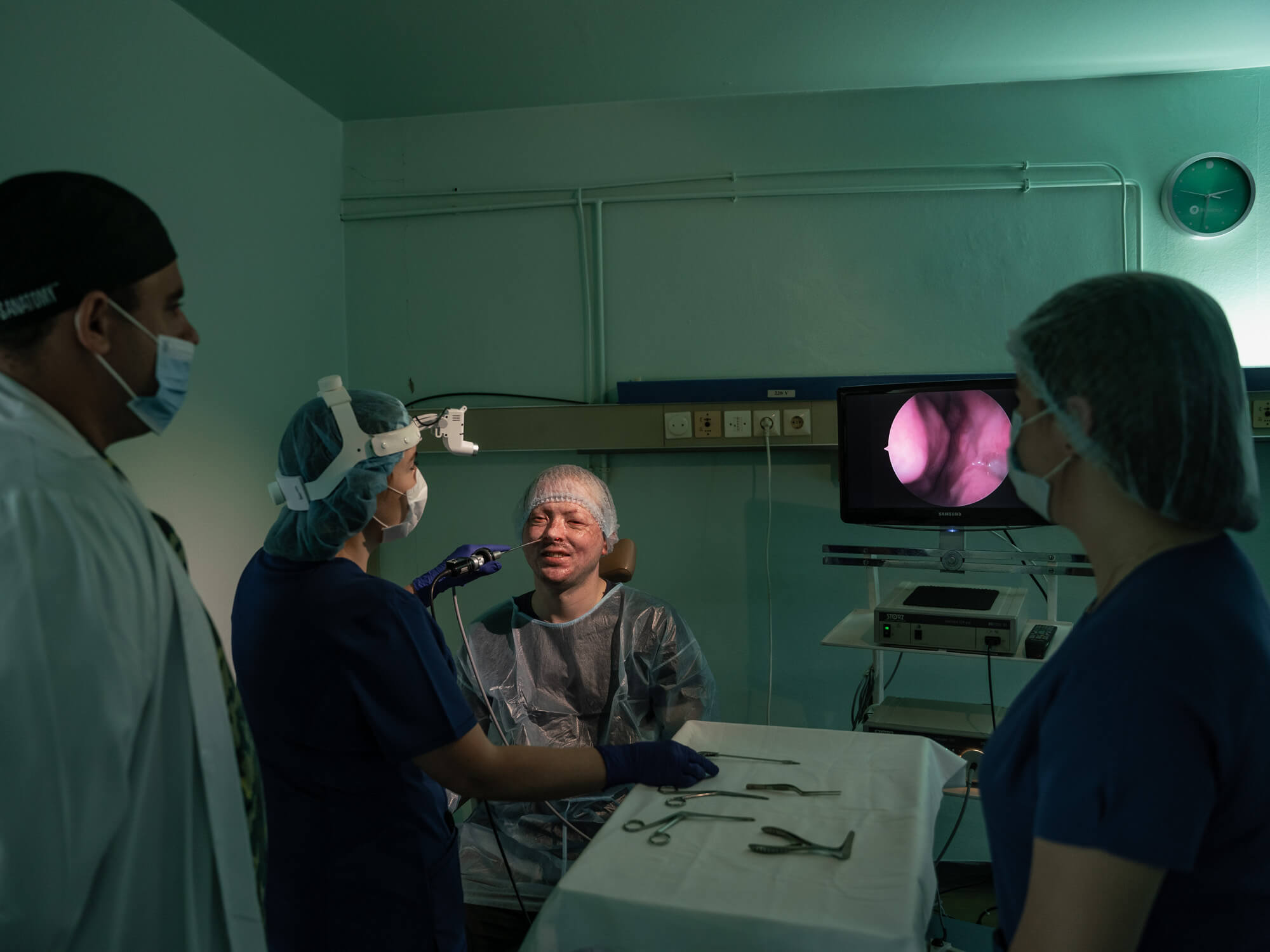 Back in the summer, colleagues from the United States offered the doctor to jointly perform several dozen plastic and reconstructive operations for the Ukrainians who suffered from Russian aggression. Before that, Ukrainian by birth, otolaryngologist Ivanka Nebor applied to other medical institutions, but in the end only the Ivano-Frankivsk Regional Clinical Hospital was able to take on the mission.
Two medical coordinators, Nataliia Komashko from Ukraine and Ivanka Nebor from the USA, rallied a total of over one hundred colleagues. 10 experienced American surgeons came to operate, and 130 to 150 medics watched the live broadcast of their joint work with Ivano-Frankivsk doctors at different times.
The Americans brought a lot of equipment and medicines. In four days, together with their Ukrainian colleagues, they operated on a total of 35 patients who were wounded to the head, neck, ears, eyes, and throat.
At first, they planned to involve in the program only military personnel and the veterans of the Russian-Ukrainian war. But when applications began to arrive, the doctors agreed to treat civilians as well. After all, civilians make up about 15% of the total number of their patients.
The doctors held a joint consultation for each patient. Being in different time zones, they discussed and consulted about how to help as many people as possible in a short period of time.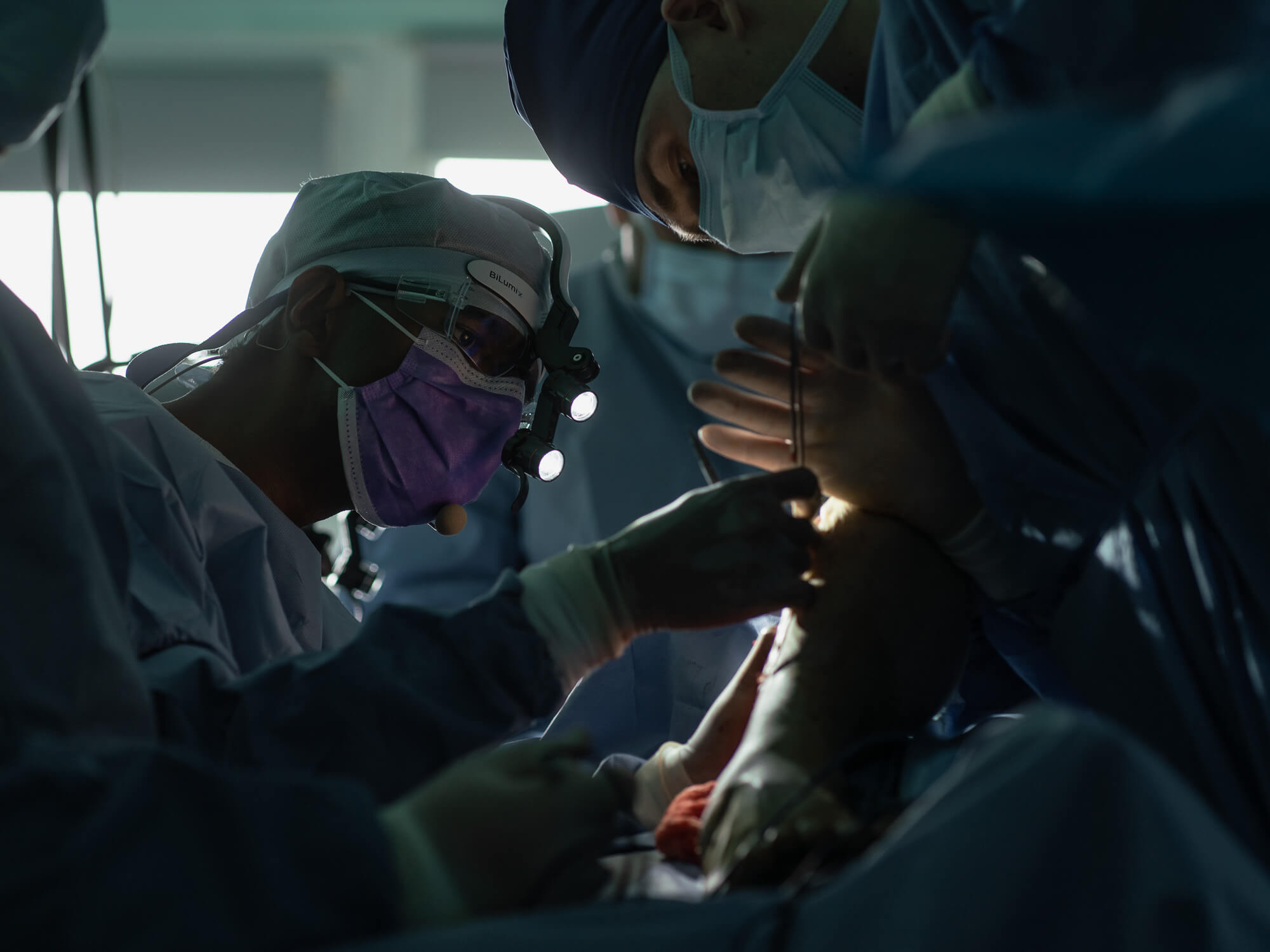 "For some of the patients," says Komashko, "we even ordered prosthetics." Bioengineers from Belgium wrote to me on Facebook that they can use a CT scan to 3D print parts of the missing bones, such as cheekbones or lower jaw. We discussed their offer, engaged them in our consultations, and everything worked out!
Since the spring of 2014, and especially since the beginning of the full-scale invasion, Ukrainian civilians and military have been suffering from Russian aggression literally every day. Russia tortures, kills and injures us. Russia fires mines, shells, missiles and bombs day and night. Over the past seven months, the occupiers have injured tens of thousands of our men and women. It is impossible to tell about everyone, although behind each one of them there is a great human story of struggle and pain.
This photo story is our way to thank the Ukrainian and American doctors and call on the world to keep providing comprehensive assistance to Ukraine.
---
Roman Belinskyi, 42, a soldier of the 72nd Separate Mechanized Brigade named after the Black Zaporozhians (Kolomyia, Ivano-Frankivsk region)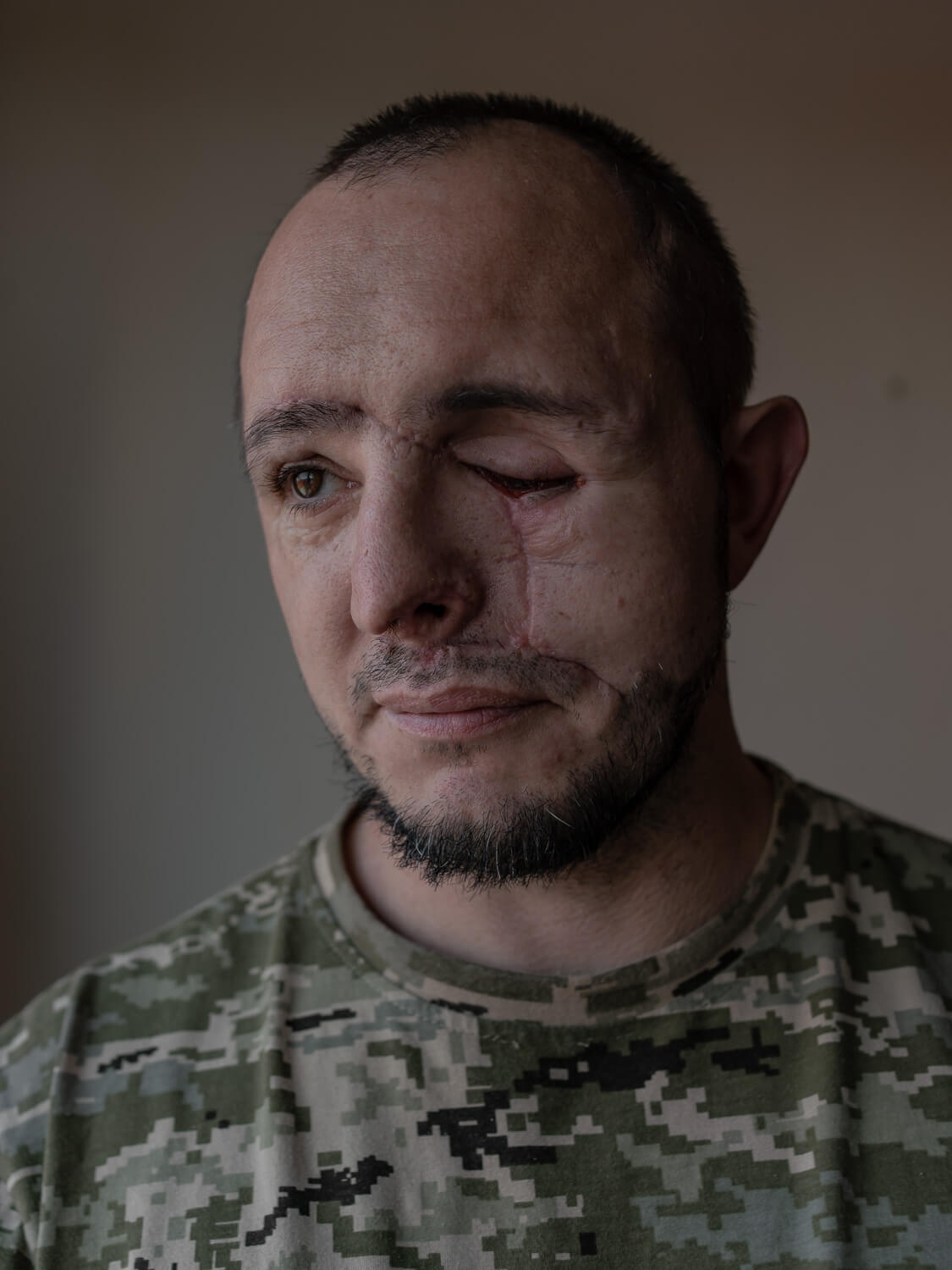 In May 2022, Roman was seriously wounded in a tank battle in Zaporizhzhia. He lost an eye and a part of his jaw, and suffered numerous shrapnel wounds. Roman's surgery in Ivano-Frankivsk lasted about 10 hours and was one of the most difficult. Doctors predict at least one more surgical intervention for the man, six months after which he will be able to receive an eye prosthesis. Belinskyi remains an active serviceman of the Armed Forces of Ukraine and plans to try himself as a combat training instructor.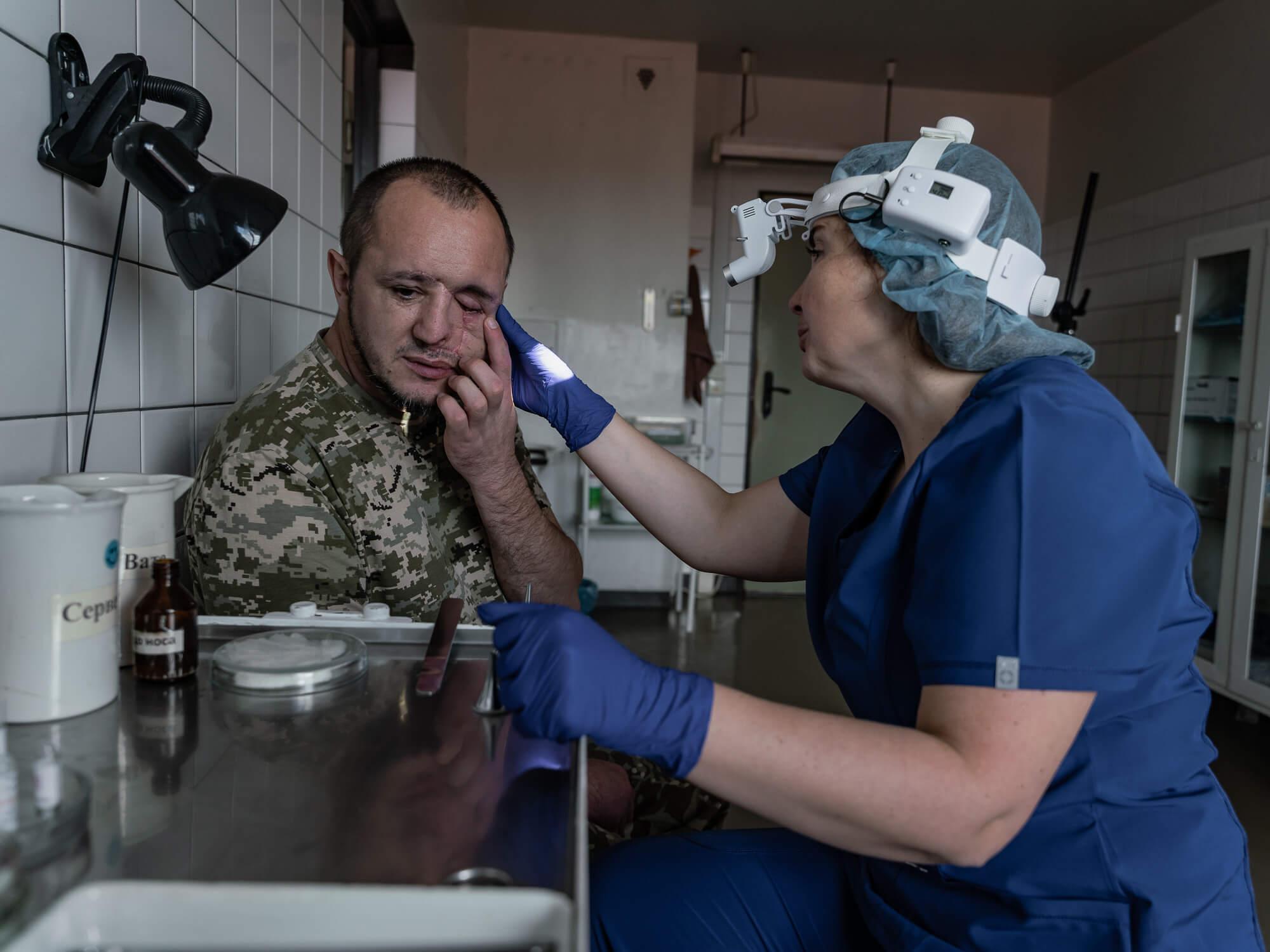 ---
Polina Chervakova, 44, saleswoman (Bucha, Kyiv region)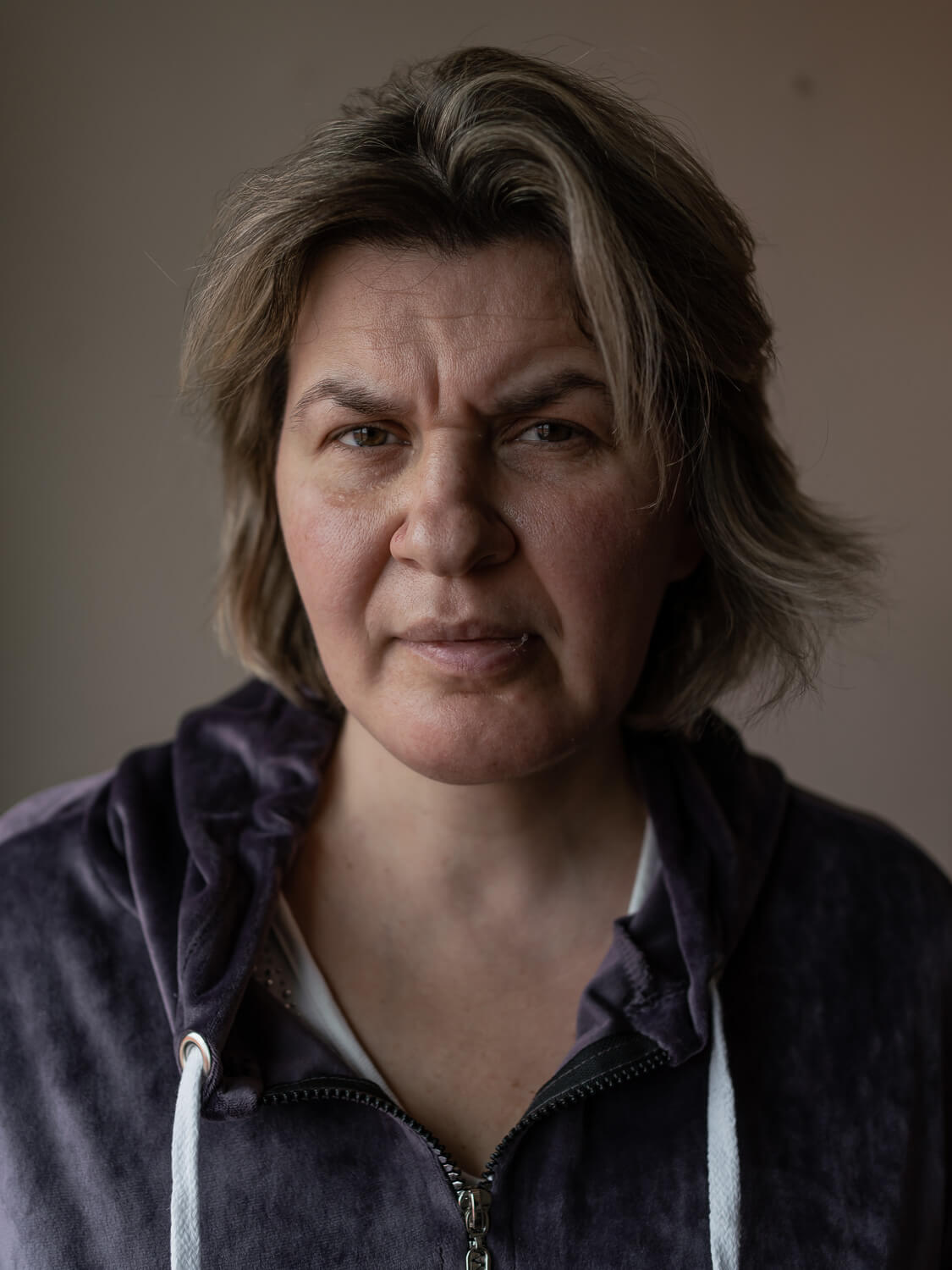 On March 2, Russians shot Polina Chervakova's car from a tank near Myrotske village in the Kyiv region. The woman and her stepson managed to jump out of the car and run into the cottage co-op. But there they were shot by an enemy sniper: two of his bullets hit Polina's shoulder blade and jaw, and the third one hit her 28-year-old stepson Vladyslav in the leg. The woman suggested that the immobilized boy play dead and in the meantime ran to look for help. Chervakova bumped into some people a few times, but they were very frightened and simply ran away.
In a pain shock, Polina wandered the roads and forests for several days, and then noticed a Russian checkpoint. Enemy soldiers gave her a white bag and armband: they said that if she walked between their tanks with the bag held up, the Russians would not shoot. Chervakova had no choice: she kept going and by pure miracle reached Blystavitsia, a village near Bucha, where her mother lived.
While looking for his wife and son at the place where a Russian tank shot their car, Polina's husband was instead captured. Russians beat him and then stripped him to check for patriotic tattoos. Having made sure that the man is not a Ukrainian soldier, they let him go. Polina did not receive proper medical care until the deoccupation of Kyiv Region on April 1. Her stepson is still not at home. According to their relatives, Russians captured the boy and took him to one of their border towns.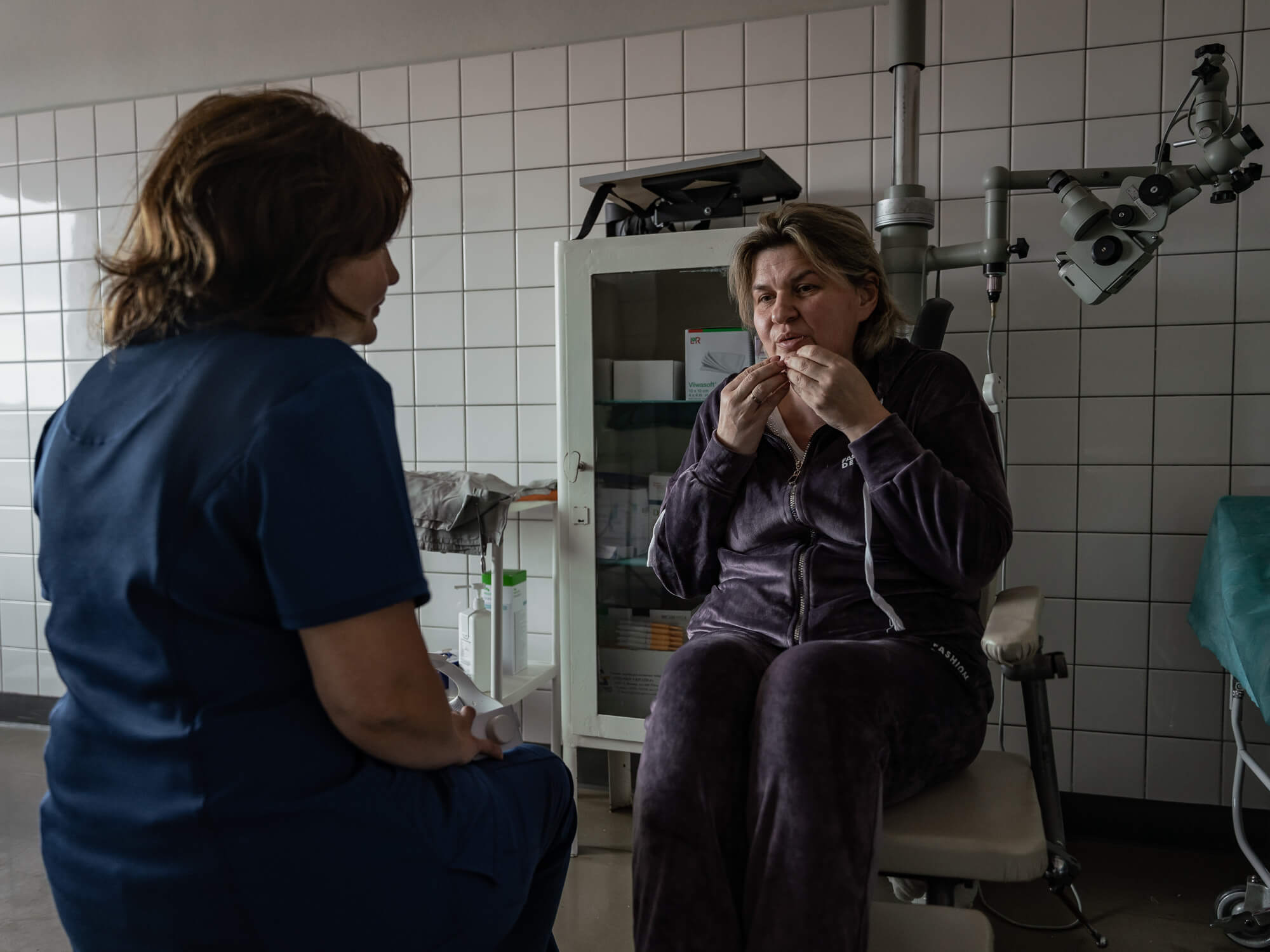 ---
Danylo Yevtukhov, 37, senior soldier of the 1st separate tank brigade (Kyiv)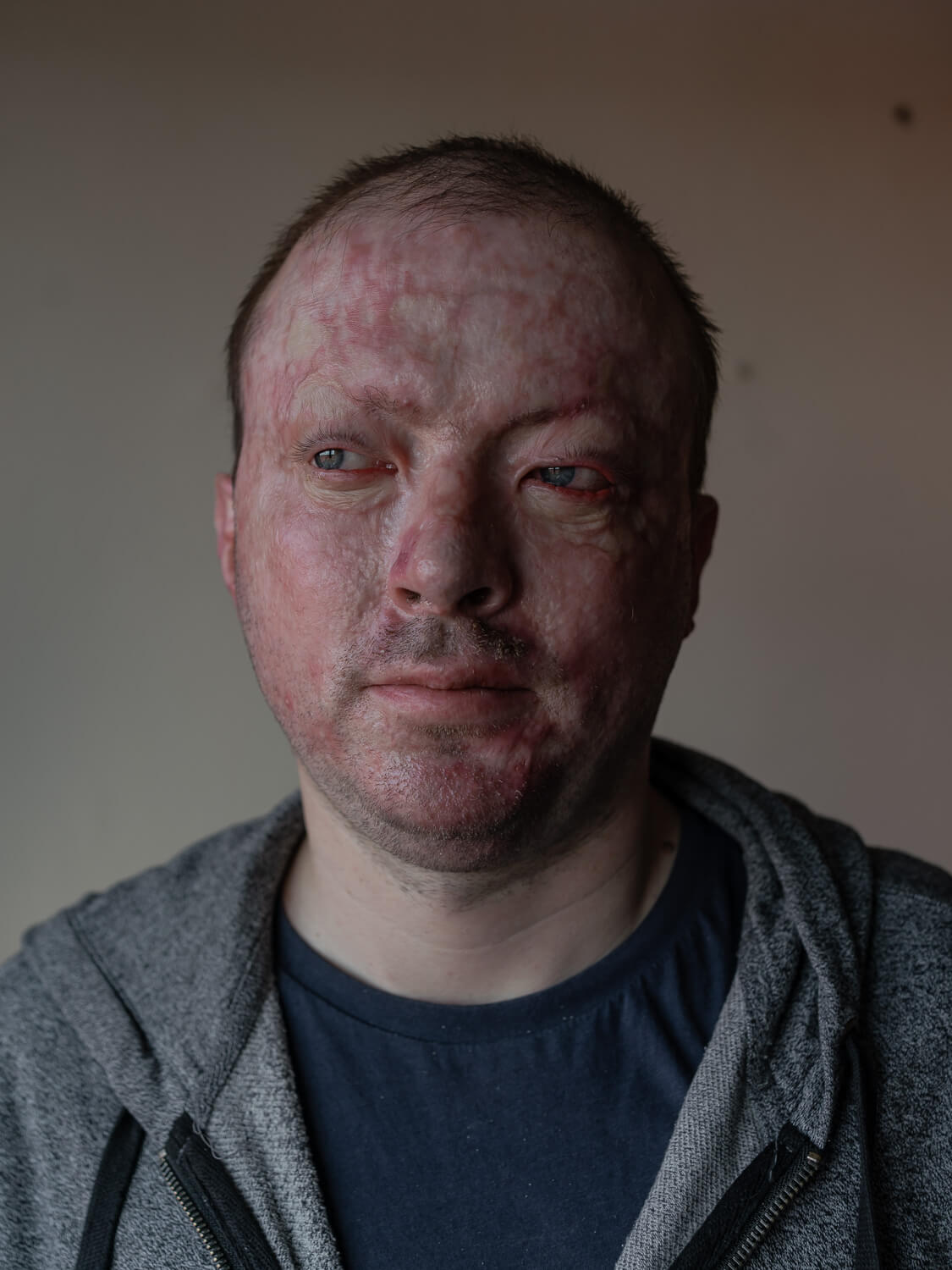 On March 5, an explosion occurred on the territory of an abandoned car service station near Chernihiv, where Yevtukhov's unit was stationed. As a result of the tragedy, the man received multiple burns on his face and body and barely survived. Comrades evacuated Danylo to Chernihiv, which at the time was being massively attacked by the Russian air force. Before the war, Yevtukhov was a sociologist, and he refused the disabled status, because after operations and recovery, he hopes to return to military service and continue fighting. The man is unconcerned about the scars on his face. The main problem, he says, is the eyelids that were affected by the burns, and now his eyes do not close completely even during sleep.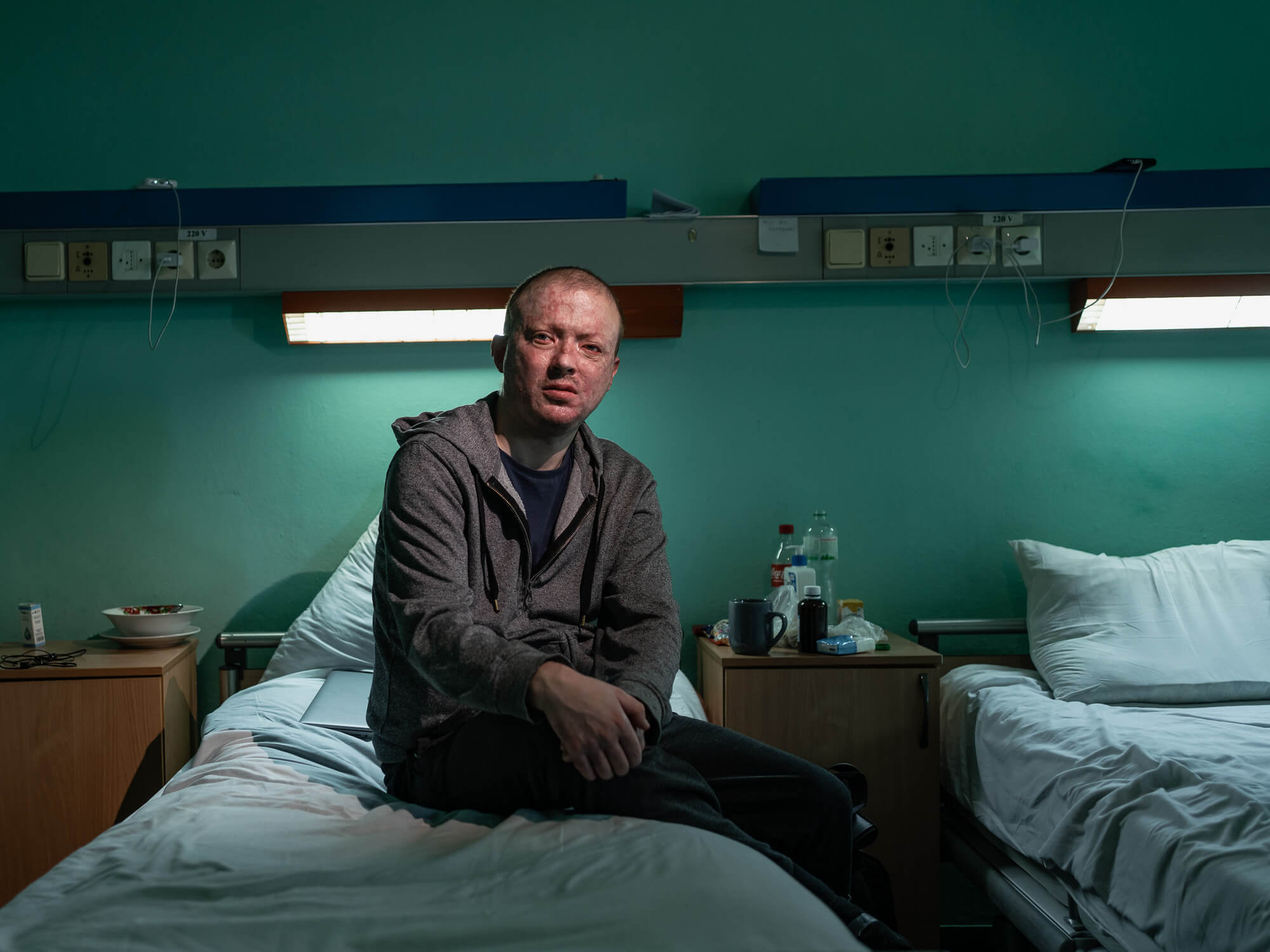 ---
Roman Holovnev, 36, construction worker (Mariupol, Donetsk region)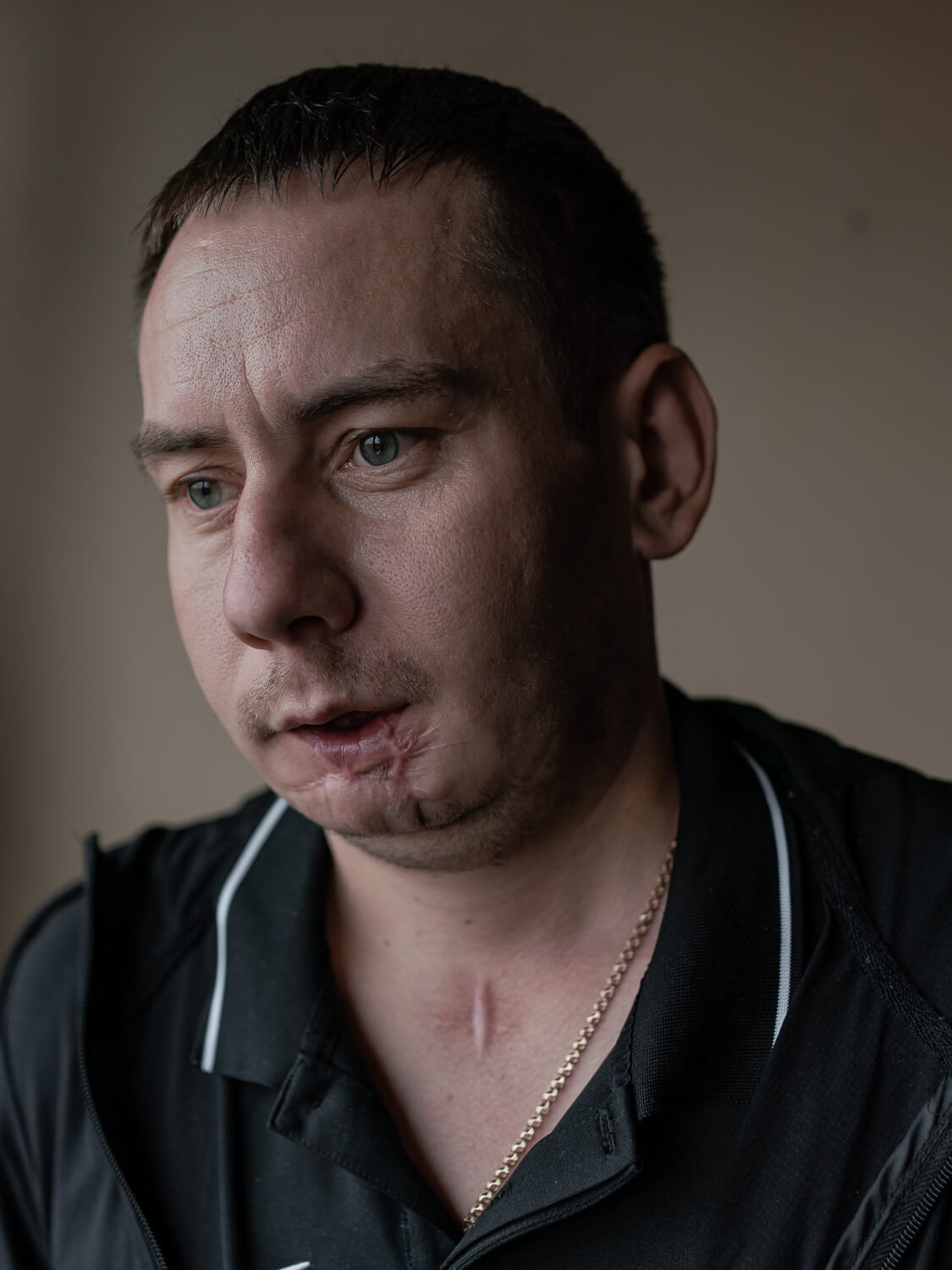 On March 28, a half-ton Russian FAB-500 airbomb hit the Romanovs' house in Mariupol. When the man and his surviving neighbors were moving their personal belongings from one entrance to another, they encountered the Kadyrovtsy [forces operating under Chechen Prime Minister Ramzan Kadyrov—R.]. The Russians started shooting at Roman: first they hit him in the leg with a machine gun, and when the man fell to the ground, they threw a grenade at him. Exhausted and seriously wounded, he could not get help for several days and hid from enemy air raids near his own home.
Realizing that the only chance to survive is evacuation, the man left Mariupol on foot. On the way to the village of Sopyne, he came across a checkpoint and asked for help. The Russians surprisingly took pity and took the wounded man to Novoazovsk, and then to Donetsk. After receiving medical help, the man was getting out of the occupied territory for several weeks. In order to leave Donetsk, Roman collected money from his friends and acquaintances. For 300 euros, a driver got him through Russia to Latvia and Poland. From Poland, Holovnev came to Kyiv: he found a job and now dreams of starting a new life in the capital.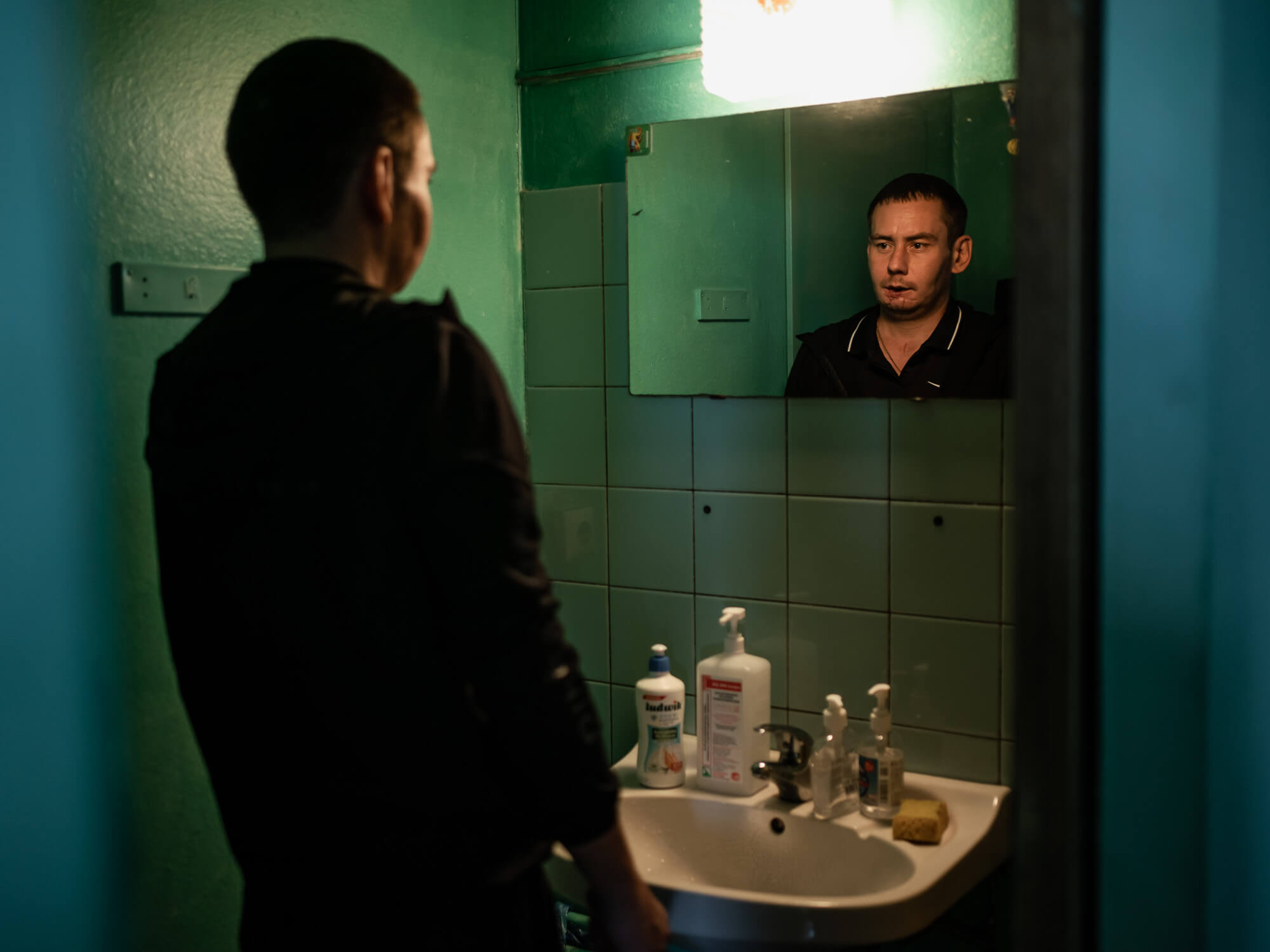 ---
Vitalyi Zubovych, 41, veteran and volunteer (Kryvyi Rih, Sicheslav region)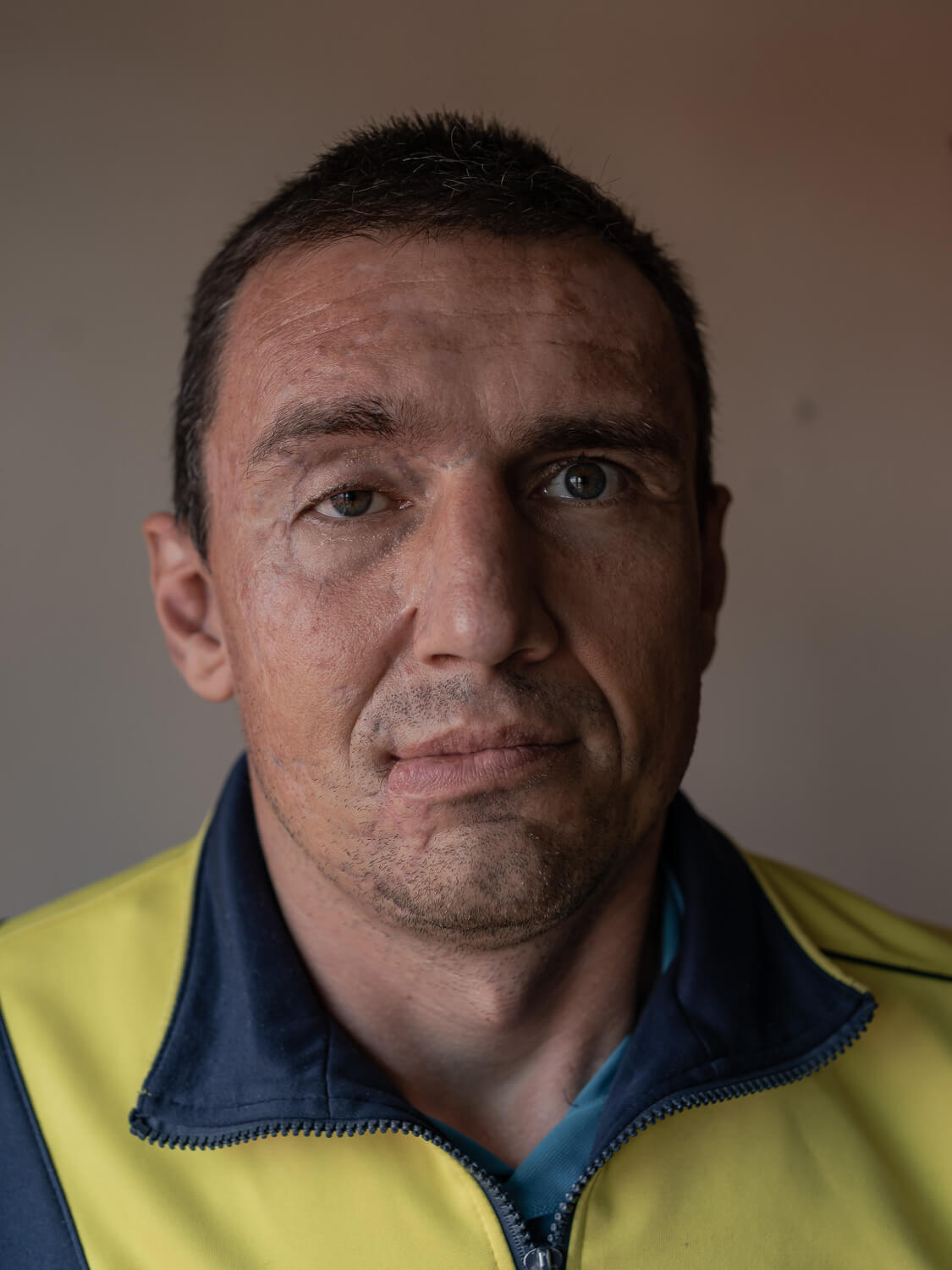 At the beginning of the full-scale invasion, Vitalyi Zubovych came from Kryvyi Rih to Kyiv. An experienced veteran of the Anti-Terrorist Operation, he was afraid that official mobilization would prevent him from quickly joining the defense of Ukraine, so he got to the front as an enlisted person with one of the volunteer units. On March 20, the man blew himself up on a landmine near Baryshivka village in the Kyiv region. Several foreign volunteers were traveling in the car with the man, but only Zubovych was seriously injured. Vitalyi lost his foot, his body was cut by shrapnel and his tendons were ruptured. While preparing for an operation in Ivano-Frankivsk, he translated epicrises into English for other patients. As soon as he finishes his treatment, Zubovych plans to return to service. He says he will fight until the victory.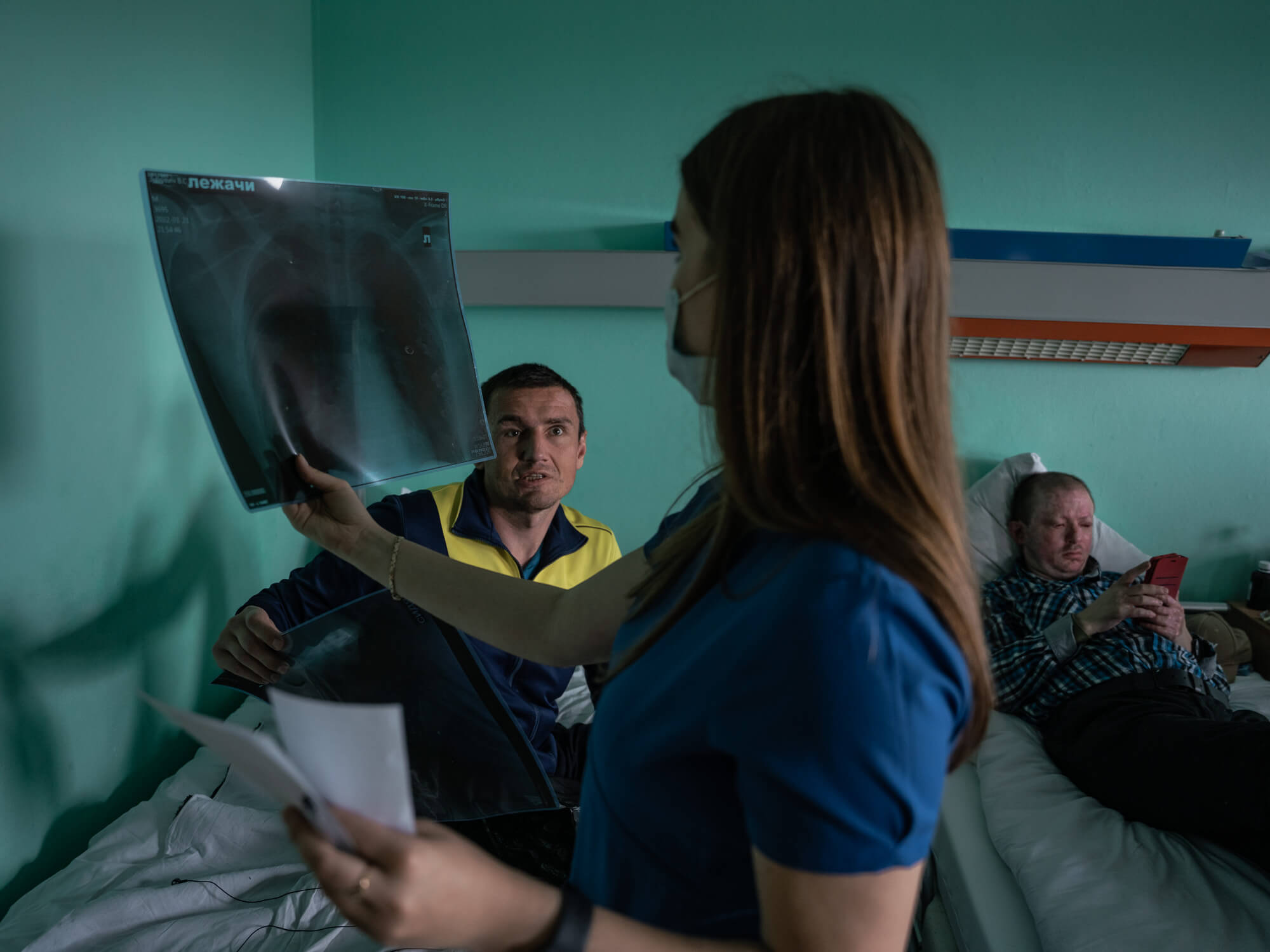 ---
Hlib Ivankovich, 21, student (Bilhorod-Dnistrovskyi, Odesa region)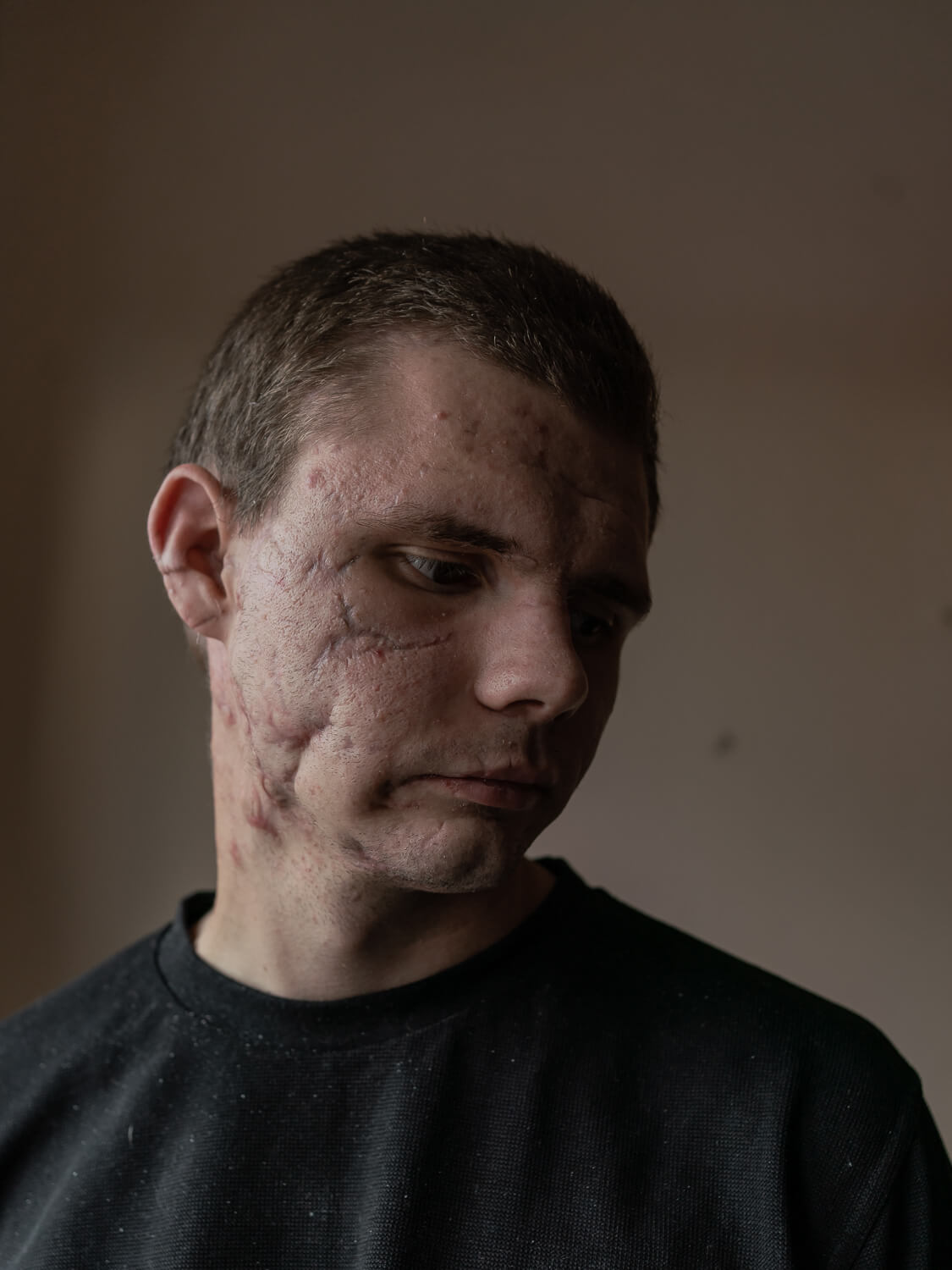 Hlib was injured in the Russian missile strike on Serhiiivka village, Odesa region. On the night of July 1, Russia hit the resort village with three Kh-22 missiles fired from Tu-22 aircraft in the Black Sea. The rockets hit the high-rise building and "Goji" recreation center , where the boy was celebrating his bachelor's degree. A total of 22 people died from that shelling. Hlib, four of his friends and more than 35 civilians received injuries of varying severity. After one of the regular surgeries on his face, the doctors took out from the boy's cheekbones fragments of glass that would take up a half-liter can. Some of the debris will remain inside his body forever.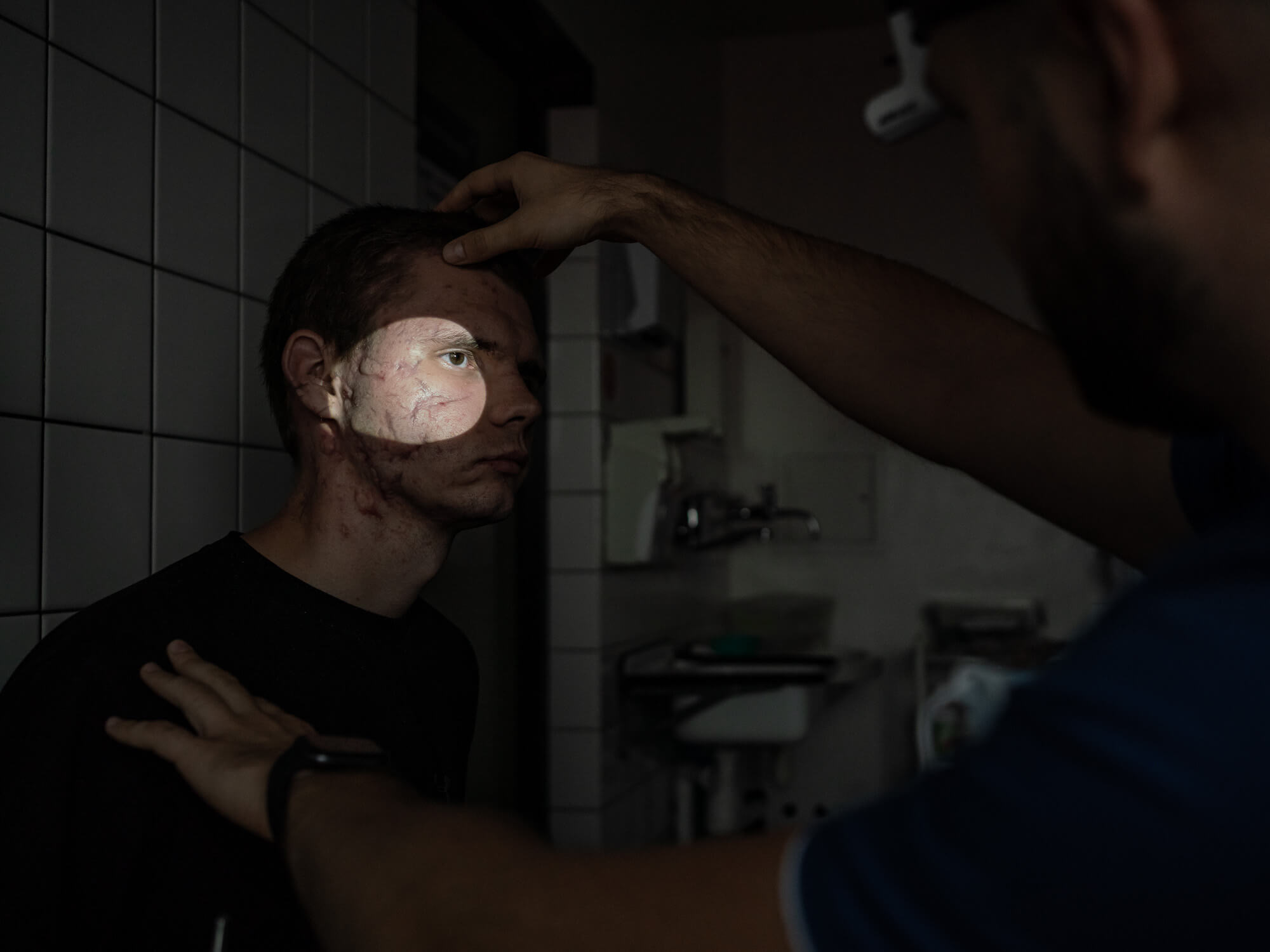 ---
Tetiana Pshenуchna, 55, retired (Izium, Kharkiv region)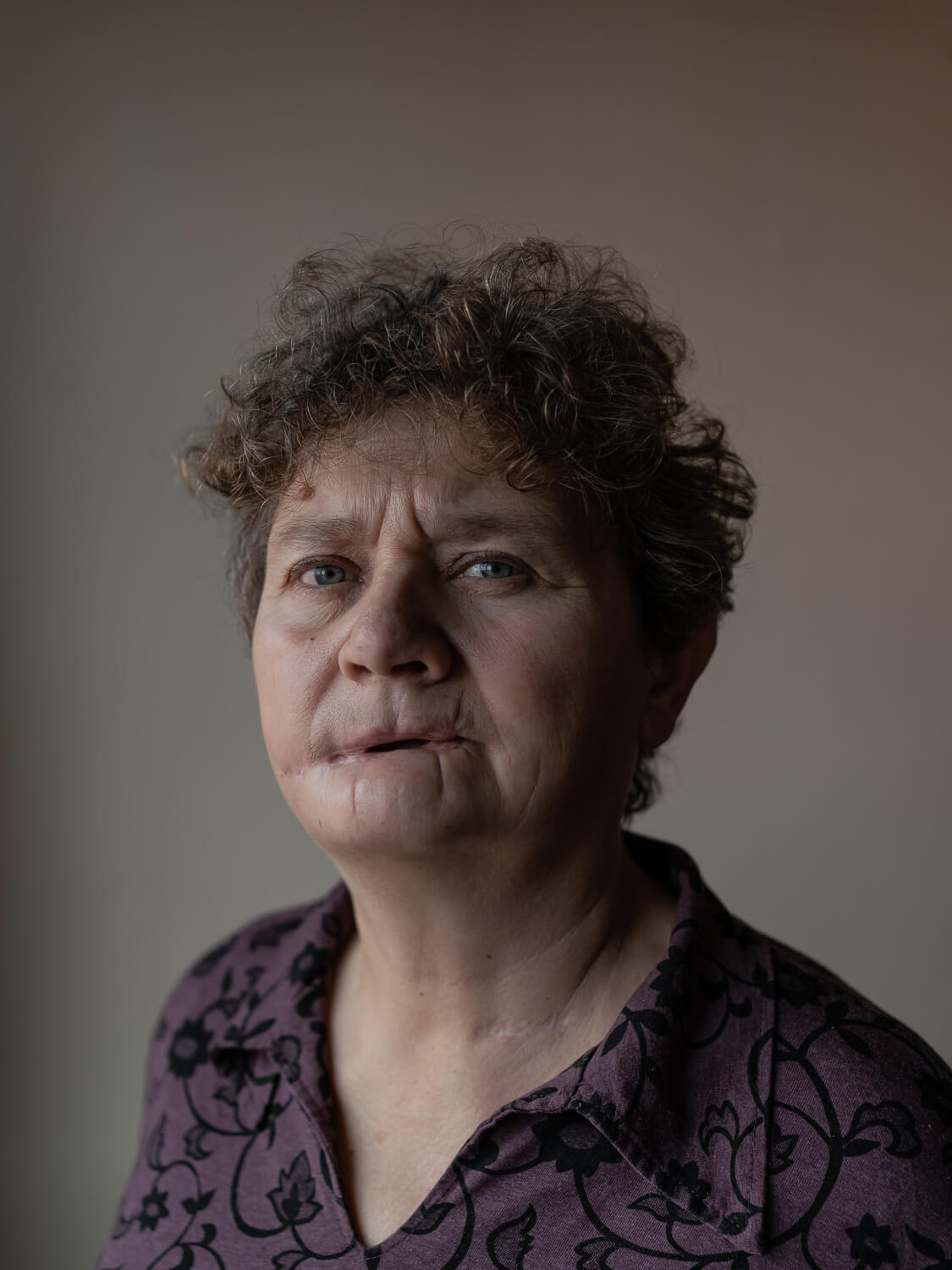 Tetyana was injured by a fragment of a large-caliber mine in the yard of her husband's house in the village of Kamianka near Izium. The woman lit the stove that day to warm up: Russians noticed the signs of life in the house and targeted it with mortar fire. Half of Pshenуchnya's face was cut, her teeth were knocked out and her tongue was torn apart.
For the first few hours after being wounded, Tetiana had to hide in the basement: her relatives gave her first aid. When the shelling ended, they evacuated the woman first to Sviatohirsk, and then to Sloviansk. In the Donetsk region, Tetiana finally had her wounds stitched up, but they left big scars. However, much bigger ones, the woman says, remained on her heart when, after the deoccupation, she saw what Russians had done to her native town of Izium.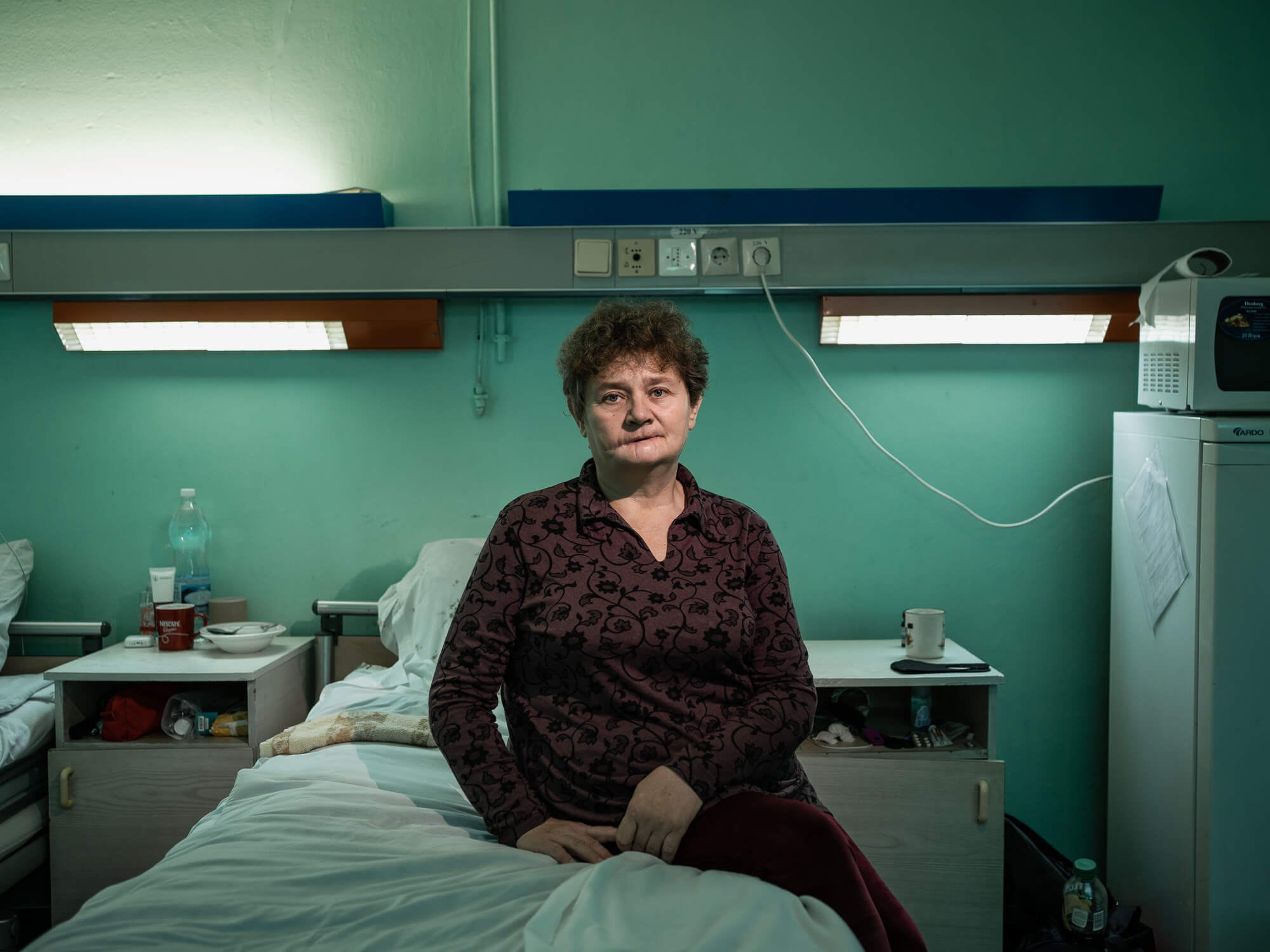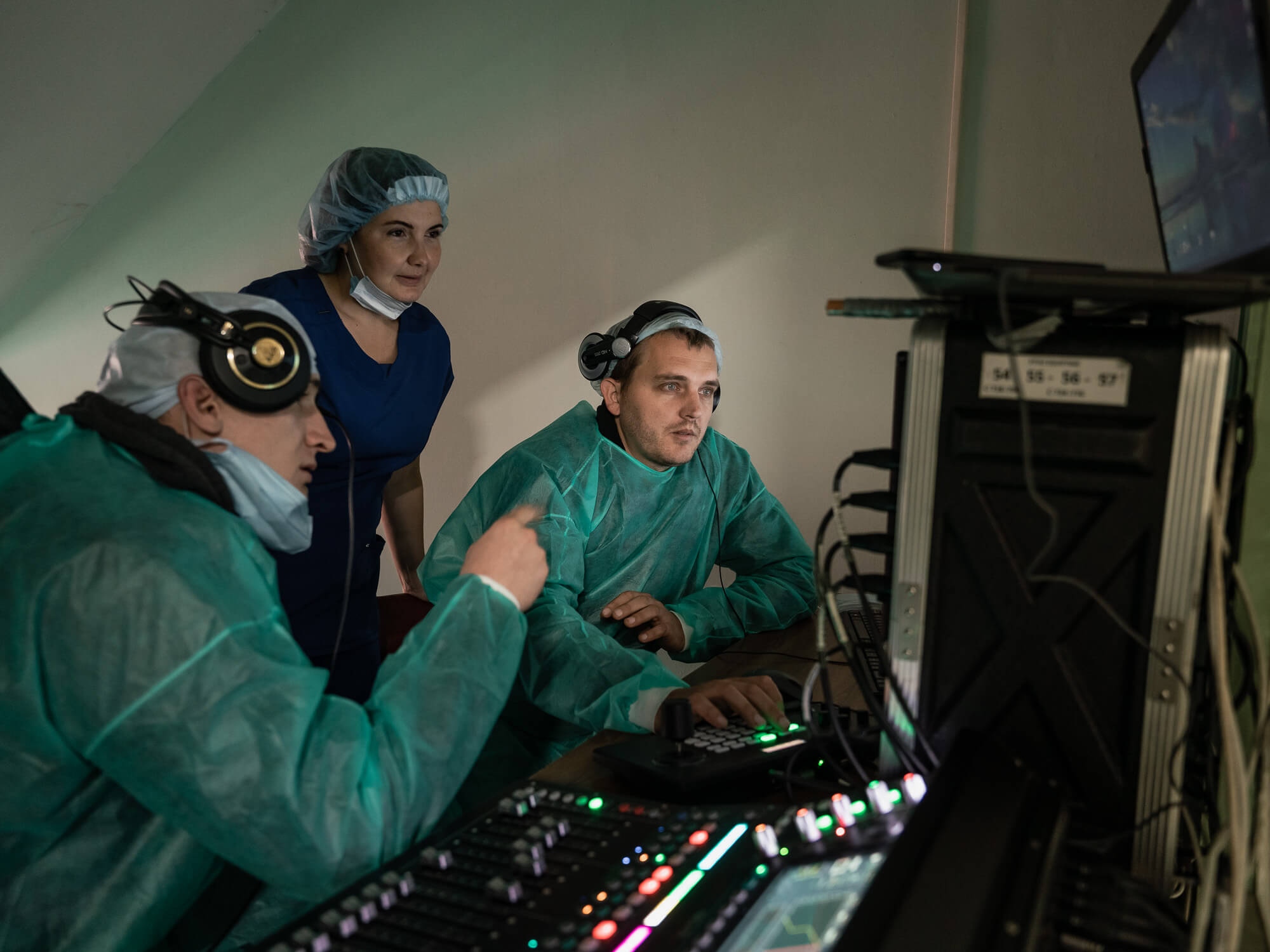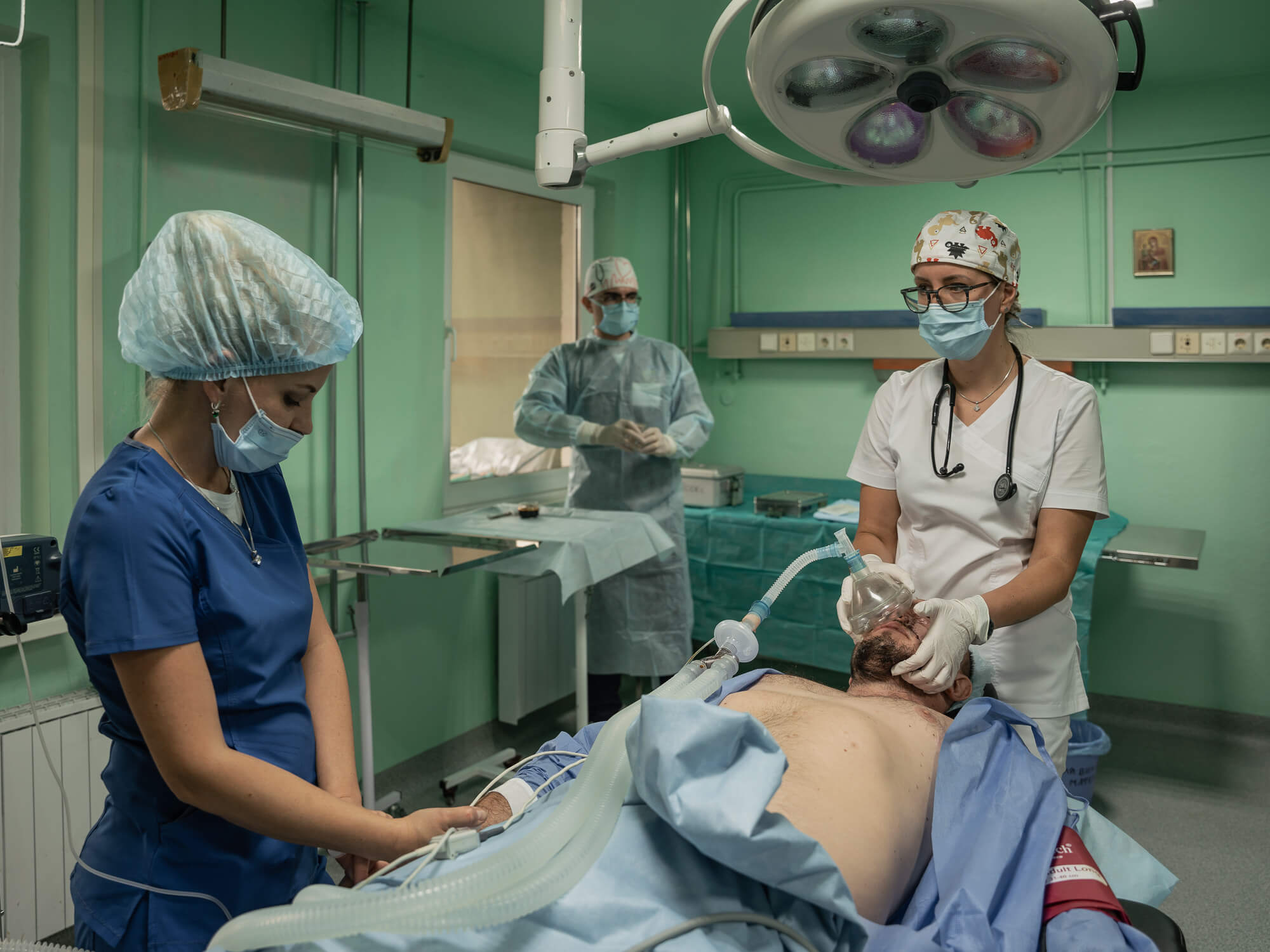 Have read to the end! What's next?
Next is a small request.
Building media in Ukraine is not an easy task. It requires special experience, knowledge and special resources. Literary reportage is also one of the most expensive genres of journalism. That's why we need your support.
We have no investors or "friendly politicians" - we've always been independent. The only dependence we would like to have is dependence on educated and caring readers. We invite you to support us on Patreon, so we could create more valuable things with your help.