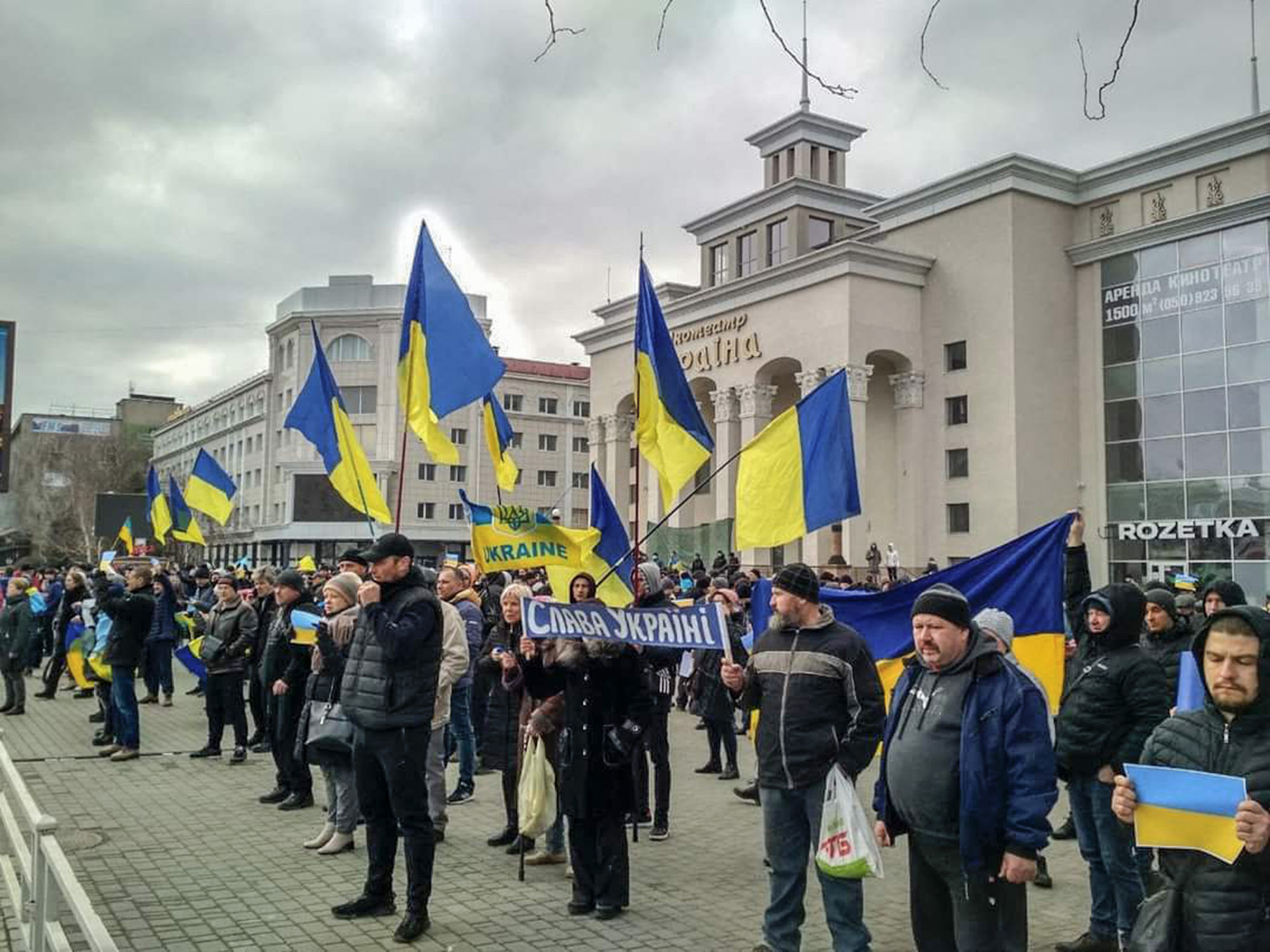 Kherson is Ukraine
Kherson residents heroically defend the city and Ukraine. A story by a local journalist
This story was created with the support of our readers.
There are Russian military vehicles in front of government buildings. The railway station and seaport are under Russian control. Russian troops do not allow trucks with humanitarian aid to enter the city. Yet citizens rally with Ukrainian flags, declaring out loud: "Kherson is Ukraine!"
A local journalist told Reporters how the city has been living for the past few days.
On the morning of February 24, my husband Andrii had to travel from Kherson to Henichesk to report from the city council session there. But he did not make it out of the city, because the driver of the car they shared changed his mind about traveling via Kherson. I will never forget my irritation: what do we do, how do we cover the session, whom should we call? While Andrii made his way back from the bus station, I turned on my laptop. And since then my life has been divided into "before" and "after."
Deja vu: this happened eight years ago
I was born in Crimea, in a small picturesque town of Feodosiia. My mother comes from there. My father served in the army, so the first year and a half of my life we lived in Crimea. When Dad retired, we moved to Kherson, but we still spent every summer in Feodosiia. My family likes to joke that I grew up in two cities—Feodosiia and Kherson.
2014 had once already divided my life into "before" and "after," and I hoped that it would not happen again. When the first people were killed on the Maidan square in Kyiv, Russians started seizing Crimea. From my early childhood I was disgusted by Russian tourists who treated Crimea as their own territory and behaved impudently. But locals would always welcome Russians who had money to burn. Due to a slew of Russian troops in Crimea, their Black Sea Fleet stationed there, and the rich Russians' tradition of purchasing the Crimean real estate 'for retirement,' there was a growing number of Russians on the Ukrainian peninsula. And this was the basis for the occupation: powerful propaganda, free access to Russian TV channels and spreading hatred towards Ukraine and Ukrainians.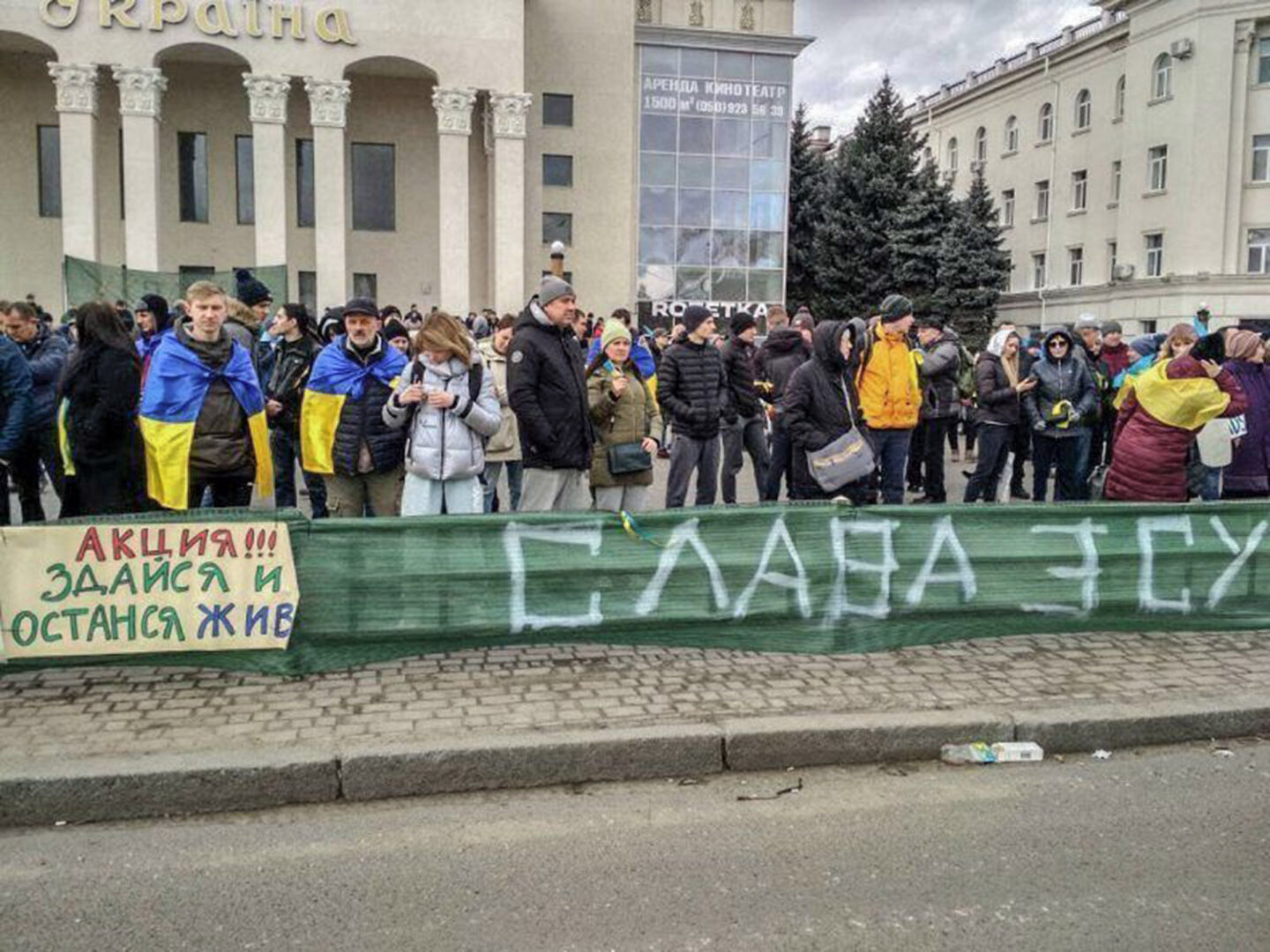 Back those days, I worked as an accountant. Every day, at work and after, I followed the news, rushed to the local protests in Kherson for a short while in the evenings to find out what was happening there, donated money and food to local activists, and then back at home kept in touch with Crimean people. Some of them were happy that they would soon be a part of Russia, others were looking for ways to leave the peninsula. My weekends were dedicated to Crimea: providing information, helping people move out, and many other things I had never done before and very much hoped I would not do again.
Eight years have passed since then and these days I see a lot of similar things in Kherson—Russians audaciously entering the city, their behavior, their desire to restrict everything and to "liberate." They are unpleasant and scary, and armed to the teeth. In 2014, on my way from Kherson to Armiansk by train, they entered the carriage having no insignia and wearing loads of weapons, and could even search you. Actually no, it was not really a search: they inspected belongings and selectively groped passengers. But a very important difference between the situations in Crimea and Kherson is that Russians were welcomed in Crimea, but not in Kherson.
They were unable to seize Kherson at once. At least, as I write these lines, the city has been in a state of permanent blockade for ten days. And ten days is hardly at once. Yet Kherson had been surrendering for eight years: all those collaborators and pseudo-patriots who suffered no punishment periodically went public and even successfully built their networks. Curiously, people kept and keep falling for them, for, being professional collaborators, they know how to attract people's attention: by creating help groups (further base for support groups), handing out freebies (promotional merchandise, free buckwheat before elections, etc.), or hyping on Telegram chat news. Needless to say, even the support of the Opposition Platform For Life (OPFL) pro-Russian political party in Kherson and the region has traditionally been strong and substantial: they are either winners or runners-up at the local elections. This translates into blocking many initiatives (a mono-majority is rare in our region), promoting the Russian language, opposing all the endeavors to defend Kherson, and so on. And I am talking only about the OPFL, but there are others of the kind. All together they fuse into a dangerous alloy leading on to what has happened in Kherson.
Did we keep silent? No, we did not. Did we not fight? Yes, we fought. Still, all more or less significant legal cases against collaborators were either immediately closed or dropped because the statute of limitation had expired. They incited their support groups against activists and journalists who searched for violations and made them public. They wreaked havoc. And they were never substantially punished. Ever.
I don't know which day of the week is today, only which day of the war
On the first two days, February 24 and 25, I could still tell the day of the week. After that, I could not. Only the day of the war. Today is the tenth day.
On the first day, we were shocked by what was happening near Genichesk—Russian tanks passed the checkpoints with Crimea like a vacuum cleaner over children's toys. Yes, the same checkpoints, where we had pathetically launched administrative service centers, instead of strengthening our army. That day we realized this was no simple provocation but a full-scale invasion.
Armored track machines from Crimea were soon followed by "Grad" MRLs. In a few hours, all this equipment ended up in Nova Kakhovka, the same town from where Russians wanted to let water go to Crimea. Then followed Oleshky and Kherson suburbs.
During the first days, the Kherson suburb of Antonivka was shelled by "Grads". People took cover wherever they could. This area is mostly private households. The battle started for the bridge we call Antonivskyi, the one that leads to Crimea over the Dnipro river and through the village of Oleshky. On February 25, the bridge was seized and some Russians managed to get to Kherson. The bridge was defended by heroes of the Armed Forces of Ukraine from Mykolaiv and local Kherson Territorial Defense Forces.
On the same day, volunteers set up a headquarters in the building of the Kherson City Council and started collecting aid: one could already feel this was not going to end in a day or two. There were many volunteers there, and the shelves in the shops were rapidly emptying. My husband and I went to the City Council while walking around the city—it was still possible back then, although the depressing silence, interrupted by explosions and occasional air raid sirens, was gnawing at us. We entered the council building, buzzing with volunteer work. We helped and carried a few boxes. Suddenly we saw two young men dressed in olive uniforms without any insignia. One of them was carrying a machine gun, the other one a grenade launcher. The one with the machine gun ran up to the second floor (where he was politely stopped by security). The man with the grenade launcher started shouting in Russian something like, "Come on! Run! The city has been surrendered! Quickly! You should go to Chornobaiivka! There are weapons there! Your folks are missing there!". In the end no one understood who these guys or "our folks" were. Although, of course, we suspected who can speak only Russian in Kherson.
The volunteers were charming. They politely surrounded the uninvited guest and politely asked to confirm his identity, show his documents, and say "Glory to Ukraine!". He did none of these things. He did not understand Ukrainian. Both guys were just as politely expelled from the city council. The provocateurs-saboteurs continued shouting memorized phrases, but a bit away from the council. Emergency service numbers to call for help did not respond.
They both got into a car with a white ribbon. On February 25, similar cars appeared in different parts of the city: civilian cars, mostly with local or other Ukrainian plates, but driven by Russians, obviously not Kherson residents, for they did not know the city and wandered the central streets looking at the road signs.
Then, at least for me, time transformed into keeping track of the days of war rather than weekdays and weekends. Shops in the city kept being emptied. An interesting observation: in supermarkets, people were not scooping up alcohol. For me, it was a pleasant contrast to Crimea: in moments of anxiety, alcohol there would go just as quickly as cereals.
Kherson residents started forming volunteer groups. Those in old feuds started to reconcile. The war has united many of them, but it has also divided many forever. This is okay, I guess.
Russians started shelling Kherson suburbs. Antonivka was the first to suffer, then nearby Zelenivka and Naddniprianske. Then followed the border districts of Shumenskyi and Tavriyskyi. We still do not know what exactly happened in the park in Shumenskyi when Russians killed nearly unarmed citizens from the local Territorial Defense Forces. Their bodies were never identified, and buried in the city cemetery. There is information about the number of civilians killed, but we still do not know who they are. This is the tenth day of the war.
Kherson residents are getting used to bomb shelters. And, most importantly, we help each other. In times of war, it is not that easy to call for utility services, although they do function. Russians are setting up checkpoints, which has made it much more difficult to help the civilian population.
First the Russians shelled houses, then they fired at ordinary civilians. They shot at families traveling by car. Some were killed by chaotic machine gun fire. They walked and drove across residential neighborhoods and opened fire: they shot at houses and people alike.
We quickly learned what a curfew, city patrols, and regular sheltering were. We finally got to know our neighbors. Restaurants cooked for the residents of Kherson, shops tried selling off their goods so that they would not spoil or get stolen by looters. Yes, in the first days of the war, some shops were charging an arm and a leg, but it quickly stopped, because the war continues and food must be sold, otherwise it will spoil. So they either reduced prices or just handed things out free.
Russian looters are a separate story. Russians started shooting in Kherson immediately, and the next step was looting. They ruthlessly looted grocery stores, then turned to electronics, and then on to everything they laid their eyes on. They stopped at nothing. Still, in several shops they were told to fuck off, just like the border guards on Snake Island told the crew of the Moskva on the first day of the war. I am proud of Kherson residents!
Russians mined everything they wanted. Shop owners told us about the mines. As we saw, they mined the shops where they tried to buy something or where they were not able to get in by day. First, they fired a shot from a tank at the State Security Service building and set it on fire. Then there was information that this building and the police building nearby were mined. Later, Kherson residents noticed trip wires in various parts of the city, in particular—around the building of the Kherson branch of Public Television. The building was seized by Russians in early March. By the way, Russian television has been in Kherson for several days now, but the Internet has done its job: only few people watch it.
Perhaps the most difficult part of all this, apart from the war itself, is the collaborators we know. For eight years, they have not been punished, so they now move freely in Kherson, threatening pro-Ukrainian activists, journalists, and even ordinary pro-Ukrainian residents. The huge flow of disinformation, disguised as insider or urgent information, has already led to a fire truck not attending a call: firefighters whose car was fired on by Russians in the morning read in one of the Telegram channels that the next call was a fake, and never came.
Kherson residents are incredible: they ruined the play directed by Russians
Alarming reports of Russians shelling civilians forced Kherson residents to stay at home and in shelters. The city authorities, which still function, keep recommending this, too. However, the patience of the people of Kherson broke on March 4, when Russians tried to stage a show with the distribution of "humanitarian aid" (the city is blocked on all sides, so nothing is supplied). By the way, it was a Kherson resident who gathered cinematographers for filming and further editing of this play: another sketch for collaborators—we have many of them. They brought their own people for the crowd scene. In the end, for some reason "their own" people never showed up and instead Kherson residents with Ukrainian flags came to Freedom Square where Russians brought their "humanitarian convoy." The Russian play was ruined. And it was the principal director of the Kherson theater Sergiy Pavlyuk who ruined it. Russians then had to assemble a fake video that tried to show Kherson was willing to join Russia, somehow on their own, using hired actors, including even a Russian-speaking boy.
The next day, several thousand of Kherson residents rallied on Freedom Square. Various sources reported 6-7 thousand people. What does it matter—six or seven?! The key thing is that there were thousands! People were not afraid to go out with flags and tell the invaders what they thought of them, despite Russians firing "warning" shots in the air. Neither the lack of phone signal nor the fear of armed orcs (the most decent word Russians are called in the city) stopped the people of Kherson: they rallied for several hours on the central streets of the city.
Finally, when Russians started moving out, one of the local daredevils jumped on their armored personnel carrier and rode on it with the Ukrainian flag in his hands. It is hard to say how much desperation and courage was in the heart of this hero and other Kherson residents who did not get scared.
However, we do not relax and, deep in our bones, we expect further provocations. This is what Russians do: they are liars and infinitely aggressive provocateurs. And they have agents and supporters of their horrible actions in the Kherson region. We still have a lot of work to do. And there is the 11th day of the war ahead.
Photos provided by the author.
---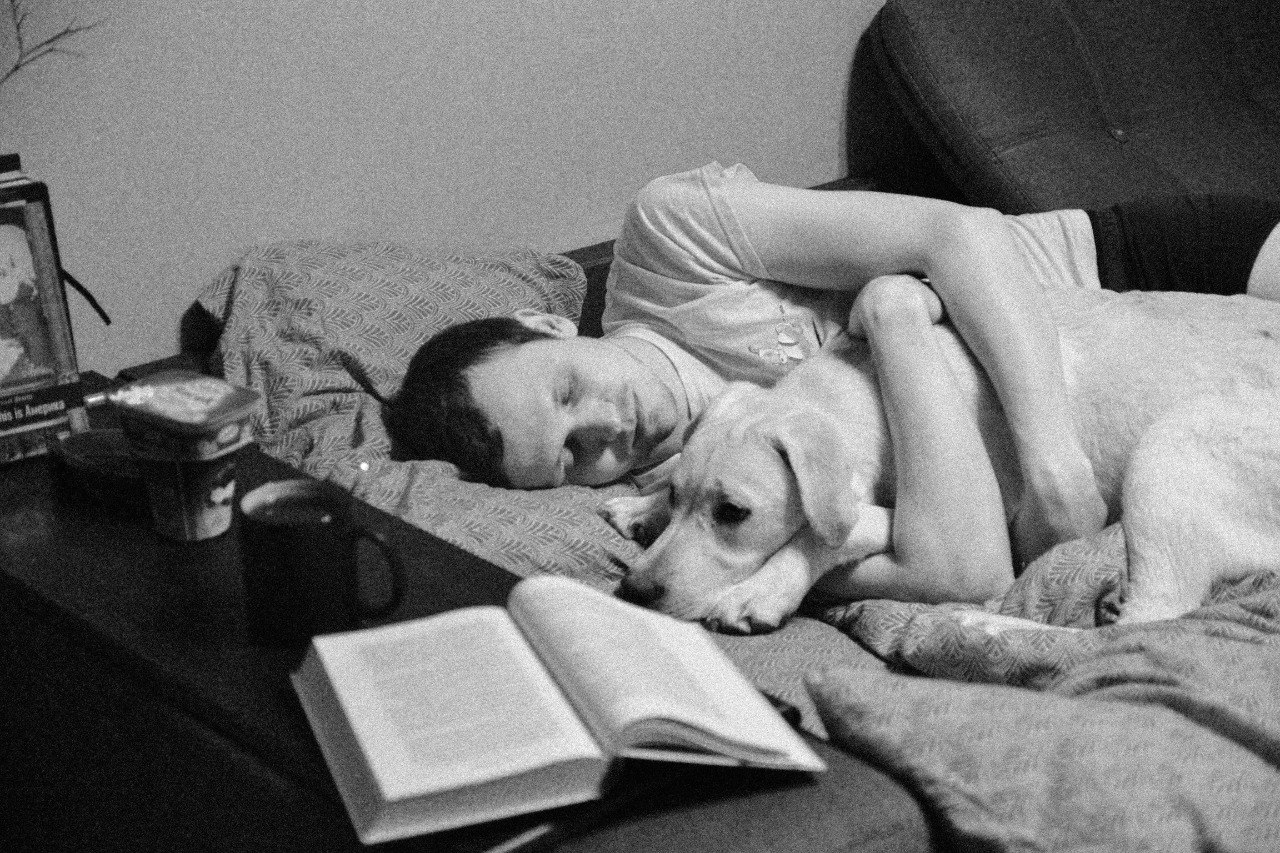 Читайте також:
Уривок зі щоденника журналістки Віри Курико, яка повернулася в оточений Чернігів
Дочитали до кінця! Що далі?
Далі — невеличке прохання. Будувати медіа в Україні — справа нелегка. Вона вимагає особливого досвіду, знань і ресурсів. А літературний репортаж — це ще й один із найдорожчих жанрів журналістики. Тому ми потребуємо вашої підтримки.
У нас немає інвесторів чи «дружніх політиків» — ми завжди були незалежними. Єдина залежність, яку хотілося б мати — залежність від освічених і небайдужих читачів. Запрошуємо вас приєднатися до нашої Спільноти.