"It's just fate that you are still alive"
How a former arts and crafts teacher defends the Ukrainian border in the Sumy region and builds memorials for fallen comrades
We couldn't arrange a meeting with Vasyl Stativka for over three months. On the eve of the Constitution Day of Ukraine, he, an active serviceman, was sent to the 'zero line' near the Russian border, and had to postpone our meeting indefinitely. In August, he called us from the hospital. He said that after lunch, he will "escape" from his doctors and will ride off on a bicycle to take care of his civilian affairs. Therefore, he could meet us.
Vasyl came to our meeting on a bicycle. He was limping when he got off it but claimed that it was nothing. Just an old injury that didn't heal properly. It was a different injury that landed him in the hospital.
While explaining how to get to his improvised studio, he gave us a short tour of Okhtyrka — the only Hero City in the Sumy region. A missile landed here, over there he received a gun on the first day, and later, there was another rocket strike in that part of the city…
Destination: Okhtyrka
Last year, on February 22nd, Vasyl celebrated his 25th wedding anniversary, on the 23rd — his 52nd birthday, and on the 24th, he woke up to explosions at home in Velyka Pysarivka, where a few streets and gardens end at the Ukrainian-Russian border.
Vasyl grabbed his military ID and a small backpack he had packed in advance, and together with others who had gathered near the Velyka Pysarivka military enlistment office, went to Okhtyrka, a district center in the Sumy region.
Within half an hour, convoys of Russian combat vehicles crossed the border and followed them to Okhtyrka.
This city was strategically important for the Russians. By capturing it, they would gain control over the roads to Poltava, Kyiv, and Kharkiv. That is why, for thirty days, Okhtyrka suffered shelling from all types of weapons — including those prohibited by international law — and, in the first few days, the city was left without electricity and heat.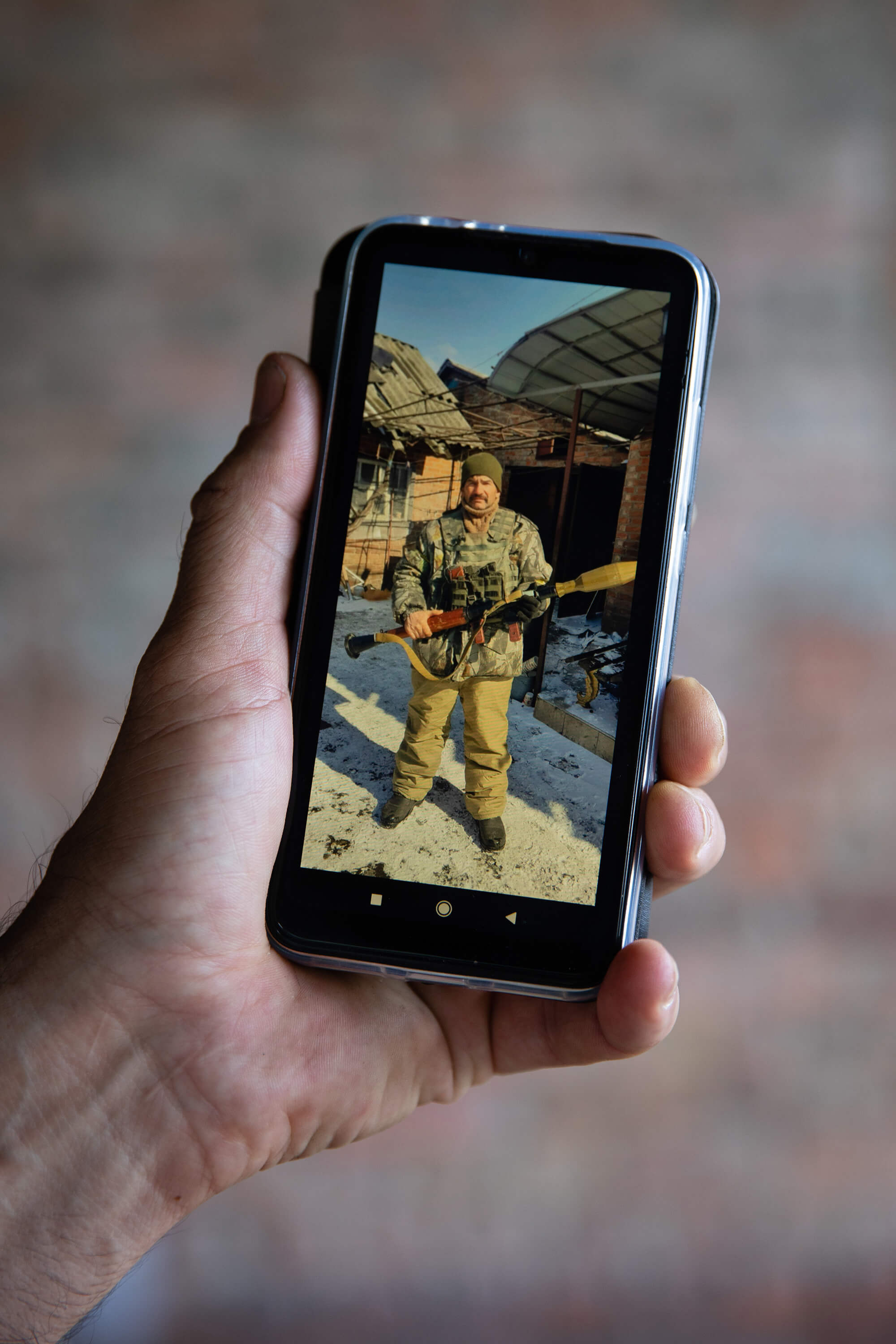 Until the liberation of Sumy region, the Russians continued to shell Okhtyrka from the outskirts, eventually destroying all critical infrastructure in the city: gas pipelines, water supply, drainage, and heating. Due to significant damage to the system, heating could not be restored in some buildings, so Okhtyrka launched a municipal program to financially assist its residents in transitioning to individual heating.
The Dachnyi microdistrict in Okhtyrka, populated by eight thousand people before the Great War and home to a military base, suffered the most damage from the occupiers. For two consecutive days, the Russians shelled it with artillery, and on February 26th, they dropped two thermobaric bombs on the barracks and the medical unit. The exact number of people killed and injured was not disclosed. Before the rubble was cleared, it was estimated that there were at least seventy casualties.
By chance, Vasyl was not in the barracks at the time of the strike, but he was among those who dug out the bodies and saw his fellow neighbors among the dead.
The first one. For 'Wi-Fi'
Starting on February 28th, Vasyl spent the next four months guarding the checkpoint near a gas station at the entrance to Okhtyrka. This is where the Russian convoy crossed the border, went through Velyka Pysarivka, and entered the city.
Before Vasyl began his service at this checkpoint, soldiers from the 93rd Mechanized Brigade, known as 'Kholodny Yar,' had already lost their lives here. A crater in the middle of the road constantly reminded Vasyl and his comrades of their deaths. In this crater, they found a bulletproof vest of Mykola Babko, a soldier who went by the call sign 'Wi-Fi'.
Looking at the crater left by the blast that took his life made me wonder about the kind of person he was.
"Later, we learned that he was a sniper-spotter, and in the early days of the war, he, along with his comrades, stopped the enemy at this very intersection as they were advancing to Okhtyrka. That's when I decided that we had to immortalize him," Vasyl says.
Before the full-scale war, Vasyl taught arts and crafts for 28 years at a school in Velyka Pysarivka, just 300 meters from the Ukrainian-Russian border. He led the local Cossack community, created wooden sculptures for the Hetman National Nature Park, and made art from stone. Creating a monument seemed like a manageable task to him, except for the challenge of sourcing materials and finding free time between deployments.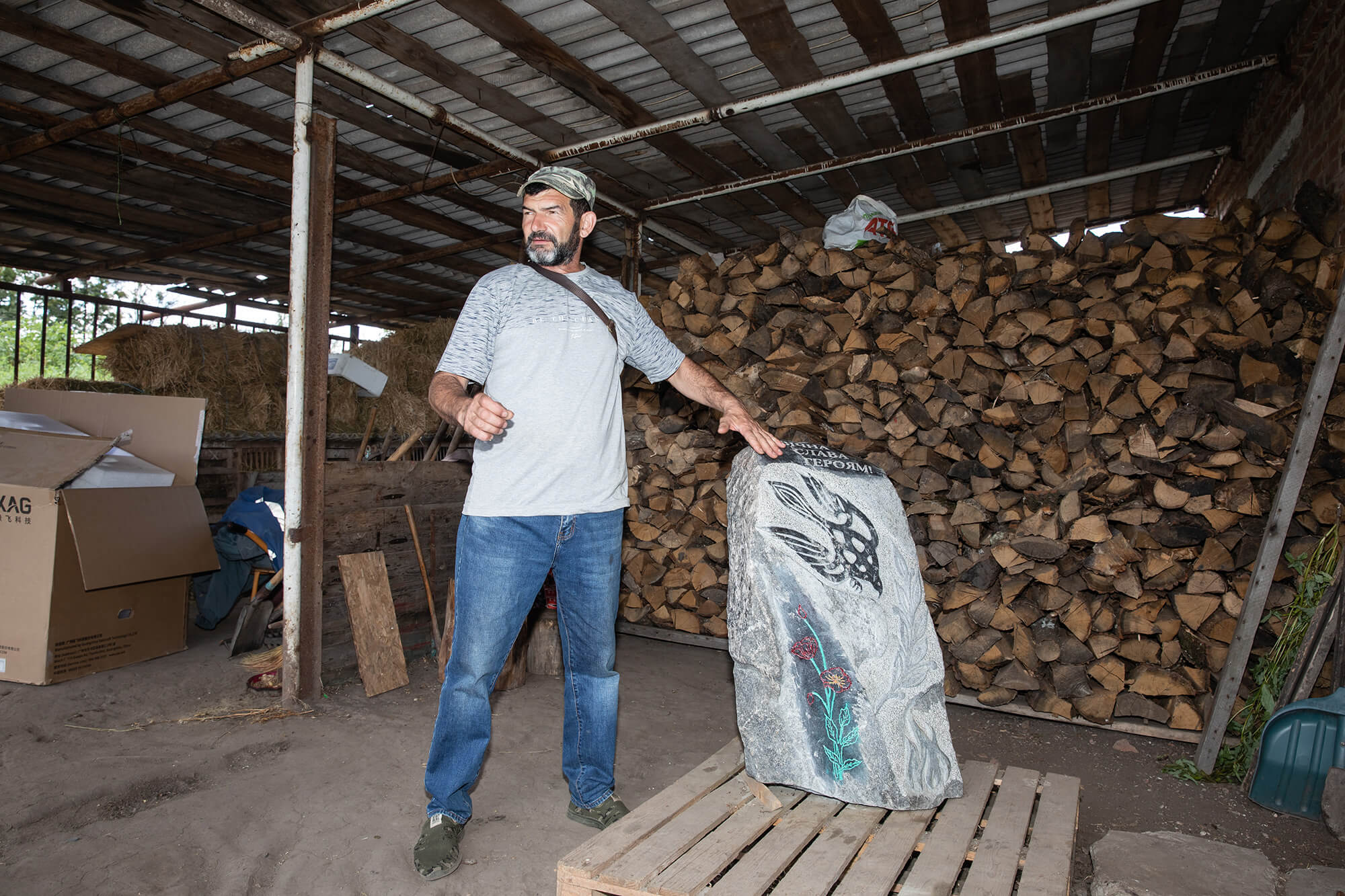 As an active serviceman, Vasyl was not allowed to go to the quarry, even though they offered him any stone for free. They even promised to deliver it, despite the significant fuel shortage at that time. But he couldn't pick up the stone. So he had to make do with what was available "underfoot."
The work on the monument progressed quickly — much quicker than the search for the fallen soldier's relatives. Vasyl reached out to a local resident to help in this search, and he also approached the commander of the 93rd Brigade. The commander was surprised that a monument was being built for one soldier, while six of them had died there.
Vasyl decided that he would make a second monument and give it to Okhtyrka, to be placed in the park near the intersection where the 'Kholodny Yar' soldiers stopped the enemy at the cost of their own lives. This would likely happen only after victory, when the trenches are filled and the territory is cleared from mines. The name of every soldier would be recorded, to ensure their heroism does not get forgotten.
A local woman, Neonila, who was helping Vasyl search for Mykola Babko's relatives, managed to find them. Before the full-scale war, she ran a dog shelter in Okhtyrka. She remained in the city because her 85-year-old mother refused to leave because her goats had given birth on February 24. She had limited food supplies, and there was nowhere to buy more, so she came to the checkpoint where the territorial defense fighters shared their rations with her. Neonila wanted to be helpful in return.
"She found out that Wi-Fi was originally from Pyatykhatky in Dnipropetrovsk Oblast. She found his sister there. I called her; she wanted to come here, but it didn't work out. Last year, before the Feast of the Intercession, we sent the monument to her. They already installed it near the school that Wi-Fi attended," Vasyl says.
The second one. Between firewood and rabbit cages
Vasyl almost completed work on the second monument dedicated to the soldiers of the 93rd Mechanized Brigade 'Kholodny Yar'. He used quarry-faced stone purchased by a local entrepreneur. The stone had been lying unused in somebody's yard for a long time, so people suggested that Vasyl inquire about it. But the owner refused to give it away for free.
Now that many people know that I make monuments, they offer a stone to me. So I can pick larger slabs, which are easier to work with.
"The tools wear out faster, but the work takes less time. On this stone, there are many natural cracks, and sometimes, when I've almost completed the carving and there are only a couple of letters left, it just crumbles. Then I have to clear it and start the inscription anew," the craftsman says.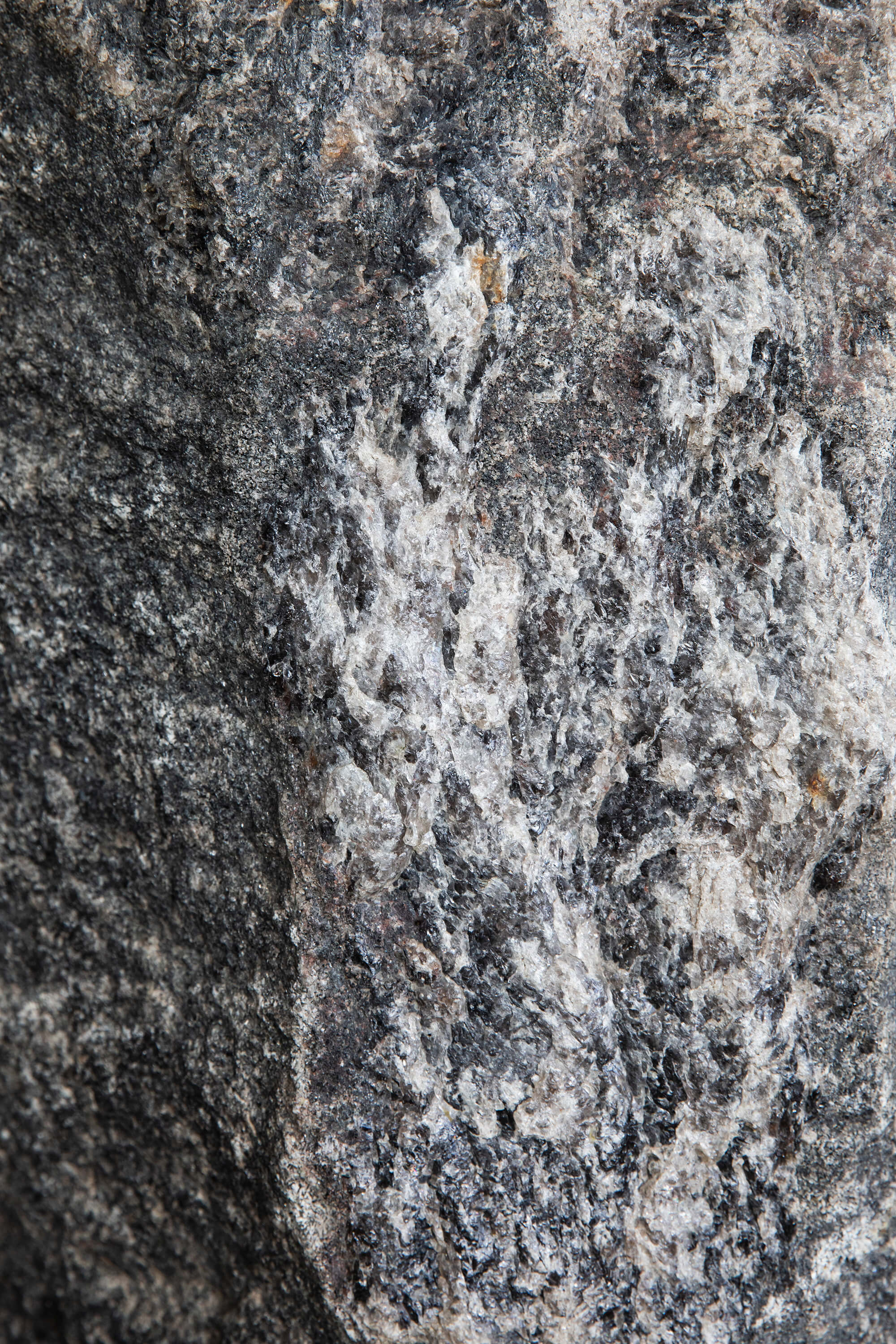 While Vasyl is at war, the monument is stored in his improvised studio — a small corner near a farm's administration office. On one side, there is a wall, on another—rabbit cages, hay bales, and tools, and on the third—a supply of firewood for the harsh winter that Ukrainians are expecting once again due to Russian missile strikes on peaceful villages and towns.
According to Vasyl, Viktor Lebedyuk, the farmer who had lent the craftsman the space, has done a lot to defend Okhtyrka. From the very first days of the invasion, he has been helping the military and territorial defense units: providing food, clothing, fuel, and buying vehicles. He also helped transport the first monument to Pyatykhatky, the hometown of the late Mykola Babko.
First, a local entrepreneur who has a garden paved with granite in Okhtyrka provided Vasyl with tools for his work. Later, Vasyl began buying his own tools because he didn't want to keep borrowing them. A local dental technician gave Vasyl a Soviet diamond burr set which turned out to be perfect for carving small details and letters.
"When you see how many of your comrades have already died, you understand that you are no different. It's just fate that you are still alive. I want to immortalize their memory because over time, the memory will fade away. But I don't have much time between deployments and during service. If I had more free time, I would certainly do more and do it faster," Vasyl laments.
Sometimes, Vasyl would come to the studio and start working on a monument, and the power would go out. If he managed to work for an hour, that was already good. Otherwise, he would pack everything up and put away the tools.
"I won't return to teaching"
After four months at the checkpoint, Vasyl was transferred to guard a site in a nearby village, and then to another location, even closer to the border. He is currently stationed close to the school where he used to teach. This summer, Russians shot at this school from a helicopter. Now, there is a huge crater where the teacher's lounge once stood.
During his service, Vasyl crossed paths with some of his former students. One of them ended up in Bakhmut and, after ten days, injured his leg and lost his left arm. Another, didn't lose an entire arm but only a part of it. Both are preparing to go abroad to get prosthetics. Many others have suffered multiple concussions, and fortunately, all are still alive.
If I live to see victory, I'll restore my health a bit and continue making monuments. I won't return to teaching.
"Perhaps I'll substitute for someone occasionally, offer guidance, or run a club, but I won't be a full-time teacher. After military service, I won't be able to., War leaves its mark on a person," he explains.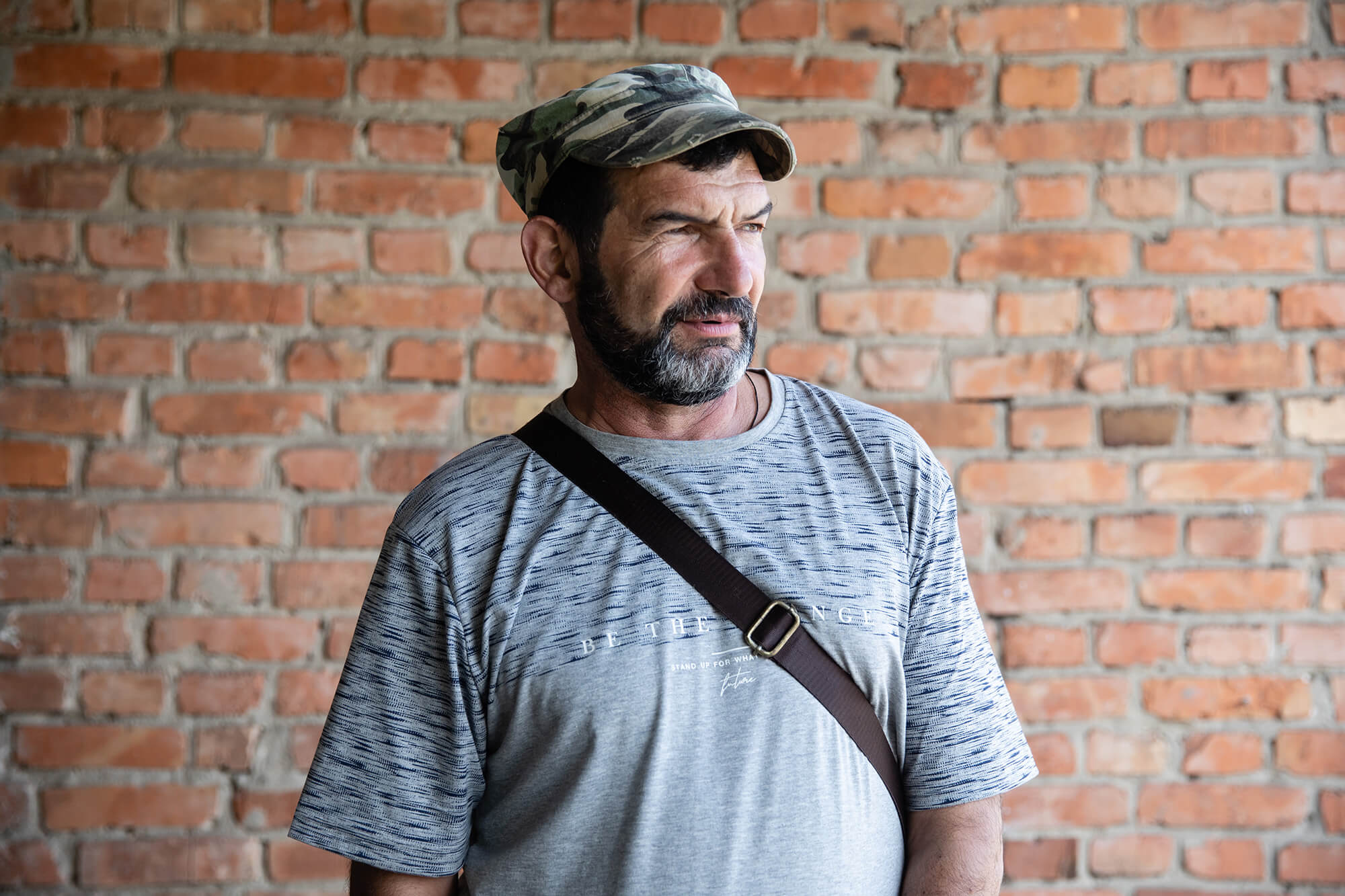 Vasyl hopes that after victory, he can get specialized training and join forces with his friend, professional sculptor Kostyantyn Gladchenko, to create more complex monumental ensembles. He is confident that they could find funding for this. For now, enthusiastic local residents are his only sponsors.
"I feel sorry for the young guys. I'm over 50 and have already lived. But they should be becoming fathers, building the country… I make a monument and think: at this very moment, our boys are dying somewhere. We need to know their names, bring them back from captivity, and find those who have gone missing. And for as long as I live, I will make monuments for them putting my entire soul into them," Vasyl promises.
While our soldiers are sacrificing their lives to bring us closer to victory, Ukrainians not only repair houses, hospitals, schools, and bridges on liberated lands. They also build what is essential for our future in a free country — objects and places that commemorate the high cost of victory.
After a brief recovery, Vasyl is back on duty with his territorial defense squad. And when he can't work on his monuments, he remembers his comrades and those he crossed paths with during the war in another way — he writes poems about them and for them.
***
«Healed Lands. Зцілені землі» is part of «De-occupied: Stories of the Liberated Territories», a project supported by the Heinrich Böll Foundation's Bureau in Kyiv. Its goal is to show that Ukrainians are not giving up or waiting for outside help but are bringing life back to their communities and homes. Even though the war is still raging.
In these texts, we report on the renewal of life in Ukrainian territories that used to be temporarily occupied or sieged by the Russian army. We publish stories based on personal experiences of war — about people who find the strength to go on living and pass that strength on to others. About people who lead by example, inspire others, andhelp villages and towns recover from war through their initiatives.
Have read to the end! What's next?
Next is a small request.
Building media in Ukraine is not an easy task. It requires special experience, knowledge and special resources. Literary reportage is also one of the most expensive genres of journalism. That's why we need your support.
We have no investors or "friendly politicians" - we've always been independent. The only dependence we would like to have is dependence on educated and caring readers. We invite you to support us on Patreon, so we could create more valuable things with your help.