Understanding the Maya
How an expert on an ancient civilization appeared in Kozacha Lopan, and with him, a portal to pre-Columbian America
He's sitting at a table between the Temple of the Inscriptions from the archeological site of Palenque and El Castillo (the Temple of Kulkulkan) from Chichen Itza. The towers of books really look like the stair-stepped stone Maya constructions. He is their ajaw, that is, their master. His cat Sonia is taken straight out of the symbols of power.
Maksym Stiufliaiev is one of three experts on the ancient Maya in Ukraine. To hear him talk, you have to go to the town of Kozacha Lopan in the Kharkiv region. The portal into world of Maya civilization opened here half a year ago. It is hidden behind an unremarkable green gate on Tsentralna Street, which the maps still call Red Partisans Street. That's if you read the inscriptions.
When the Inscriptions Spoke
"Off the beaten track," is how he describes his current home, where he is faced with putting down new roots at the age of 31. Kozacha Lopan is located two kilometers from the Russian border. The azure stripe of the Lopan River and black railroad tracks undulate through the town. It takes a bit more than an hour to get to Kharkiv by elektrychka, or electric train. It is unlikely Maksym ever dreamed of moving here.
Compact, single-story buildings—mostly built of red brick with trapezoidal roofs and chimneys up top—snuggle close to each other. On the side with three windows they look out onto the long, blanketed street, the end of which can't be seen for the falling snow. Above the windows, bricks of a different color form a pattern that looks like eyebrows raised in surprise. The Stiufliaiev family home stands out among its neighbors for its color. The ancient Maya would have inscribed on its walls "white-skinned," that is, a white building.
"The Maya were crazy for inscribing things," Maksym smiles. "For example, in one of the most excavated Maya cities, Calakmul, archeologists found a wall with hieroglyphics that said 'Chiik Nahb wall.' Chiik Nahb is the ancient name for Calakmul. Or snuff boxes. They'd write 'home for tobacco' on those. By the way, it was the Maya who taught humanity to smoke cigars."
He sits up straight on the couch. He has dark eyes and a nose with a slight hump. He moves his head and the sun illuminates his profile against the bright curtains. He looks like the images in the Maya frescoes.
Writing is a priestly ministry, accessible to only a small circle of the initiate. It gives things spiritual power. A vase covered in sacred inscriptions immediately takes on sought-after status.
In their obsession for writing, the ancient Maya had no equals on the American continent. Stone stelae, door jambs, panels, thrones, and ceramics are covered in texts. Maksym takes one of the "slabs" from his pyramid of books and turns the pages until he finds what he's looking for. With his finger, he circles six illustrations.
"All these hieroglyphs are ways to write the same word, the term for 'master' or 'king,'" he explains. "You see, you can draw it, for example, like a head wrapped in a crown. Or you can break it into syllables. This makes Maya writing beautiful and, at the same time, difficult to learn. Even the same sign when written as a logogram can mean one thing, yet something else as a syllable. For example, there is a sign that is read as ku if it's a syllable, but tuun, or 'stone,' if it's a word."
This is truly art. There's a reason the Maya language does not differentiate between "write" and "draw." There is only "draw." Maksym sets out a book as heavy as a boulder.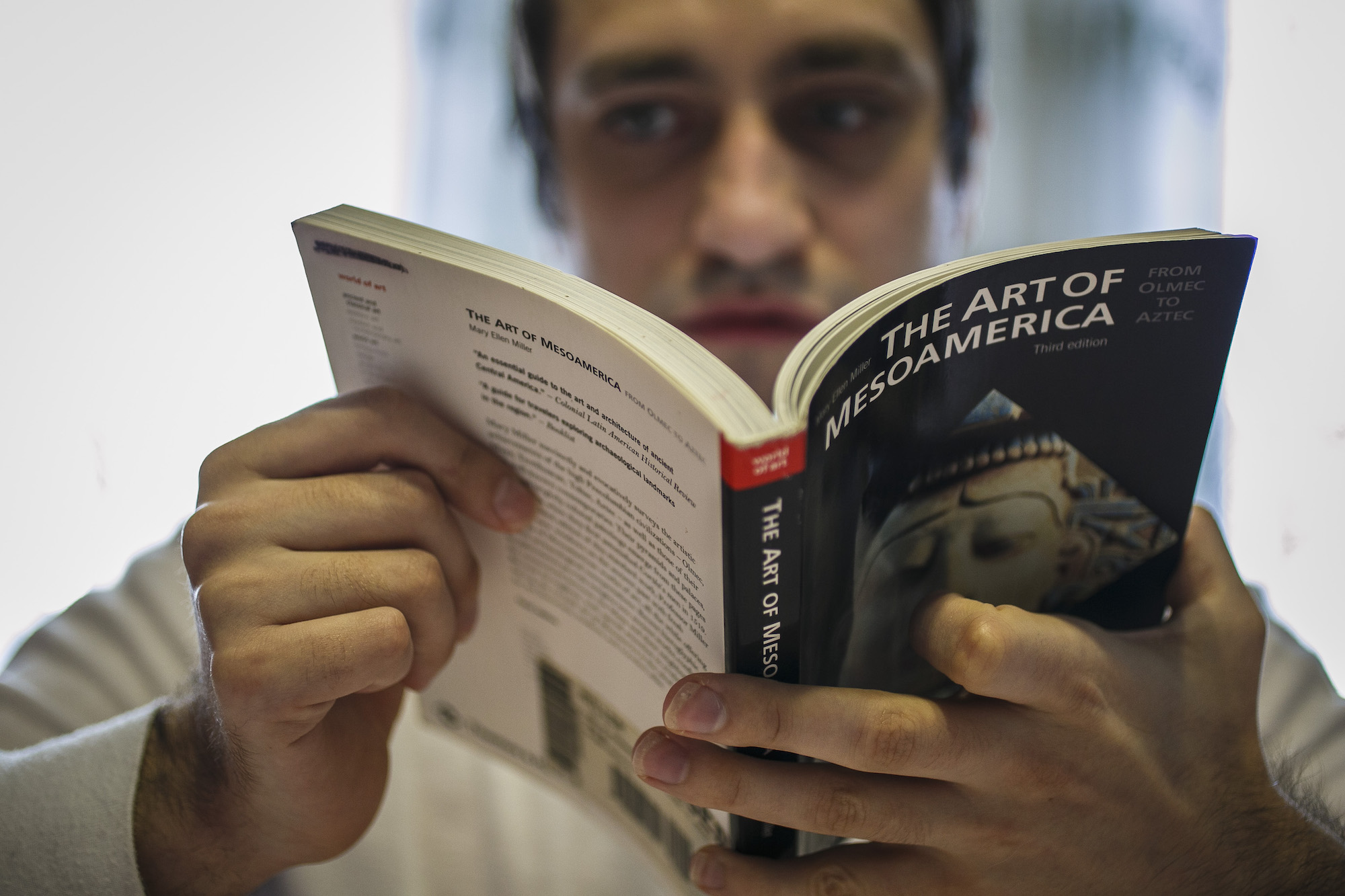 For a long time the hieroglyphs were silent. Researchers only began to discover the content of Maya texts, and thereby their history, in the second half of the 20th century. The key to their writing was discovered by Kharkivite Yurii Knorozov. Maksym is now closer than ever to where Knorozov was born. Recently, on the wave of decommunization, Kharkiv dedicated a street to the famous scientist. The city is discovering its own history.
"It feels good," Maksym observes. "The Russians pass Knorozov off as their own. They established a memorial to him in Mexico. I don't know who he considered himself to be, but the fact remains that he grew up and was formed as an individual in Ukraine. He lived here for more than 20 years, and the fact that he left for Leningrad, well that's what the times were like. The metropolis took everything for itself. Who would have let him study the Maya in Ukraine? He couldn't even leave the Soviet Union."
Knorozov was the author of a line that would inspire Maksym at the right moment: "I am a laboratory. It's not necessary to climb around pyramids to work with texts." He would make his main discoveries in decoding the Maya inscriptions in the early 1950s, but would get to visit the ancient cities only in the 1990s when he was 68.
"It used to be that anyone who wanted to study world history had to go to Moscow or Leningrad. That's where certain centers had been set up. For example, Moscow has a Mesoamerican educational and academic center. We don't have anything like that," Maksym says. "The logic is primitive: we've never had one, so why do we need it? This type of thinking is the legacy of post-colonialism. But times are changing. Ukraine is transforming into a center of its own. Researchers and projects are popping up that are making history popular. And in this I also see my own mission—to reveal Ukraine to the world and the world of the Maya to Ukraine.
Taking into consideration the number of city-states that existed on the territory of contemporary Mexico, Guatemala, and Belize and flourished in the 3rd–5th centuries, it was undeniably a vivid world.
"They waged war, made peace, forged alliances, arranged political marriages, competed. The events were turbulent. It was not likely good for the people, but now the researchers are kept entertained," Maksym smiles.
The windows behind him are like a TV that's always on and broadcasting events happening in a parallel reality. Right now they glow with the frosty blue sky, reminding us that outside there aren't any pyramids, but in fact high piles of snow. Sometimes passers-by enter into the sight of the transparent, rectangular eyes. Their dark hats move, lightly bouncing as though their owners were walking on a trampoline. Maksym can only begin exploring the world of Kozacha Lopan in spring. For now he jokes, "You've probably seen more here than me."
Our First Meeting
"Did you really need to come all this way to see us?" Valentyna Mykolaïvna, Maksym's mother, is still shocked. She was worried I might get lost so she met me at the station.
"We've been here since September, but I've already met a lot of people."
People who arrived on the elektrychka that just left cross the tracks in a chain. We follow.
"My husband jokes that I have a tongue like a broom [and can always smooth things over]," Valentyna Mykolaiïvna laughs. Her smile remains on her face even when she adds, "But it's still hard at our age to start from scratch."
Before moving to Kozacha Lopan, the family lived with Maksym's sister in Kharkiv for half a year, three months in a dormitory, and then some time in Tsupivka, a few stops away. But, Valentyna Mykolaïna says, that was a one-horse village. There wasn't even a pharmacy.
This living out of suitcases started in July 2014. Up until then, they had always lived in the city of Lutuhyne in the Luhansk region. That is where Maksym, the fourth child in the Stiufliaiev family, was born in 1987. That same year the historical Maya settlement Palenque was recognized as a UNESCO World Heritage Site.
In grade school Maksym was not an outstanding student, but everything changed when he had his first history class and was entranced. He quickly devoured his first textbook. It would be another year until he got the next one, but he couldn't wait. So he reviewed everything that his older brothers and sister had left at home. That was how he came across a textbook on the history of the middle ages for seventh graders. On the final pages Maksym found a chapter about the peoples of pre-Columbian American and saw something totally strage there: a photograph of the Temple of Kulkulkan. A question popped into his head: "How is this related to the Egyptian pyramids?" This was his first contact with Maya civilization. His father added fuel to the fire by telling him about Thor Heyerdahl who sailed across the Atlantic in a boat made of papyrus to demonstrate the link between the Old and New Worlds.
"I found a book at the library where Heyerdahl offered a bunch of parallels," Maksym remembers. "But I want to say right away: they're not all that accurate. I would only understand this later. He compares the enormous, diverse American continent with Egypt. He writes that they both had mummification, pyramids, and hieroglyphics. But mummification was in Andean civilization, which is on the territory of contemporary Peru. It didn't exist in Mexico with its pyramids and hieroglyphics. Furthermore, Maya pyramids are different."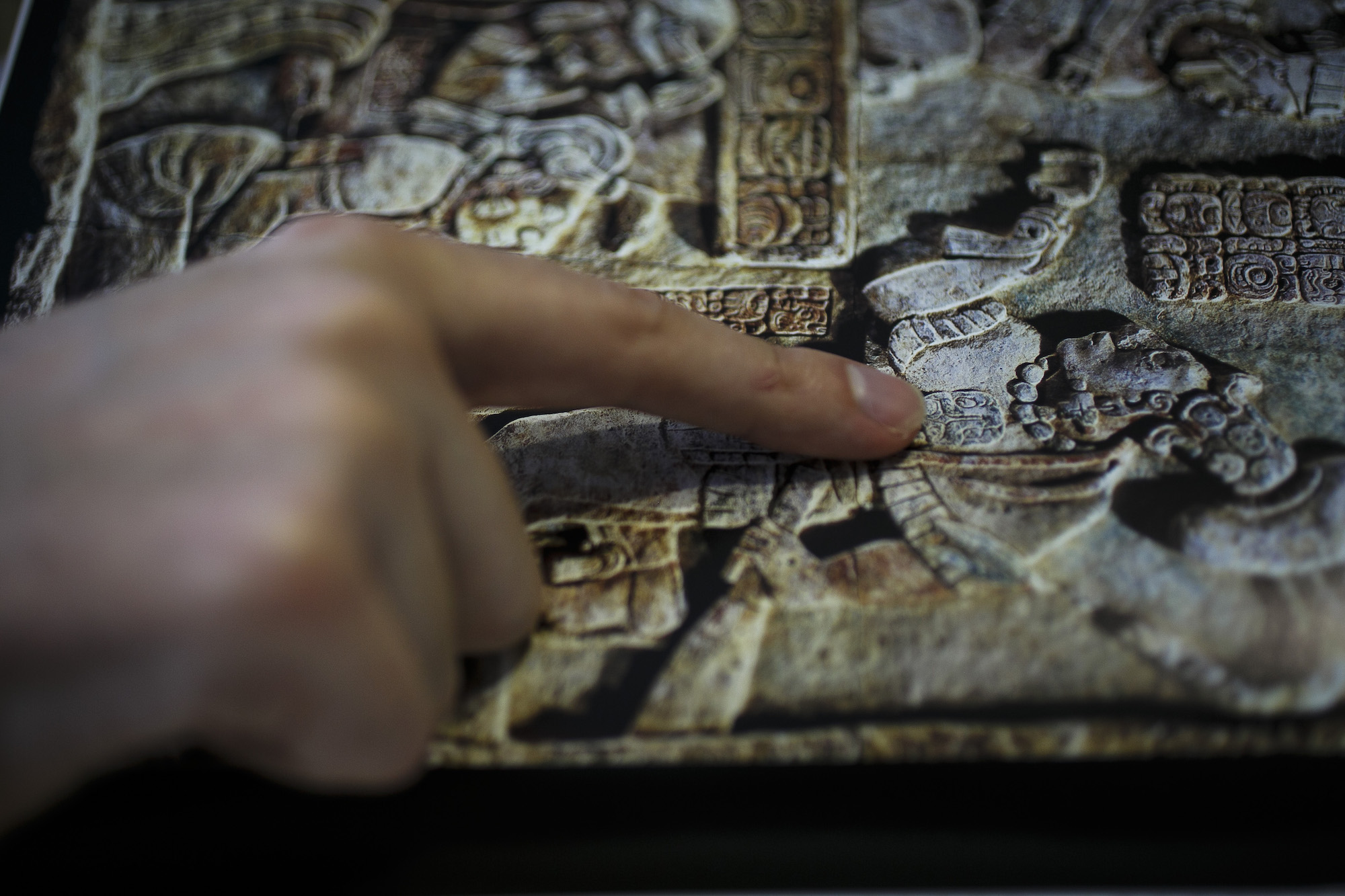 Maksym again returns to his books to show me the Temple of the Inscriptions in Palenque.
"The stepped pyramid has the temple at the top because the Maya had a cult of the dead. The son or grandson of a deceased leader could climb up there and pray. They even made a special channel that connected the temple and the tomb so they could talk to the soul of their ancestor. This is a completely different worldview."
Maksym's eyes sparkle; it's hard for him to sit still. After Heyerdahl's book, he decided to read everything that was in the Lutuhyne library on the Maya. Maksym picks up another "slab"—this time the thinnest volume in the book pyramid. Archeologist Valerii Guliaev's book was the first that he read on the history of the Maya, and the only one he could find on the topic in Lutuhyne. The title page bears an inscription: "With this book, everything started for you…" Many years ago, another Ukrainian Mayanist, Yurii Poliukhovych, gave him the copy.
Maksym reads a fragment: "The irony of fate is that there is still extremely little known about this prominent ancient civilization about which so many books and articles have been written. We do not know the names of the leaders, the warriors, or the priests of Maya cities; the hieroglyphs carved in numerous stelae, reliefs, and altars have still not all been read." "Just think, this book was published in 1983. I was struck by the fact that this was a culture without a history. What can you study then? I was always interested in political history and made lists of kings, wrote out the dates of wars. For a long time like the Maya civilization was seemingly standing on only one leg precisely because we couldn't read its written heritage. We saw the enormous ruins of cities, but knew surprisingly little about the people who built them."
Whereas Egyptian hieroglyphics were deciphered in the 19th century, at that time Maya researchers could only understand the Maya calendar and numeral system. One is represented by a dot, five by a bar, and a shell means zero. Writings on stelae not related to dates did not attract any attention for a long time. They realized they were stuck. There was this whole mystical nimbus surrounding the Maya. As Guliaev wrote, it was a "culture-phenomenon," a "culture-enigma" that teenagers wanted to solve.
Maksym dove into books on the history of Ukraine—the works of Hrushevsky, Yavornytsky, and Polonska-Vasylenko—which, unlike the books on the Maya, he could check out of the local library. But at the age of 17 when, according to all logic, he was supposed to go study history, he chose law.
"What would I have done as a historian in Lutuhyne?" Maksym looks at me.
"Do you miss home?" I ask him instead.
"Maybe only the comfort of my apartment. Moving is always stressful," he answers honestly.
They have only just gotten settled in their new old home. Not long ago it was in total disarray with all their things, the remodeling, and a cast-iron bathtub in the yard. "The house is small, it's what we could afford. On the plus side it's warm," says Valentyna Mykolaïvna. The previous winter they were always cold.
"I barely knew Lutuhyne, barely walked its streets," Maksym explains, "so there's nothing to miss."
Only his older brother who stayed behind.
Parallel Worlds
How might you picture an expert on the ancient Maya?
"Probably not someone who lives in Kozacha Lopan or Lutuhyne," Maksym smiles.
Maybe as a sort of Indiana Jones with a few days' scruff, with a cap and a satchel slung over one shoulder, skillfully winding through the viney overgrowth that overtook the stoney ruins over the course of a millennium. Over the last few years researchers have been surveying these wilds, especially in the Petén department, the cradle of Maya civilization, with special lidar imaging. It has already "seen" the bigger picture—irrigation canals, agricultural terraces where the Maya grew maize, roads that connected cities, and defensive walls and fortresses.
Bored by this human drivel, Sonia the cat began whimpering loudly, hinting that she urgently needed to go out. Maksym asked me to let her out of the room.
"Maksym was very small when he was born—4 lbs, 10 oz. The labor was difficult. Maybe it was after that that his problems with his legs started. You know?" Valentyna Mykolaïvna looks at me carefully. "We even chose a house by the road so it would be easier for him to walk."
Unfortunately, right now it's impossible to get through the snowdrifts except for on the road.
Doctors diagnosed Maksym with cerebral palsy. He didn't go to preschool, but neither did his brothers and sister. While their parents were at work—their mother at the candy factory and their father at the plant—the kids were looked after by their grandparents. When it was time to go to school their parents decided that homeschooling would be better for their younger son. In his entire life he saw his classmates only twice.
"I don't know if it was right or not. But I don't regret that's how I studied. It was better for my education," says Maksym. "As for the lack of socialization, this situation can be viewed from different perspectives. Certainly, the fact that I'm withdrawn isn't good. It's hard for me now to go out among people. It would be not be easy for me to move to Kyiv and live on my own. On the other hand, they would have put me in a class of children. How would they have treated me? Children are cruel."
He knows this from personal experience.
"I remember when I went on vacation to Yevpatoria. I was robbed and lost a lot of things. It was traumatic," Maksym recalls. "If I had to deal with that every day, I don't know if I could endure it."
His teachers worked with the boy no more than eight hours a week. The rest of the time he was left to himself and, of course, his books. Maksym would get a computer and access to the internet rather late—only in his last couple years of university when he was 20 years old. Rehab took up the rest of his life. He and his mother would spend half a year living in Lviv, Odesa, or Kolomyia where they went for massages, injections, and casts. His parents did everything to get their son to walk, but when he was young he didn't really think about whether he'd be able to.
"I was a big soccer fan and wanted to play," Maksym laughs. "You see, this also connects me to the Maya. They built stadiums for a ballgame. Of course, this had a ritual significance for them. In the animistic world of the Maya, where maize, water, and even the disease that they sent their enemies had spirits, ritual was important. It allowed them to reach agreements."
Maksym can't stand it and again opens the door to other worlds, worlds where the warriors of Caracol and Kaan together decimate the warriors of Naranjo. And as long as the battle lasts, the supreme leader of Kaan plays ball on the three-conquest ballcourt, ensuring the military favor of the gods. Later the Maya would record: military victory was his reward.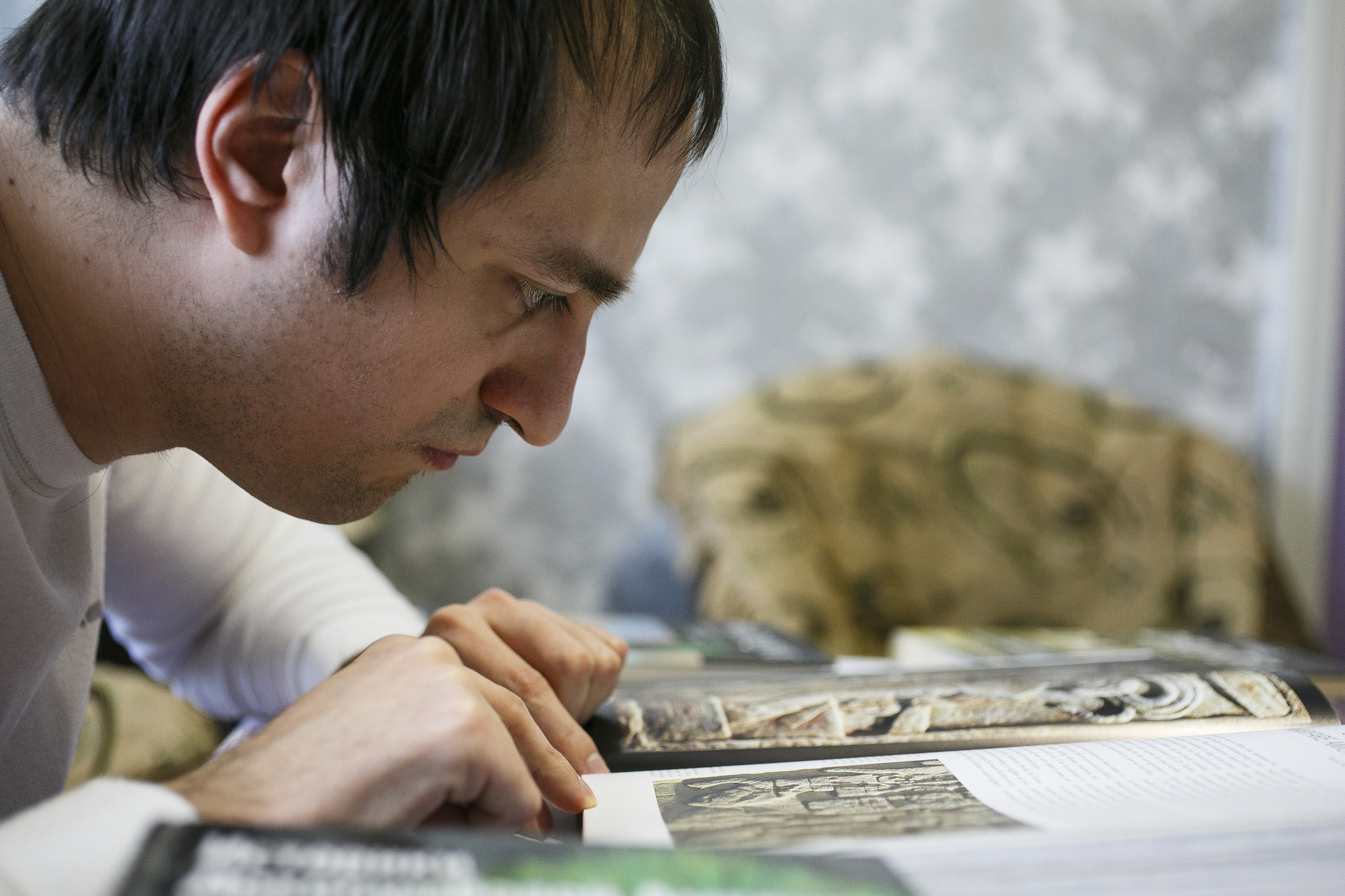 When he was little he didn't think about his malady, but as he grew up, he accepted it for what it was.
"I have no experience of life without sickness, so it's simpler for me to accept," he explains. "This can break a lot of people; they get mad at the whole world. They complain that it's unfair. I don't think it's right to look at the matter that way."
"What's the right way?"
"Why are some people born white and others black, some into wealthy families and others into poverty? These are also good questions. What matters is how you adapt to your circumstances. You have to accept your starting conditions and see what you can do. Today opportunities for people with disabilities have expanded considerably. Of course, there are obvious obstacles, but on the other hand, maybe I wouldn't have been so fond of books in childhood. But I had nothing to do; everyone else was playing outside, and I was indoors."
The absence of choice offered another freedom, but the little boy's separation made him different from most of his peers. For example, in the completely Russophone city, he spoke Ukrainian. And when people in Lviv addressed him in Russian since he was from the Luhansk region, Maksym would get very angry: "Do you think I come from the moon?" When he was 11 he decided he was a Ukrainian patriot, "not based on a blood test, but in the sense that Ukraine was my homeland and I was going to tie my future to it." He followed the parliamentary elections, rooting for Viacheslav Chornovil's People's Movement (Rukh) party. Because when you love political history, are interested in kings, emperors, and wars, you will naturally be interested in the present, even as a kid.
It was as though he and Lutuhyne existed in parallel realities. He lived his life, and the world around him lived its. As paradoxical as it might sound, this isolation from everything going on ultimately made him freer than many of the people around him.
"You see, Lutuhyne is a typical Donbas town," says Maksym. "The entire life there is built around the plant and the mines. People are enslaved. There are different ways to feel about this. For example, western Ukraine—everyone's a patriot, but they've all emigrated who knows where. But we're here on our own land. On the other hand, here over time people's worldviews become primitive, narrow, and at a certain moment they don't see anything beyond the factory. Sedentism is fostered. All of those inconvenient trains that take 36 hours. Under the USSR you also had to sit forever at the stops, waiting for the train from Moscow. We were going from Luhansk to Odesa and I was three years old. It was winter and we had to spend a whole day somewhere—either in the train station or on the cold train—while they recoupled the wagons. Who has the patience for that unless it's absolutely necessary? That's where this idea that 'the Donbas feeds Ukraine' comes from. People ended up in the middle of their own little world around which everything revolved, but beyond which it's empty."
If There's a War
At first the idea was to wait out the shooting in the basement. They spent several days there and observed how war intrudes on the ordinary rhythm of life lightning-fast. On the first day of shooting, some neighbors were celebrating a wedding; on the second day some others had a baby. And then the war began to run the show.
"For some reason I remember our neighbor checking her watch and saying, 'My program's on.' She went upstairs and five minutes later came running back because the shooting had started again. On the third day no one was talking about those programs," Maksym says about summer 2014 when the fighting over Lutuhyne started.
At first the tension in the basement where people from many buildings had gathered was growing. A few times it led to fights.
"But later self-preservation kicked in. Someone would start to say something, and he'd hear, 'Don't say that.' Facts were allowed, but opinions were unnecessary," Maksym recalls the main rule of survival in their shelter.
"Did you then draw some parallels with Maya history?"
"I had those thoughts, of course," Maksym smiles sadly. "For example, the inadequacy of the political elite is named as one of the reasons for the collapse of classical Maya civilization. This is an obvious parallel. I hope that we don't end so badly."
Meanwhile, the Maya again gradually win back the space of the room. Their faces carved in stone emerge from all the books. That profile, that hooked nose, that magnificent headdress. The Maya believed that their first kings were gods. For example, in Palenque one of the godheads they revered was the god of maize, the ancestor of three of the city's protector gods. The lords of the Maya hung their own hopes for life after death on the god of maize—the rulers' funerary masks of green jade symbolized rebirth, just like a seed of corn that will grow again.
In the first half of the 20th century, even the leading Mayanists were held captive by the myths they themselves had created. At that time it was believed that all civilizations of the Old World were similar since they were in contact with each other, but that with the Maya everything was different. They were cut off, on another continent, and hence their society was not similar—they had no warriors. It was as though the Maya were peaceful people who did not lead ordinary lives, rather just prayed to the stars, constantly looking at their cosmic calendar.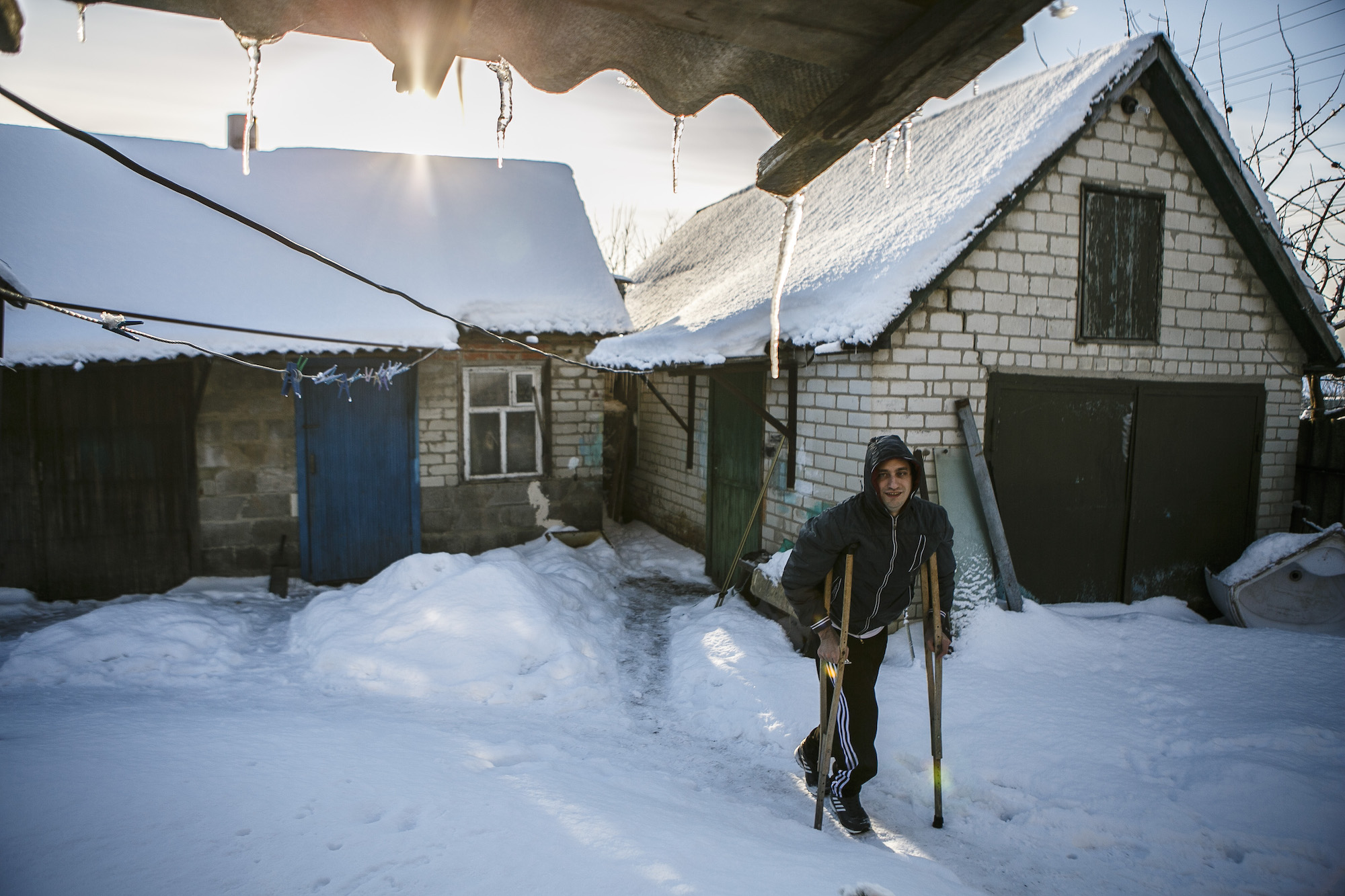 "It was as if the cities were the ritual centers," Maksym explains. "They only filled up with people during great ceremonies when everyone went to the temple. But later they all dispersed to who knows where. It sounds absurd, but this is what serious experts believed. It's laughable to read that the Maya didn't have warriors. They had war after war."
Maya history is still being pieced together like a jug broken into tiny shards. Take, for example, the history of the Kaan rulers. Until recently, they were considered a modest dynasty from Calakmul. But hieroglyphs found in various cities made for a completely different picture. They were actually the creators of the most powerful kingdom with an appetite for expansion unusual for the Maya. Under the leadership of Yuknoom Ch'een II, their subjects included the small La Corona well-known from its beautiful writings, the wealthy Cancuén located at the intersection of trade routes, and the rebellious Tikal. And they called themselves Kaloomte', the kings among kings.
"Where else can you hear such things!" Maksym is sincerely excited. "Can you imagine the person who finds a new text, reads it, and practically resurrects a previously unknown figure from the past? This is an intermediary between cultures, between epochs."
When the question arose of whether to leave Lutuhyne or wait out the shooting in the basement, Maksym insisted on leaving. His parents agreed, even if not right away.
"I was totally out of sorts when Maksym went upstairs to go home. First he has to go all the way up to the apartment, then he has to come all the way back down to the basement," Valentyna Mykolaïvna recalls.
For the next three months Maksym couldn't work. They left their computer at home, and he also had no access to his work materials or books. No one thought that they would have to leave for long so they packed hastily. From time to time Maksym was overcome with panic: while he wasn't working, Maya studies were flying ahead and he'd miss everything again like before.
Starting Over
Three months later his parents made the difficult decision not to return to occupied Lutuhyne. Moving divided their life into before and after. One period had ended, another had begun. Just like in the Maya calendar.
"The Maya lived in cycles: ten years, twenty years, a long period of twenty sets of twenty years," Maksym explains. Again hieroglyphs begin to emerge from the pattern of flowers on the wallpaper.
"This is why they had no clear concept of the end of the world. Christian time progresses linearly from the creation of the world to the Last Judgment. But if time is cyclical, then you outlive one cycle and another begins. When a certain period ends, you have to carry out rituals, make sacrifices."
This was one of the functions of the king. In the texts they are even called the holy rulers, that is, the intermediary between God and the people. With the help of the calendar and the rituals, they kept the world in order and prevented chaos from seizing it. On the occasion of completing certain cycles, the Maya erected monuments and built temples, for example, Rosalila, Maksym's favorite temple, which is located in Сopán. It has survived since is was covered from above by a new structure.
"A new epoch is beginning, so you have to make something new," our researcher explains.
Maksym's family also made their sacrifice.
"I'm going to work on the garden in the spring. And the mulberries probably need to be ripped out, since they attract a lot of flies," Valentyna Mykolaïvna is making her plans.
Maksym has his own dates to celebrate on the calendar. He graduated from university in Luhansk. The decision to attend law school was his own, mature and rational. Maksym did not like law, but the profession could provide for him. "Accept it and adapt," he notes. The Maya completely disappeared from his life; they weren't relevant. And later he didn't return to them—he started looking for work. As it turned out, finding a desk job as a lawyer was a fantasy. In reality young lawyers must walk to eat. Eventually a friend in Lutuhyne hired him for an internship. Maksym drove to work every day in hope that they would pay him and he could at least cover his gas expenses. But they didn't.
"I want to thank that person," Maksym laughs, "because he gave me a reason to raise hell at home and say I wouldn't go back. In reality, if I had wanted to work for him, I would have behaved totally differently. But I didn't want to—that's key."
He understood this once and for all during his internship. The civilian cases that he had to work on were psychologically stressful because he had to dive deep into people's personal stories. And there was case after case. At one point he was told, "Find yourself a lucrative specialty and in your free time do what's interesting." But it was an illusion that he had any free time.
As his thoughts about his future in law began subsiding, Maksym suddenly remembered his old hobby. This happened one day in August 2009. He decided to look online for news about the Maya and came across a site dedicated to Mesoamerica where the leading Russian Mayanists posted their articles. This was his second contact with the ancient civilization.
"I experienced culture shock," Maksym says. "I realized that in twenty years there had been a breakthrough in scholarship. In 1983 we didn't even know the names of the rulers, and in 2000 a book was published by the epigraphists Simon Martin, a Brit, and the German Nikolai Grube based on the chronicles of the Maya Kings and Queens, their biographies. The history of an entire people was discovered, almost deliberately just for me, so I could read it."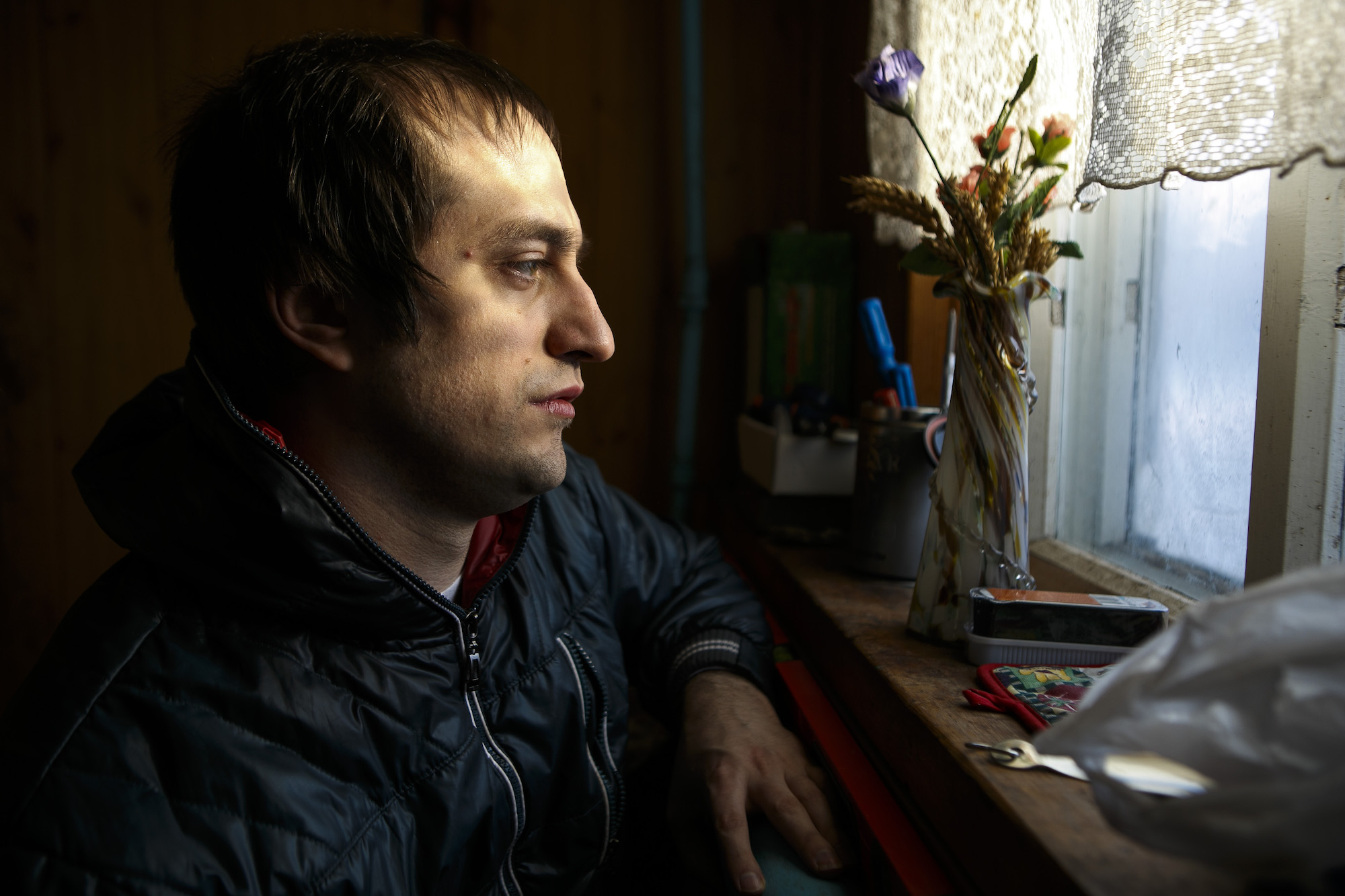 Maksym guards that book in his arms like his most valueable treasure. One corner of the cover is damaged kind of like a ticket that's been punched more than once.
"It was her," laughing, Maksym glances at Sonia napping peacefully on the windowsill. "I got mad at her once, but she got her revenge. She knew what to do."
Maksym could not buy books right away, so he first studied them on the computer. At his request, the Russian Mayanist Dmitrii Beliaev shared his copies with him. Back then, Maksym could not read English at all. But armed with a dictionary, he pulled one word at a time out of the book. Today he can read English and Spanish fluently, the main languages of scholarly works on the Maya.
"It's good to do these things since you meet people around the whole world right away," Maksym explains. "If you study Ukrainian history, you can spend decades digging around exclusively in Ukrainian publications and not aspire to anything more. In the case of the Maya, in an instant you end up in a different language environment. This fundamentally broadens your world."
His preliminary information gathering took place without any sort of plan for what to do next. He read, made up for lost time, and then began writing himself. His first articles were for Ukrainian Wikipedia.
"There was this ruler, B'alaj-Chan-K'awiil. He has an interesting story. Brother went after brother and they became enemies—it's like out of Shakespeare. I wrote an enormous article about it. The English Wikipedia article on this is only a few sentences long," Maksym laughs.
Samir Dida, the founder of the Russian site World of Indians (Mir indeitsev), which is dedicated to popularizing the history of pre-Columbian America, saw his post. "Maksym, what good to you is Wikipedia? No one will know that it was you who prepared this material. No one is going to give you money for this. I have a site. Write for it and I will pay you." Maksym joined the editing team for the site. In 2014 he began duplicating his work in Ukrainian. He saw that he was being called a Russian author on the forums, and he wanted to distance himself from this. Later, thanks to his work with World of Indians, Maksym published a few books.
For many years now, he has been collaborating with two Ukrainian Mayanists: Viktor Talakh and that very same Yurii Poliukhovych, who had at one time deciphered that inscription "Chiik Nahb wall." Maksym even made a special trip to Kyiv for Poliukhovych's dissertation defense. Together they write the history of the ancient Maya in Ukrainian.
"We make a good team," Maksym says. "Yurii has access to primary sources and he does research directly in the Maya settlements. But I have time to write. Together we can do more than either one of us alone. Even in Russia where they have an entire Mesoamerican center, there still aren't any publications similar to what we're doing. I'm not simply accumulating knowledge for myself—what's most interesting is sharing it."
This is how the reserved boy found a way to communicate with others.
"I've noticed that that's what I'm doing, step by step," Maksym says. "But humbly. I'm not pretending to have degrees I don't have."
He doesn't call himself a historian, since he's officially a lawyer. He signs his articles "researcher, author of publications on the political history of the classical Maya period."
"I could not have imagined how the internet would change my life. If I had known that I could do what I wanted and talk to whom I wanted, I would not have gone to law school," Maksym admits. "I wasn't counting on the technological breakthrough. I had constructed a picture of my life based on what I knew. I put what I knew into my future. But life is such that it's hard to count on."
But sometimes everything turns out for the best.
Unplowed Field
The next day I repeated my ritual. I look for the green gate, Valentyna Mykolaïvna opens the door and offers me slippers so my feet won't be cold. I put them on, greet Maksym's father, and head to the room where Maksym is already waiting. In addition to the books, today there is another artefact on the table—a mug with a depiction of a Maya fresco.
"I thought we left it in Lutuhyne, but Mom grabbed it," he explains. There is a warm smile on his face. It was his mom who traveled with him five years in a row to his exams in Luhansk. It was she who transported his pyramids of books to Kharkiv, afraid that they'd be confiscated at the checkpoint. Fortunately, they were not.
Maksym opens a book to a page with a map. The Maya territory with dozens of dots representing cities is divided into northern, central, and southern provinces. He traces a circle around Calakmul, Palenque, Tikal, and Copán—the heart of classical Maya civilization. When the Spanish arrived on the continent in the 16th century, these classical cities had long ago been reabsorbed by the jungle. The culture had shifted north, but the forms and language had changed.
"In the 9th century in Chichen Itza according to the classical Maya tradition, they were still making monuments with hieroglyphs, but later they stopped all of a sudden. From then on until the 15th century, we know almost nothing about Maya history because there aren't any texts," says Maksym. "It's seems like they no longer liked the idea of a holy ruler. There was probably a crisis that led them to decide the form wasn't working and they should look for another."
The reasons for the collapse of classical Maya civilization remain unknown. One of the main hypotheses is ecological. For a long time Copán supported this. Researchers said that they Maya destroyed the forest around them, leading to erosion and constant crop failure. But when other researchers visited the same spot and took new samples, it turned out that, on the contrary, the Maya had protected the forest. More specifically, the forest had in fact at some point been deteriorating, but the Maya understood what this mean for their descendents and began restoring it.
It is difficult to build concepts on such a wobbly foundation. But there are a lot of them. For example, the Danish researcher Cristophe Helmke analyzed late Maya texts from the 9th century and noticed an interesting peculiarity. Whereas earlier they wrote about the king and war, here this leitmotif had disappeared to be replaced by texts about various ceremonies and rituals for summoning rain. The god of rain and thunder was always important for the farming Maya.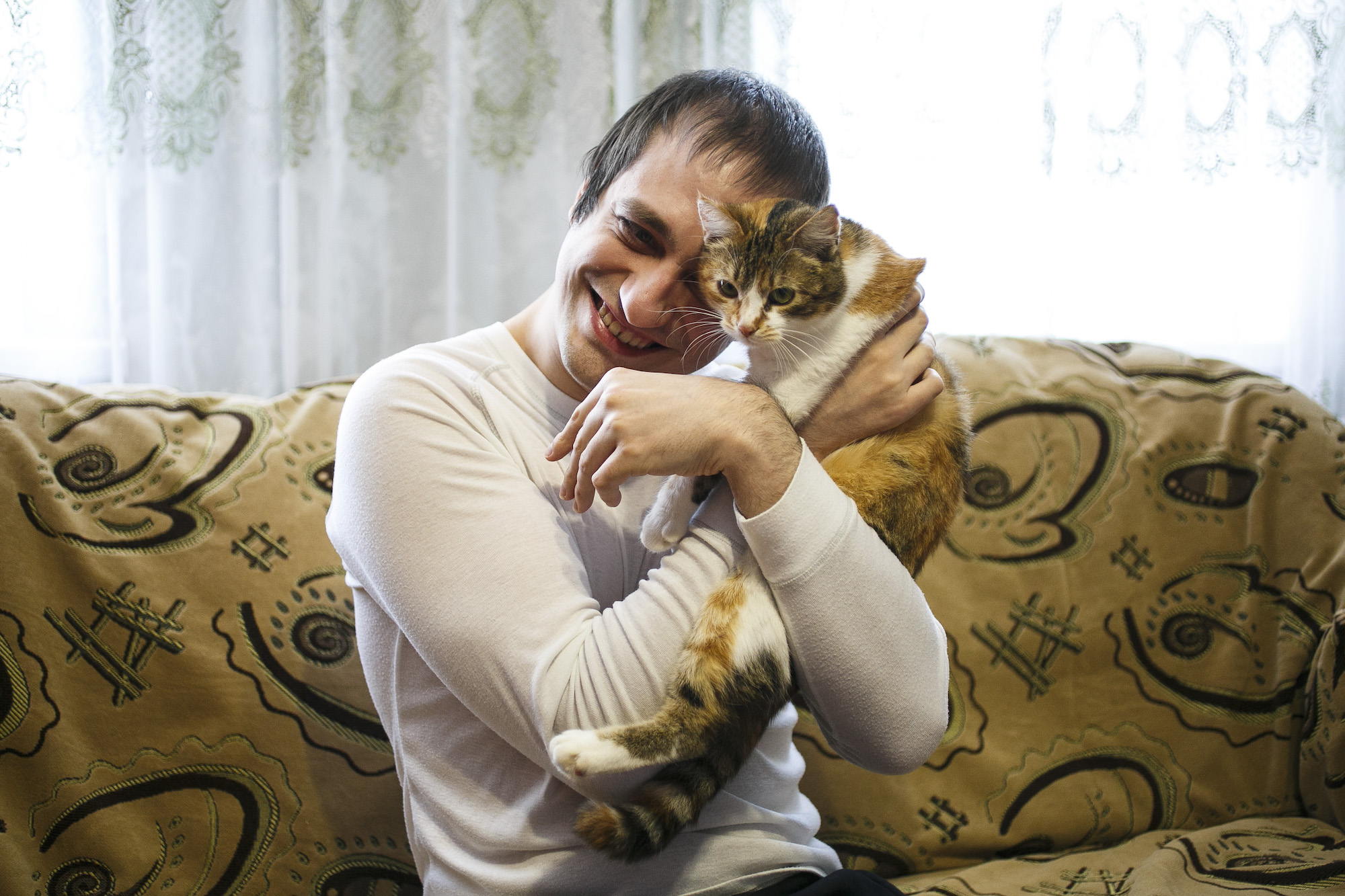 "They probably sensed a change in climate and tried to respond to this in a way they knew," Maksym explains. "Perhaps it was because the kings hadn't dealt with this problem, and so the system began cumbling. You see, we know a lot about the Maya, but this is still just a little piece of the whole."
With its brown furniture along the wall and flower vases—Maksym had selected Valentyna Mykolaïvna's room for our meeting because it was more spacious—it was hard to believe we were in an ordinary room in an ordinary house. In two days it had turned into Indiana Jones's small office.
"For example, the creation myth," Maksym goes on, "in different parts of Central America there are various versions. There is a myth that people are made from clay, and there is one in which from corn. When contemporary researchers began studying this, they decided that the myth about people of clay was a Biblical overlay that had to be discarded. But the one about corn—now that was authentic. But now we know that the Maya idea about people being made from clay dates back to the first millennium and the Biblical plot has nothing to do with anything. There are plenty of lacunae in Maya studies. Sometimes when coming up with hypotheses, it's difficult to give up your own ideas about the world."
"What would you like to find in the jungles?" I ask Maksym.
"Manuscripts! This is every Mayanist's dream," he answers.
Texts on stone are a specific source of information. First of all, not much can be fit and what can mostly concerns the king—when he was born, when he came to power, when he died, his titles, his family, wars. The Maya did not write about the economy or law on their monuments and they barely mentioned their defeats. Archeologists still argue with epigraphists about whether this is not just ordinary propaganda. It is more interesting to find "non-canonical" things, like the so-called Komkom Vase. Normally ceramics depict mythological or historical scenes, and the inscription is about the object's owner. But this vase is unique.
"It features a text with a detailed chronicle of a war. We knew a few of the events but the vase shows what happened each day. This only proves just how meager monumental inscriptions are in comparison with what could be kept in paper chronicles—codices," explains Maksym.
There are only three extant Maya manuscripts, and a fourth whose authenticity is still doubted by scientists. The others were destroyed by the climate and at the hands of the Spanish. Those that remain describe rituals and are not related to history. There is also the Maya epic Popol Vuh, the most detailed text on the mythology of the Maya and K'iche', but it was written in the 16th century when many kilometers and centuries separated its author from classical civilization.
From time to time I glance out the window across from me and each time I have the feeling you get when you have just woken up and don't know where you are. The table with the pyramids of books that we're sitting at is in the middle of the room. It seems like the Maya occupy a similar position in Maksym's life.
"It's probably like with love," he notes. "It comes in certain stages. There is a moment of ardent passion. And in the sense of the Maya, I have experienced this. I would wake up, eat breakfast, turn on the computer, and read until night. I did that for three or four years. Now it's different with writing a book. I can pause, take a break. I work until eight p.m. and after that I listen to music or read something for pleasure. Our relationship has reached a new level. Instead of passionate love, we have the comfort of a family, when you know that today we're doing this together, but later I'll belong to myself."
Maksym is pleased with his apt metaphor and smiles. The Maya are not greedy; they let him go to imperial China and to Medieval Europe. But he does not want for plans related to Mesoamerican civilization.
"For example, it would be interesting to establish a school for Maya studies at a university," he dreams. "Here, it's like Bulgakov's Woland said in Master and Margarita, 'What is it with you—no matter what one asks for, there isn't any!' On the one hand, it's difficult that we don't have anything; on the other, the field is yet unplowed. If I went to America, well there the cliques are formed, the books have been written. Even though there is plenty of work for Mayanists, you'd still have to join a large group and be one of many. But in Ukraine, you're laying the foundation."
Valentyna Mykolaïvna peeks into the room to ask if we're tired. The sounds of the TV that Maksym's dad is watching stream in through the cracked door. A practical person, he is still disappointed that his son gave up law.
"What about your mother?" I ask Maksym.
"What do moms want? For their children to be happy," he laughs.
"Are you happy?"
"Yes," he says. "Of course, you always strive for something more. But happiness is a process."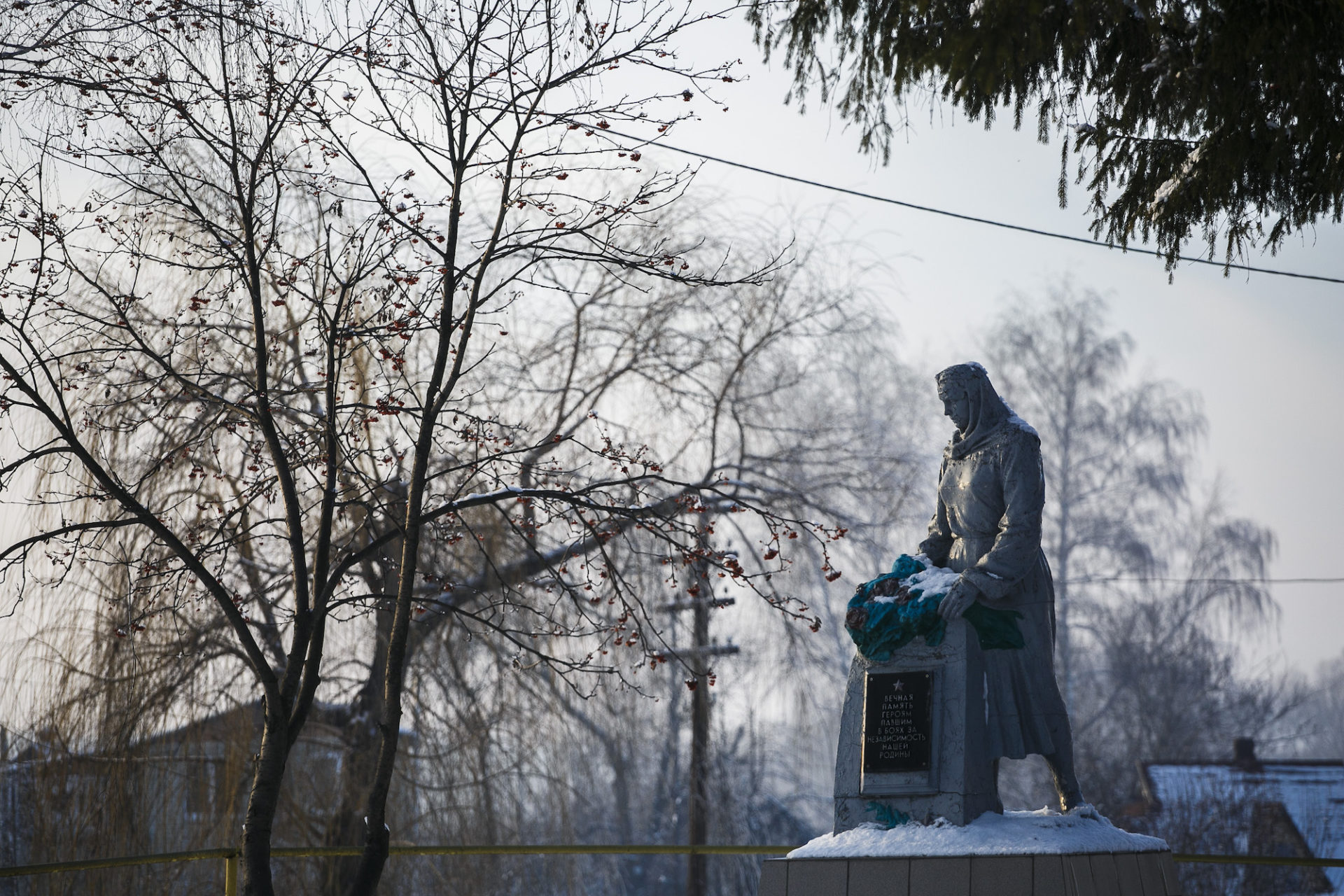 Translated by Ali Kinsella.
[This publication was created with support of the Royal Norwegian Embassy in Ukraine. The views and opinions expressed in this publication are those of the authors and do not necessarily reflect the official position of the Norwegian government].
Дочитали до кінця! Що далі?
Далі — невеличке прохання. Будувати медіа в Україні — справа нелегка. Вона вимагає особливого досвіду, знань і ресурсів. А літературний репортаж — це ще й один із найдорожчих жанрів журналістики. Тому ми потребуємо вашої підтримки.
У нас немає інвесторів чи «дружніх політиків» — ми завжди були незалежними. Єдина залежність, яку хотілося б мати — залежність від освічених і небайдужих читачів. Запрошуємо вас приєднатися до нашої Спільноти.