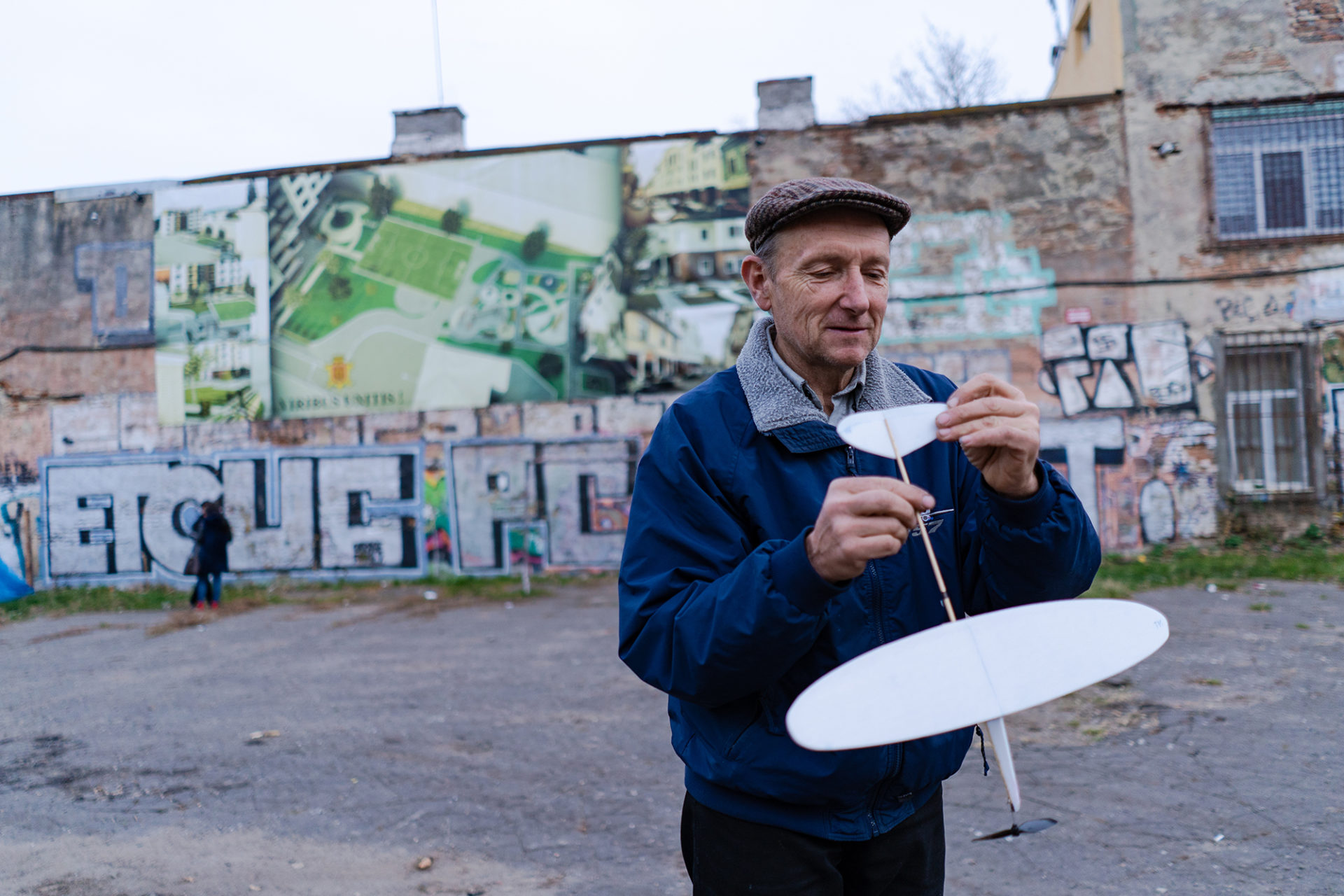 Onward and Upward
At 60 years old, Leonid Kovalchuk believes his dream will come true and he will cross the ocean in a plane he builds himself
"How can you look at these pictures and not fall in love with aviation?" Mr. Leonid holds British pilot Bill Gunston's 1992 Chronicle of Aviation in one hand and a glass jar of buckwheat in the other. He turns the pages and pauses when he finds what he needed. This underlines the importance of the moment.
"A girl did it! Why can't I?" he says stubbornly.
Leonid Kovalchuk is 60. He's supposed to retire in one year. But what's retirement when you have so many plans? He dreams of flying to Australia in an airplane that he's building himself. He talks about this confidently and stoically; it's as if this were his fate, as if he were a character in Saint-Exupéry's Wind, Sand, and Stars.
"I've never really studied aviation. It's just been the passion of my whole life," he shrugs and spreads his arms.
Lots of Cuckoos
"In second grade I already knew that I had to become a pilot! But I didn't fly for the first time until I was 40," Leonid explains. "I went to my home village in the Khmelnytskyi region. I go out into the field and I see an Antonov An-2 dusting the crops, spraying chemicals. Every since then that machine's been stuck in my head. That's when I started building kites, gathering materials, and dreaming of flying."
Leonid has been living in Chernivtsi for a long time, but he has traveled the world: he spent half a year in Sudan working on contract, a bit in Canada, and a month in Holland. There he earned the money for the engine for his first Piper Cub, a light two-seater plane. He built it with two friends.
This aviator builds boomerangs and model planes with children and guards washing equipment. He works three jobs: as a guard for a private firm and in two youth model airplane clubs. He explains that when he has the energy and free time before his shifts, he makes parts for his own plane.
"There are lots of cuckoos out there," he admits, twirling his finger by his temple. "But they're all different kinds."
What matters is that he has the support of those closest to him. Leonid has two children and two grandchildren. They believe in him, as do some of his friends.
"A friend once came over and said, 'Leonid Anatoliiovych, I want to take part in your project. Here's an engine.' And I didn't even ask him for it!" he says bursting with positive emotions. "He just went and found it in the catalog, bought it, and brought it over!"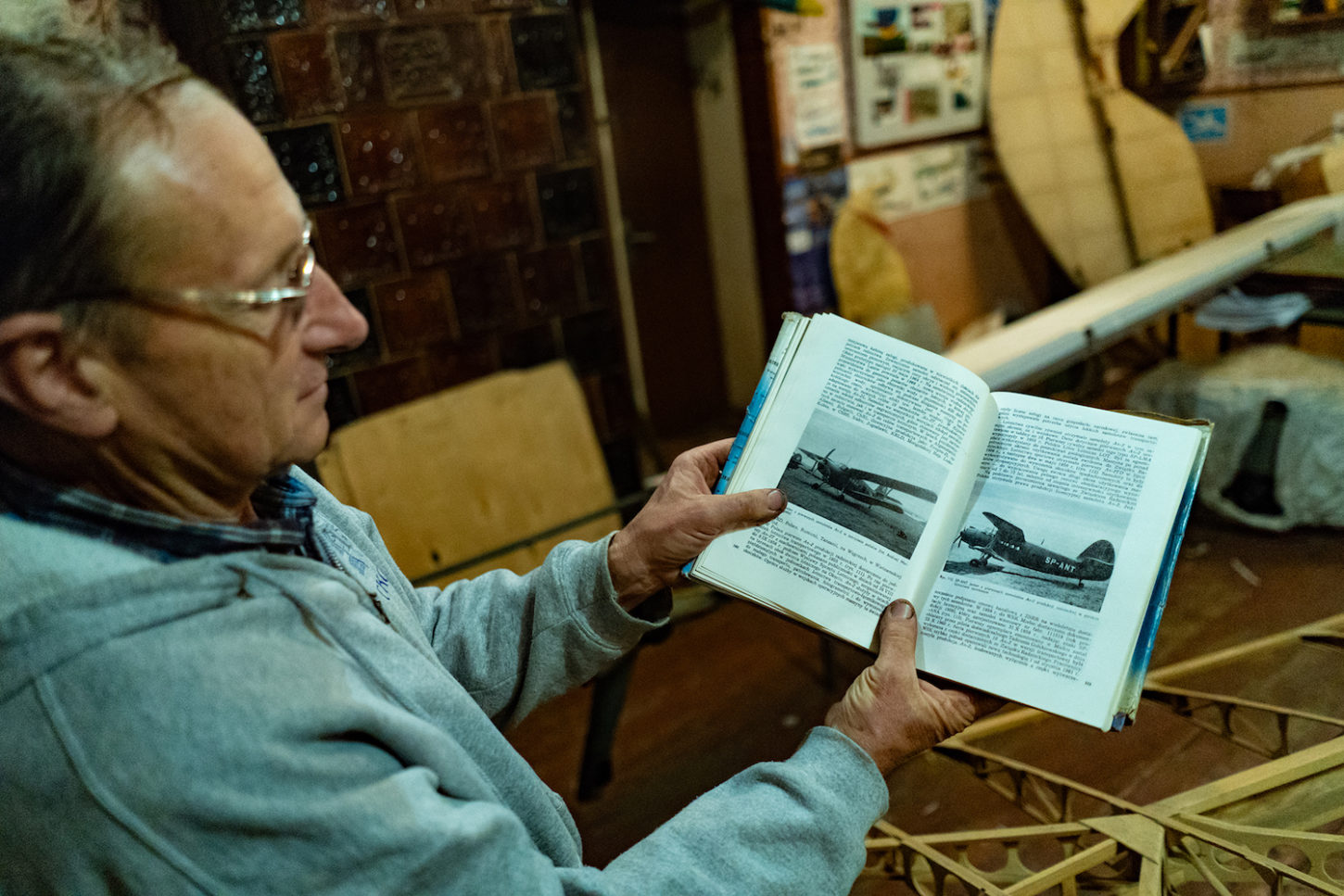 Like Richard Bach
"The instructor comes out of his office and says, 'Okay, you're ready to fly!' Can you imagine the feeling? The sky, the plane, no one around, and you're flying!"
This is how Leonid describes his first solo flight, which he completed in spring 2000. Previously he completed international pilot training in Kyiv. Earlier yet, he and two friends from Chernivtsi had tried to build an experimental one-seater plane of their own design. But the guys soon realized they had neither the time nor the resources for such experiments. They decided not to risk it and took instead a successful American plane, a biplane, as a prototype.
Since then, Leonid had been building the DH.60G Gipsy Moth biplane by hand for almost 15 years. He wants to fly it to Australia.
Eighty-eight years ago, the legendary female pilot Amy Johnson was the first to fly from England to Australia. The journey took 19 days with layovers and overnights. Leonid hopes to keep pace with her.
"Is it realistic to cover such a distance in your own plane?" I ask.
"Why not? Tons of people have flown to southern Africa! A Romanian flew from Bucharest to Vietnam. So why can't I repeat it? It's all so romantic: Richard Bach, white scarves, and the sky! I believe I can fly!"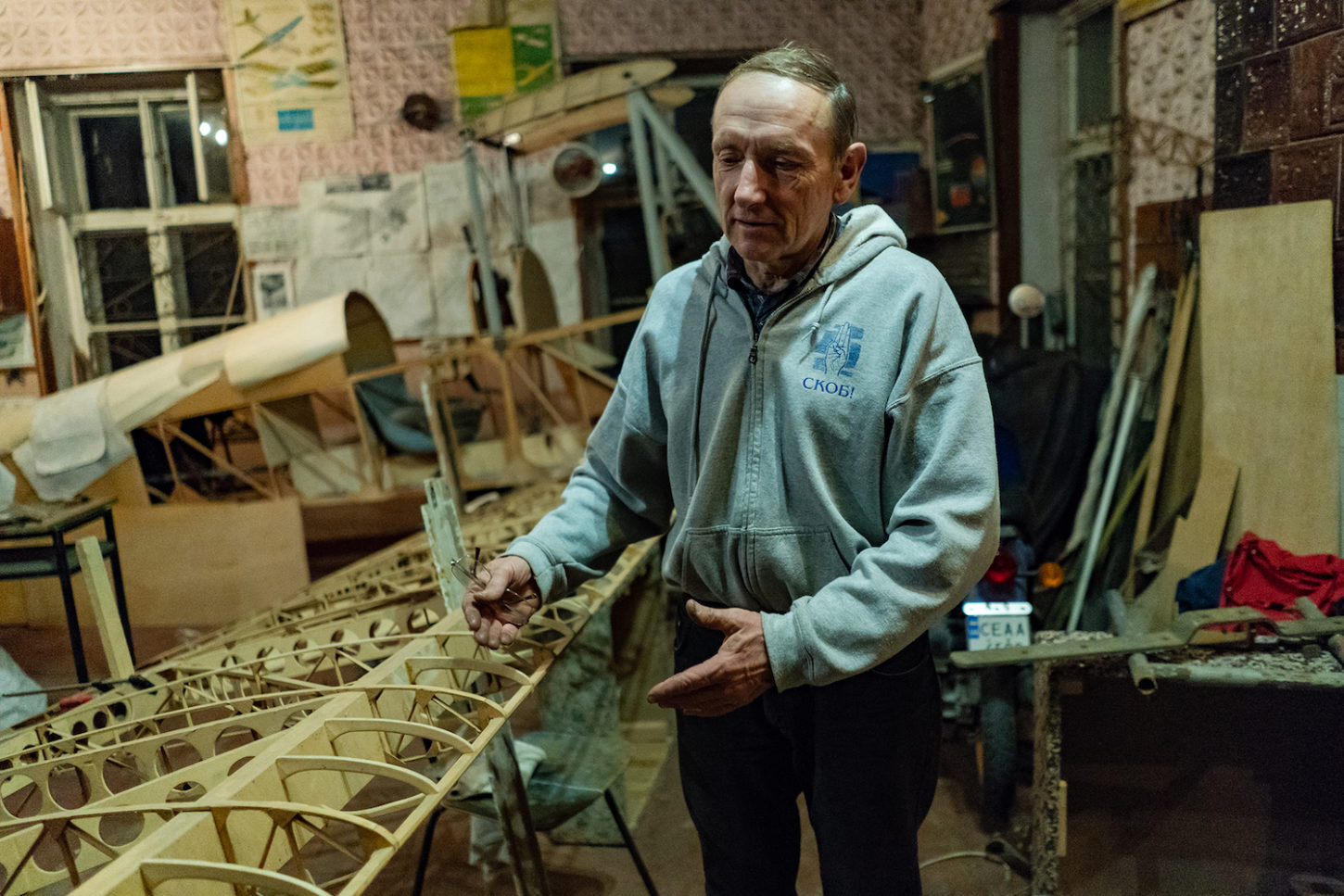 By Hand
Before the DH.60G Gipsy Moth biplane was taken out of production, over 20 thousand were made. These planes were used for intelligence during World War Two.
Leonid is making his own copy from wood. He's using Carpathian pine for the construction, all of which he selects himself.
Leonid is building the plane, which will ultimately weigh 700 kilos, in an abandoned building near the youth club. The place is a disaster. At one time it was a barn, then a music school, but now an aviator's workshop.
"There are rumors that someone wants to start building here," Leonid says. "So if I don't finish it in time, I'll drag it all outside and burn it."
"Then why do you need all this?"
Leonid shrugs his shoulders. "I have a dream."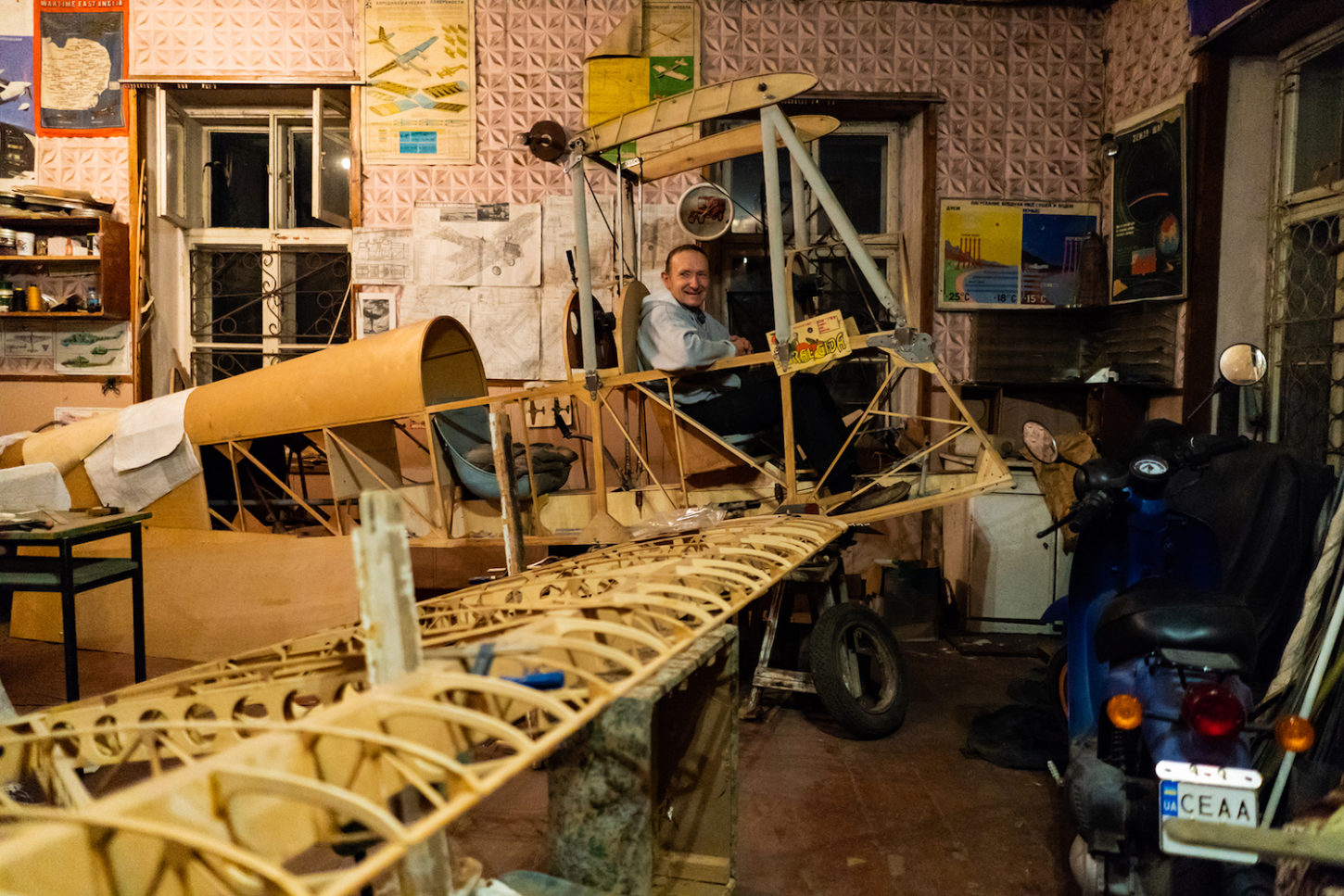 Time Incessant
"This is where I get my energy for life, its sense," the 60-year-old dreamer explains. "Because, what, you go to work, you eat, you sleep, and that's it? What does that turn a person into?"
Leonid knows a lot about the history of aviation, speaks a little English, and is always conducting mini-lessons in both for the kids in the club.
When asked if he wants fame if his flight is successful, he answers with a confident "no." He only wants to satisfy his own ambitions.
"Why do I need to go down in history? It should go down in me! We're a humble people."
"When are you planning on flying?"
"That's the scariest question of all," Leonid laughs. "I've got everything I need for the plane except for time."
According to the plan, he will take off for Australia in 2030. The date was not chosen accidentally—it is the centennial of Amy Johnson's flight.
By then, Leonid Kovalchuk will be 72.
Translated by Ali Kinsella.
[This publication was created with support of the Royal Norwegian Embassy in Ukraine. The views and opinions expressed in this publication are those of the authors and do not necessarily reflect the official position of the Norwegian government].
Дочитали до кінця! Що далі?
Далі — невеличке прохання. Будувати медіа в Україні — справа нелегка. Вона вимагає особливого досвіду, знань і ресурсів. А літературний репортаж — це ще й один із найдорожчих жанрів журналістики. Тому ми потребуємо вашої підтримки.
У нас немає інвесторів чи «дружніх політиків» — ми завжди були незалежними. Єдина залежність, яку хотілося б мати — залежність від освічених і небайдужих читачів. Запрошуємо вас приєднатися до нашої Спільноти.