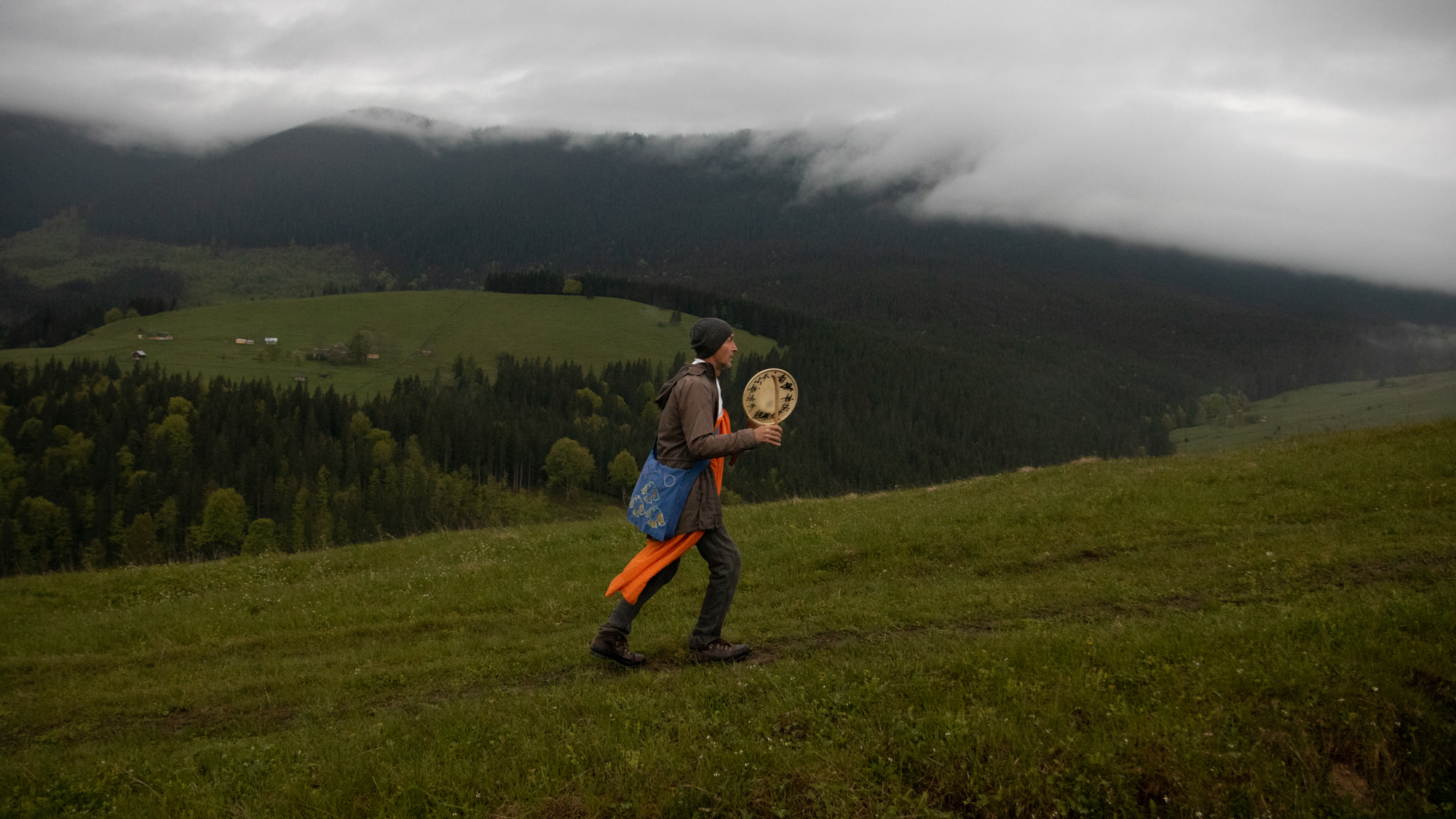 Peace of Mind: A Buddhist in the Carpathians
How Buddhist monks from occupied Donetsk found their Place of the Way in the Hutsluian Carpathians
Every day Sergij makes his tea at around 4:30 am. At this time, his house is cold enough to require him to start a fire in the fireplace that sits in the corner of his kitchen. Then he packs a white round drum and begins the climb from his house. His morning starts with the sun and a song, sitting on the top of the mountain in the Carpathian Mountains, not far from Hoverla, the highest point of Ukraine. He sits there, whether it's raining or dry, taking a carpet to sit on in the snowy winter—it's his special morning's prayer.
Sergij Filonenko is 57 and has spent half of his life as a Buddhist monk. He left Donetsk, his native city, when Russia started a war in Eastern Ukraine. He travelled thousands of kilometers through Ukraine, the biggest country in Europe, to reach a place where he could live in peace with the Lotus Sutra order in Carpathian Mountains.
How it all started
When Sergij was 25, he heard the word "Buddha" for the first time. It was the 1990s—a time when the USSR had crashed and post-soviet countries were new and unstable. Sergij began to study Buddhist texts, and when he heard about a Buddhist temple located in Saint Petersburg, founded by the previous Dalai Lama, he wrote a the temple a letter.
"I was moving around, and this impersonal and meaningless life depleted me," Sergij said.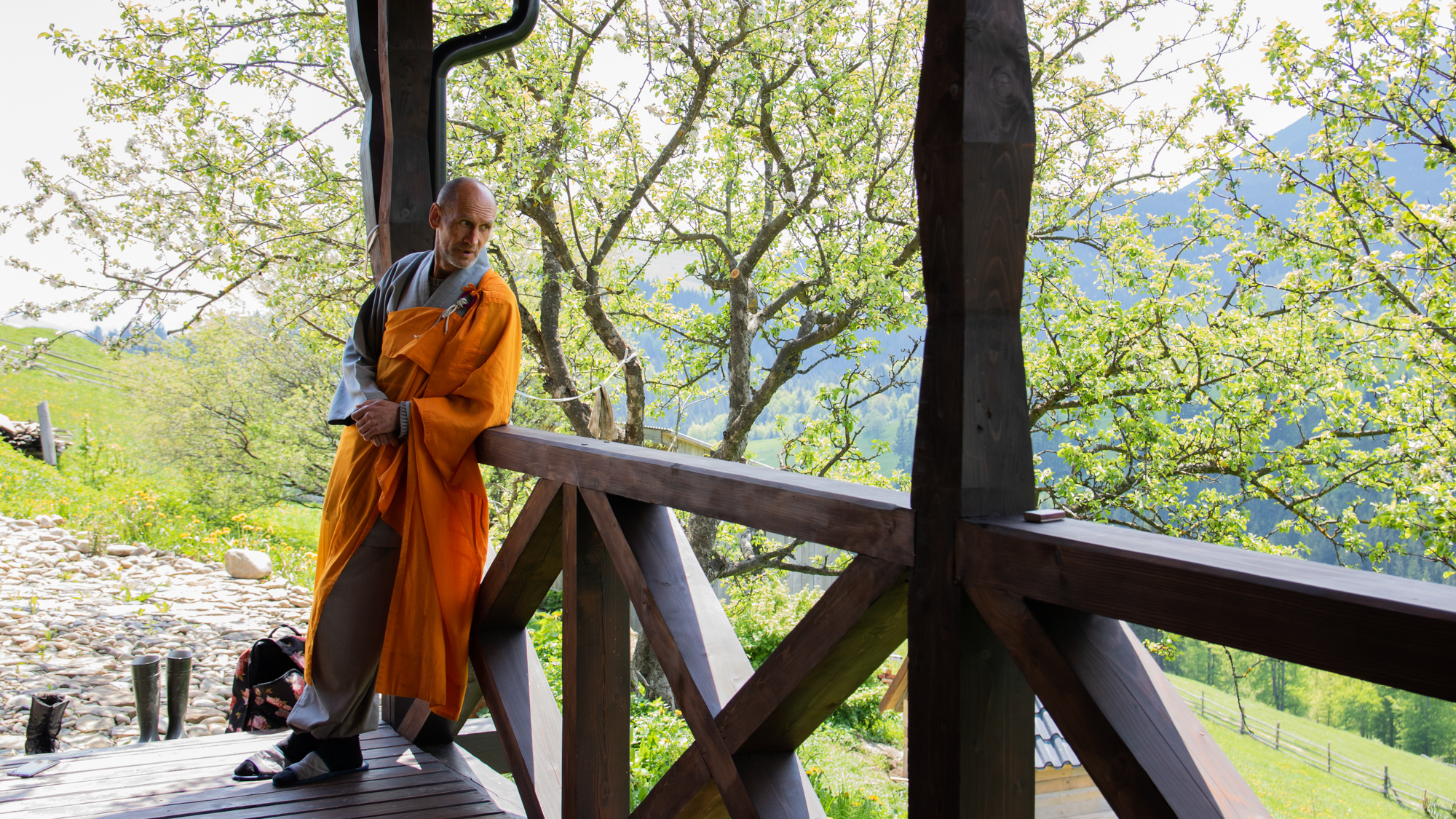 Sasha Shevchenko, a young man from Ukraine, answered his letter, saying that he had gone and practiced in the temple and it had helped him. Sasha encouraged Sergij to visit, so he went there with his wife—her parents took care of Sergij's young child, so he was able to just leave everything and go directly to the temple. In the Saint Petersburg temple, they met the rector of datsan, the leader of the monastery, who told them to establish a Buddhist community in Donetsk, Sergij's hometown, where he had friends that shared his views.
In September of 1991, they were officially registered with the Religious Affairs Committee. Their community started small; their group consisted of only ten members and it was the first Ukrainian Buddhist community. More members joined it after the Japanese mentor, Junsey Terasawa, came to their community. It was decided that, with the growing population, a more permanent settlement needed to be established.
"No one wants to be in war, it's true," Sergij said. "We just show a way for peace."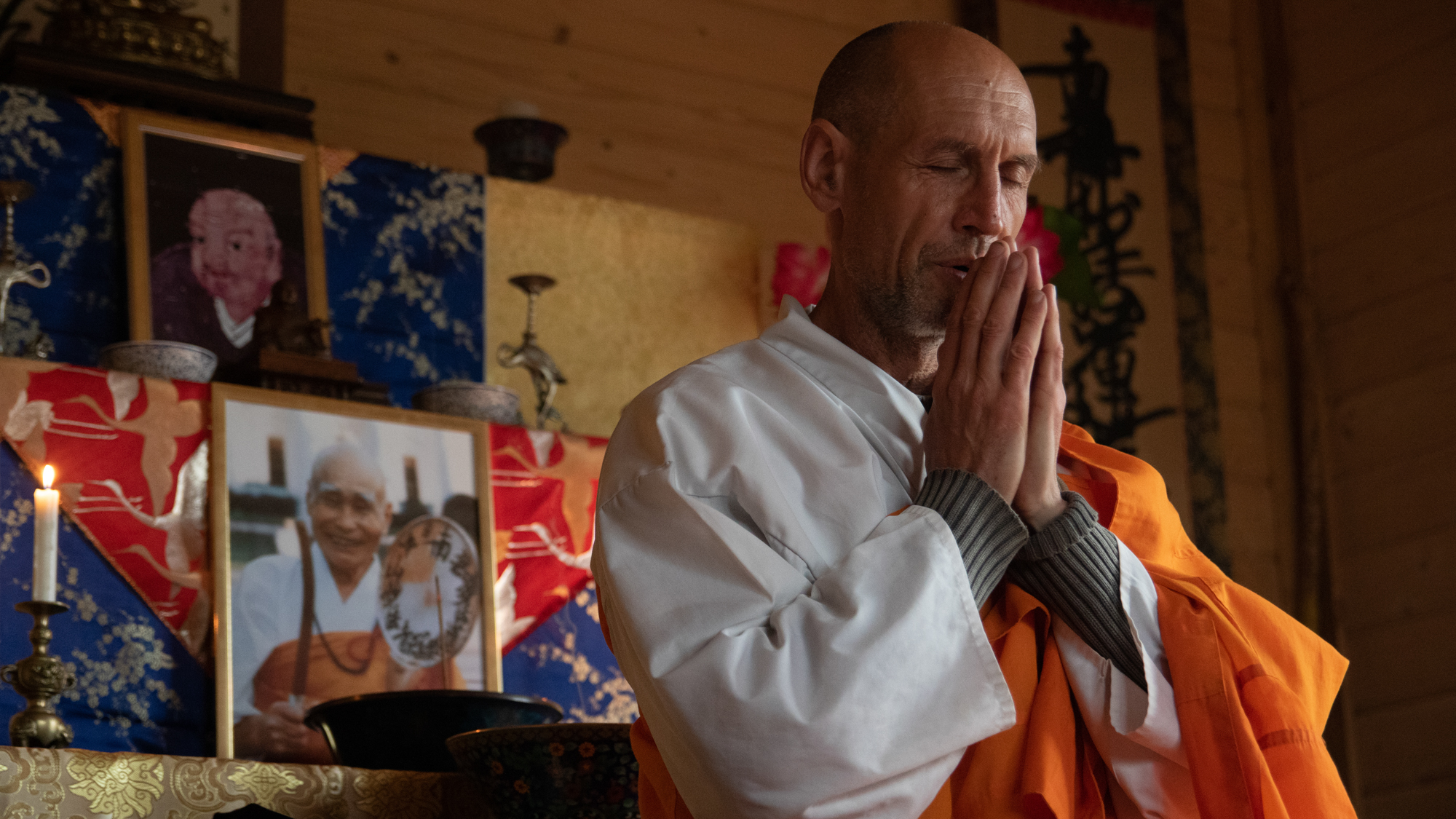 Junsey Terasawa more than just monk, who meditated and discovery the theory of Buddha. He was also very well-known because of his peacemaking practices all around Eurasia. Junsey used to go everywhere that the voice of peace was needed—Chechnya in Russia, India and Pakistan, as well as post-soviet countries such as Kazakhstan and Ukraine.
With him, Sergij and the other monks went to those conflict zones between Europe and Asia. A few times they were arrested and even beaten by Russian FSB, the Russian security service, but some of the locals in Chechnya showed their hospitality. Authorities in India and Pakistan also enjoyed the possibility of meeting with these monks.
"No one wants to be in war, it's true," Sergij said. "We just show a way for peace."
Sergij cooks his dinner

A view from the second floor

Sergij spends his time on the kitchen with reading a book
He said that the presence of the monks really influenced local people—they spoke a lot about peace, Buddha, war and how to avoid it.
After travelling across Caucasus and Asia and the events of the Ukrainian Orange Revolution in 2005—a series of protests following a run-off election—the monks decided that it was time for them to find their own place in Ukraine. They founded a settlement in Pan'kivka and built there, in the quiet hills, the Peace Pagoda—a monument to inspire peace, and designed to provide place for people of all races and creeds to find focus. Their next step was going to be to build the largest Buddhist stupa in Ukraine. The stupa is a place of meditation, and an important Buddhist symbol, one of unity between man, sky and space.
"There is such a practice when people just walk around the stupa with prayer," Sergij said. "Though it seems primitive, all Buddhists are happy to practice it."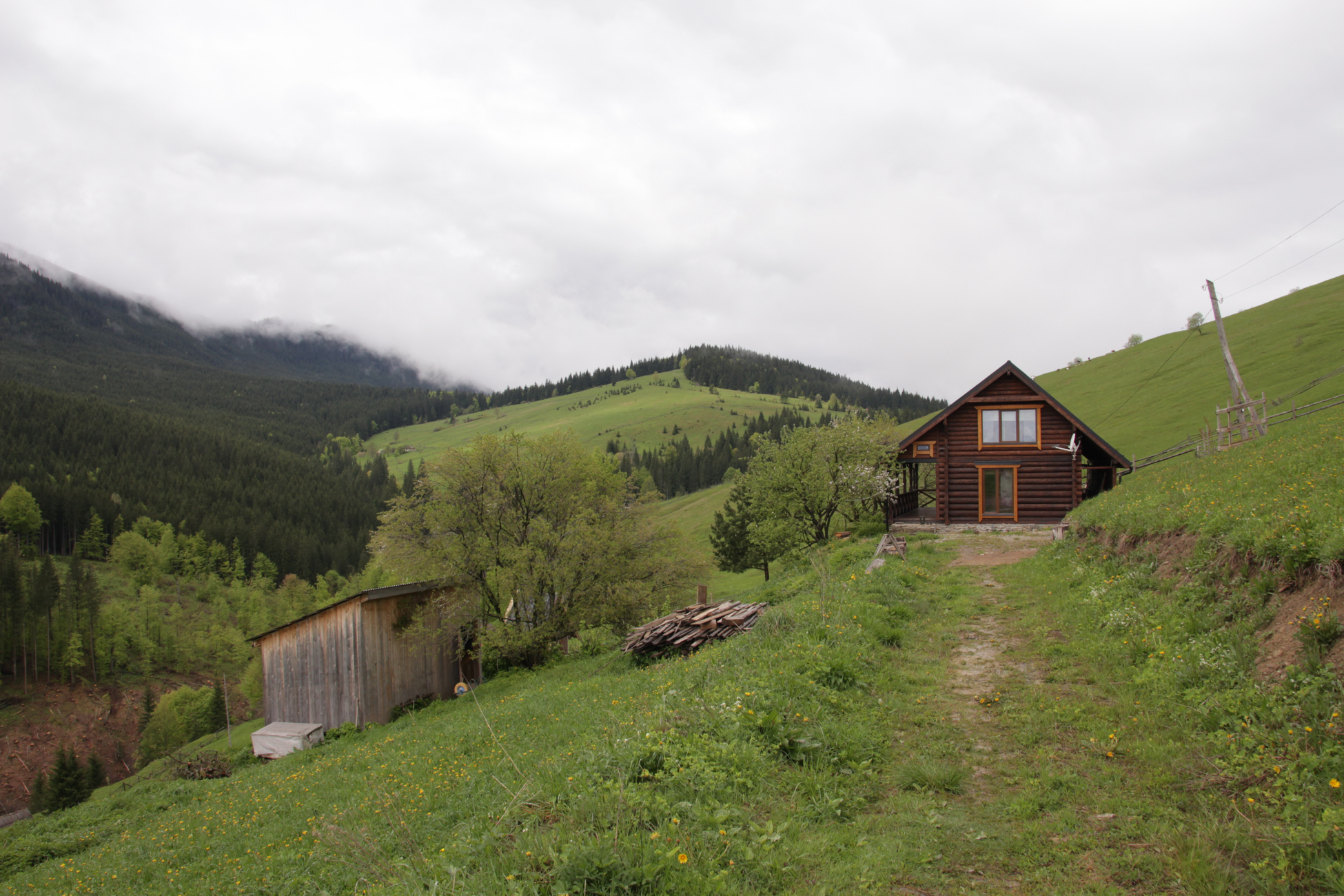 The practice, called circumambulation, allows people to see into their conscious, into themselves, and allow them to feel the world around them and turn away from their egos.
At that time, the land to build the stupa on was difficult to purchase without bribes. But Sensei Terasawa helped them; he spoke to Iosif Kobzon, a Russian and Soviet singer who Sensei had met at a conference. The singer was a friend of authorities of Donetsk, and he wrote a letter to the mayor and the land was purchased legitimately by the monks.
"We did not pay a single penny of bribes, we did everything honestly," Sergij said.
In December 2013, the foundations of the stupa at Donetsk had been laid, and the following spring the monks began to build the walls. In 2014 war in Ukraine broke out—Donetsk fell.
Foreigners on their own
Russia invaded Eastern Ukrainian after the Revolution of Dignity in Kyiv, also referred to as Euromaidan, a wave of demonstrations and civil unrest in Ukraine starting in November of 2013. It was the beginning of a war that has lasted up to today.
As Sergij was in Russia during the Chechen campaign, he saw the pro-Ukrainian efforts being censored by the military forces. He had never before seen the kinds of faces that he saw at that time in his native city.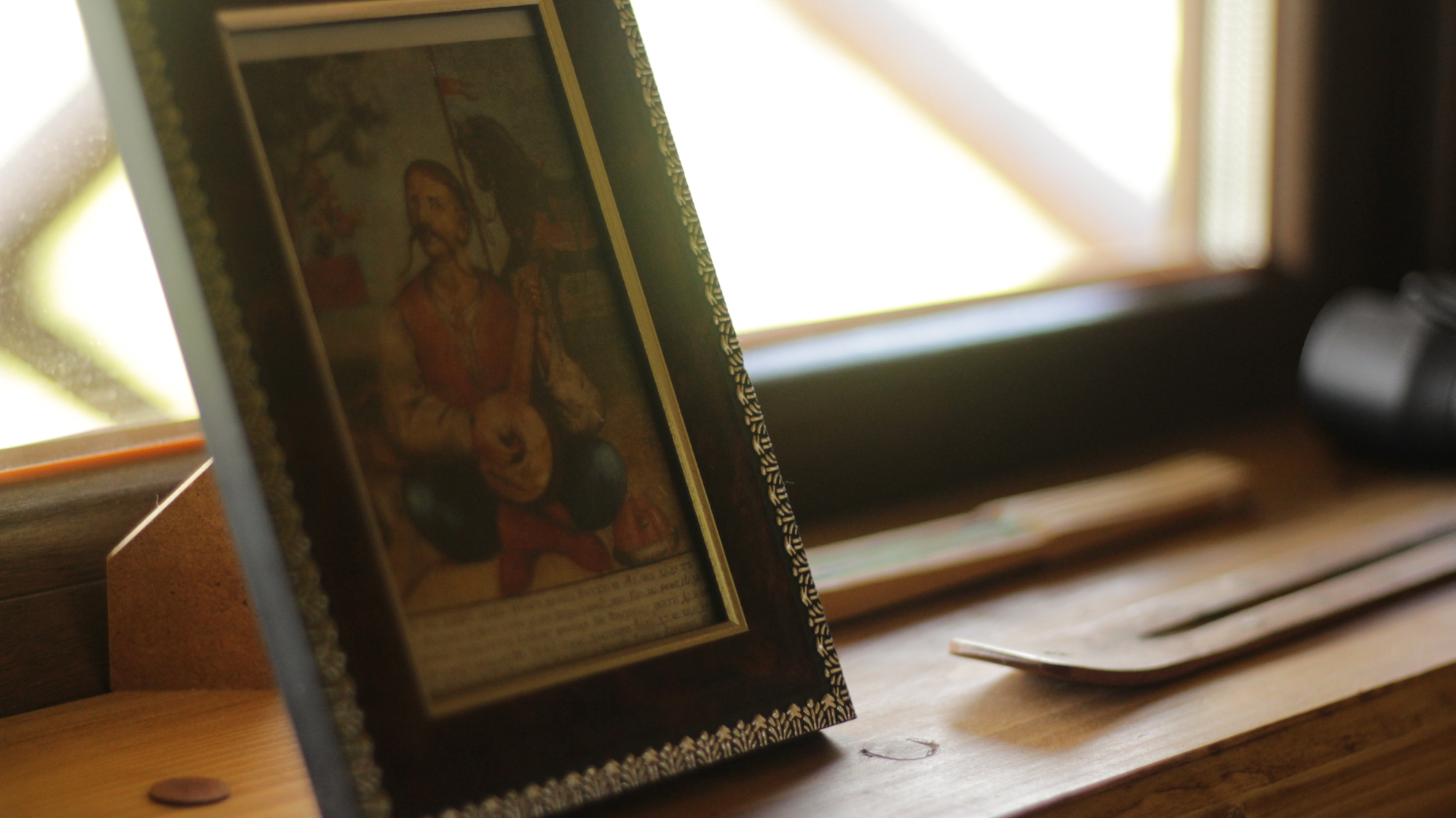 "Those people are watching Russian movies, television broadcasts—it's a conflict of identities," Sergij said. "This game was played by Putin and this card was played both by Yanukovych [Ukrainian former pro-Russian President] and Akhmetov [an oligarсh from Donetsk], they all manipulated people using television and internet."
Those people are watching Russian movies, television broadcasts—it's a conflict of identities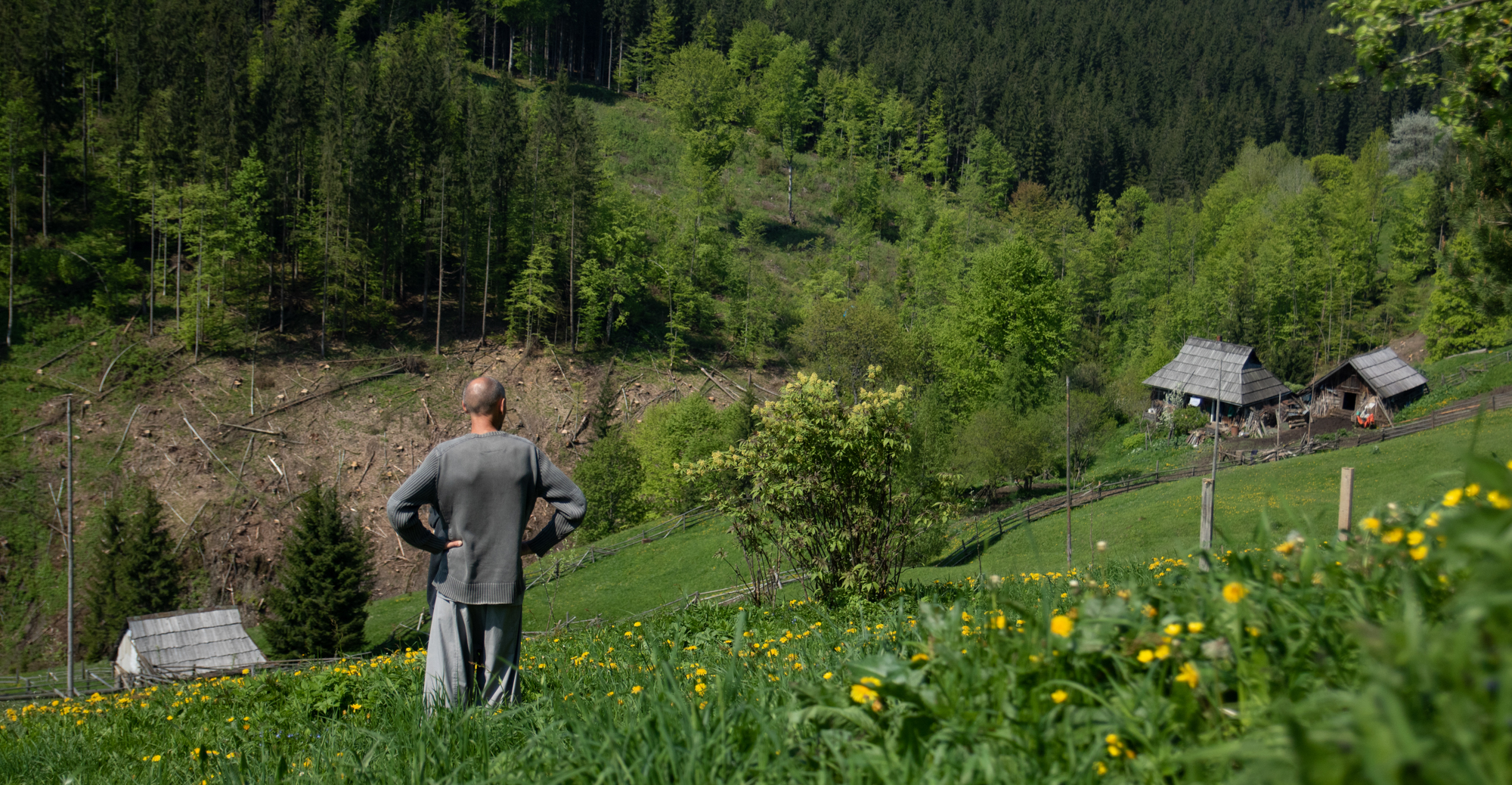 So Sergij and other monks left Donetsk—it was no sense to stay there any more. More importantly, it was dangerous; the new 'authorities' were intolerant to any religions that were not accepted by the leadership. Their mentor, Junsey Terasawa, told them that they needed to find a place somewhere else, and that they had two choices of where to go: to the Carpathians Mountains or to Cherkassy.
Cherkassy was chosen because of the Dnipro river it was near—it is ancient, powerful and held a strong connection with nature.
Terasawa's room on the second floor

Sergij is prepearing his special clothes for a pray

A statue in Terasawa's room
Many eastern-based religious practices center around nature and man's connection with it and it was this connection that helped them to find a new 'Place of the Way', where the monks live, in the Carpathians. Buddhism teachings say that Buddha was a deer in one of his previous lives and he spoke of the park of deer in Varanasi in his doctrine.
During a walk down the long road in the Carpathians, the travelling monks saw a deer crossing their path. They were sure that it was a sign given to them by the spirit of the forest that this was the place they were looking for.
At first, the monks tried to fix up an old house in the Carpathians, but soon they saw that it was impossible and they needed to build a new one. But, yet again, it was difficult to find a place and to buy the land, as the local Hutsuls—an ethnic group in Western Ukraine—were not excited by new neighbors.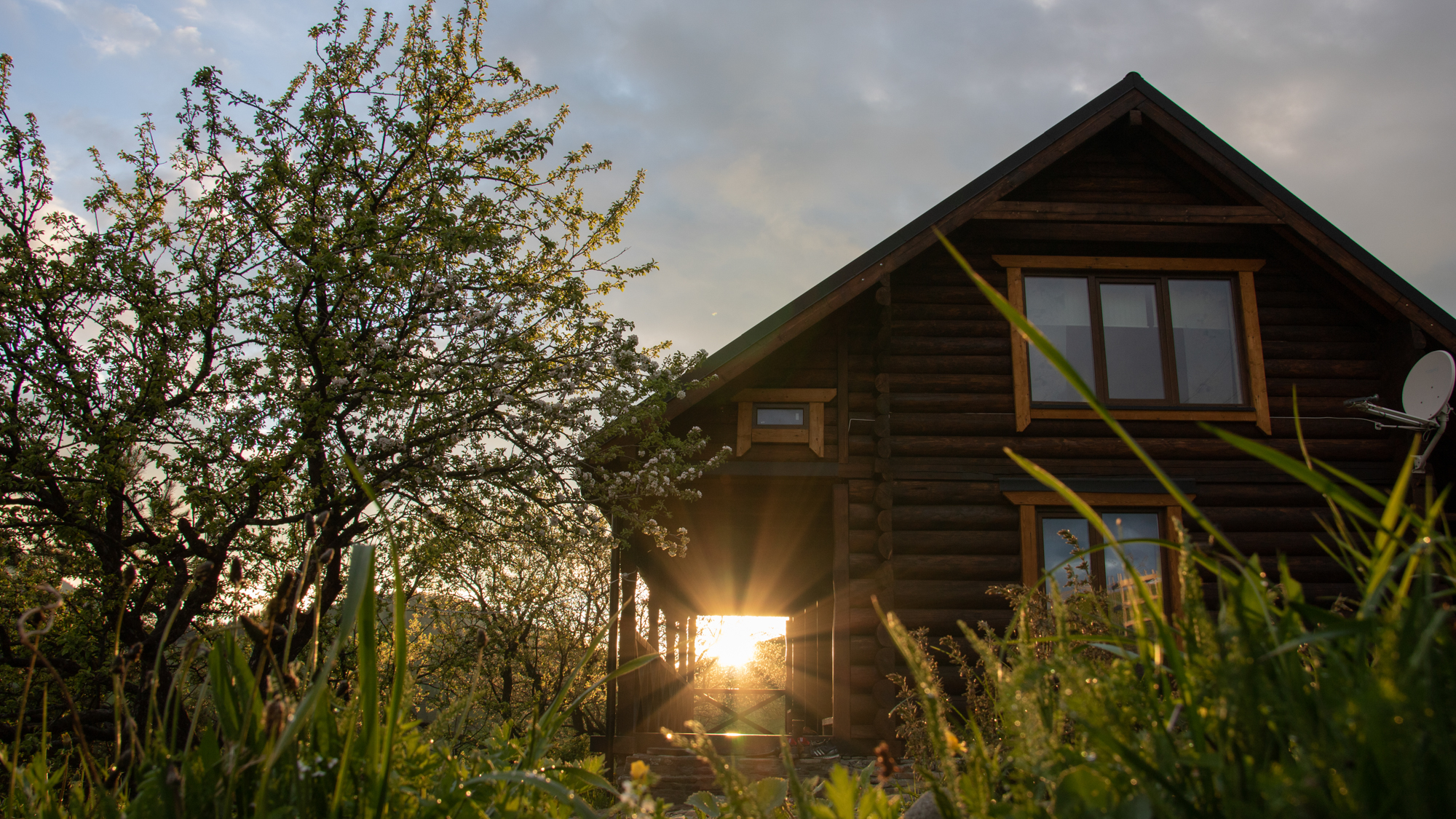 After a year the right place was found, the monks hired local Hutsulian masters to build a traditional wooden house, a Place of the Way.
Buddhism in Hutsulian land
Sergij is still not used to live in the mountains. He is still missing a possibiity to sea the horizont and to feel smell of herbs under the sun. It's a challenge for him to live there.
Sergij is making a picture of a sunrise

Sergij is praying on the top of the mountain
Every morning after his prayers, Sergij posts a photo of the sunrise on Facebook. He uses Facebook to stay in touch with other monks all over the world, but says that technology doesn't bring anything good to humanity. Despite that belief, Sensei convinced Sergij to have Wi-Fi. It's expensive, and few households in the mountains have it, but it's strong enough for posting photos and reading philosophy. Sergij also says that science and art make human distant from nature and it's a cause of all misfortunes. However, he does read books.
Because of his religion, he had some conflict with locals, who are the traditional Christians of Western Ukraine, but now they are good friends. At first, they looked at him suspiciously, but after some time they saw that he was not a danger to their hermetic world. One of them, Ivan, lives in a house two hundred meters from Sergij.
Yurij, who helped to find a place for house

Ivan, Sergij's neighbor

Ivan and his wife are getting home
"I thought he was something strange, and I wondered how it could be. We're living here together me and my wife, and young people try to move from the city, we're like 'die out here'. And then [Sergij] suddenly came to live here. But he is a good man, I like him," Ivan said.
I regret that I, maybe, was too egotistical and can't meet my daughter, my grandson—I even don't know how they are
Nevertheless, Sergij is happy to live alone. He says that he is in harmony with whole world.
"I've found my way. I regret only I could be more true and devoted," Sergij said. A few seconds later, though, he changed his answer. "Yes. I regret that I, maybe, was too egotistical and can't meet my daughter, my grandson—I even don't know how they are."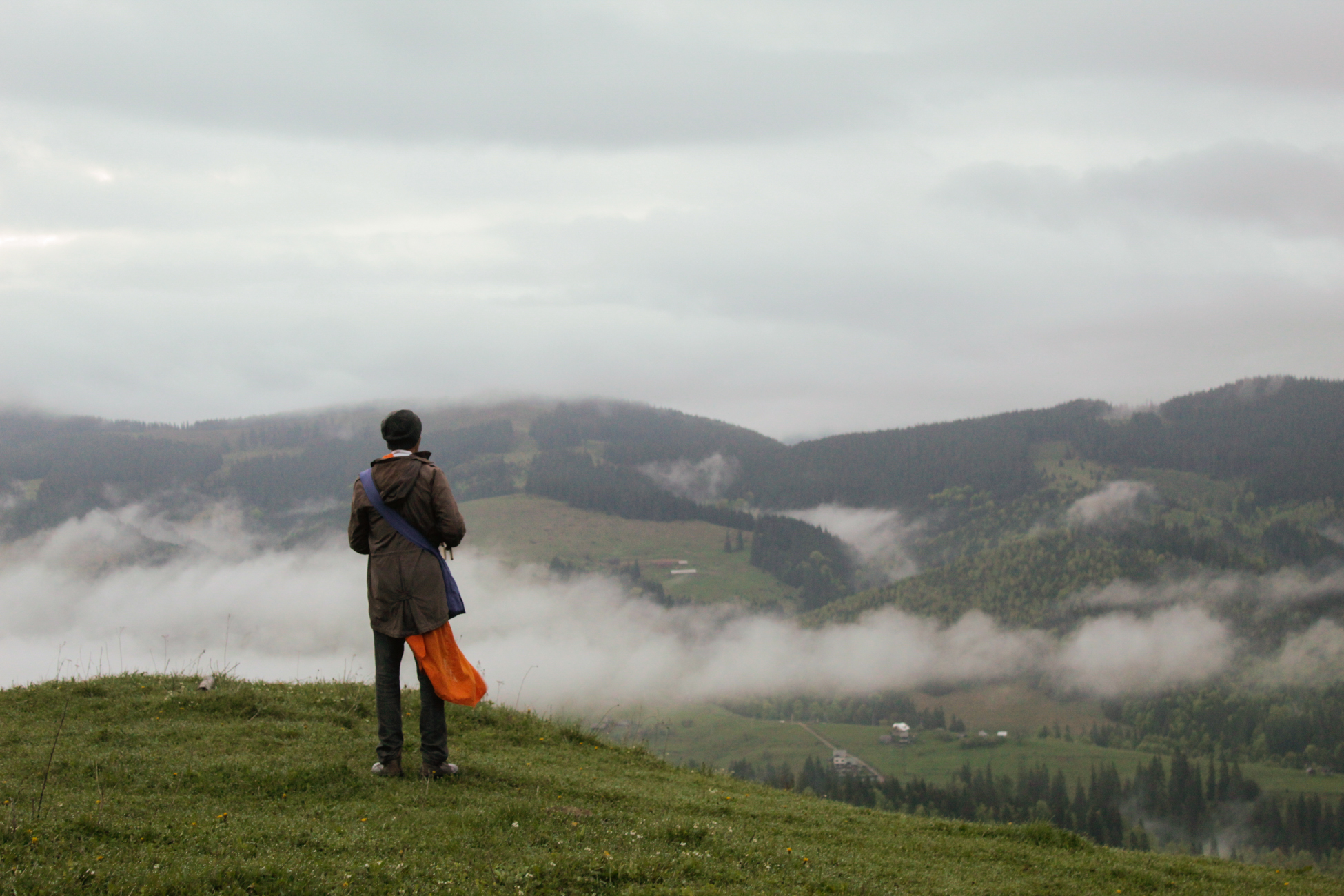 Sergij felt that he held a conflicting identity. He had to choose between living in a family or going out into the world to seek the truth. It was difficult, to go without money, without anything, and live only on what the people served. Sergij thought that it was impossible to be both so he left his wife and daughter. Sergij's wife assisted in the establishment of the first Ukrainian Buddhist community, but soon took a different path. Being married and being a monk is a contradiction.
Now his wife, daughter and ten-year-old grandson live in Moscow. They do not seem to want to speak to him.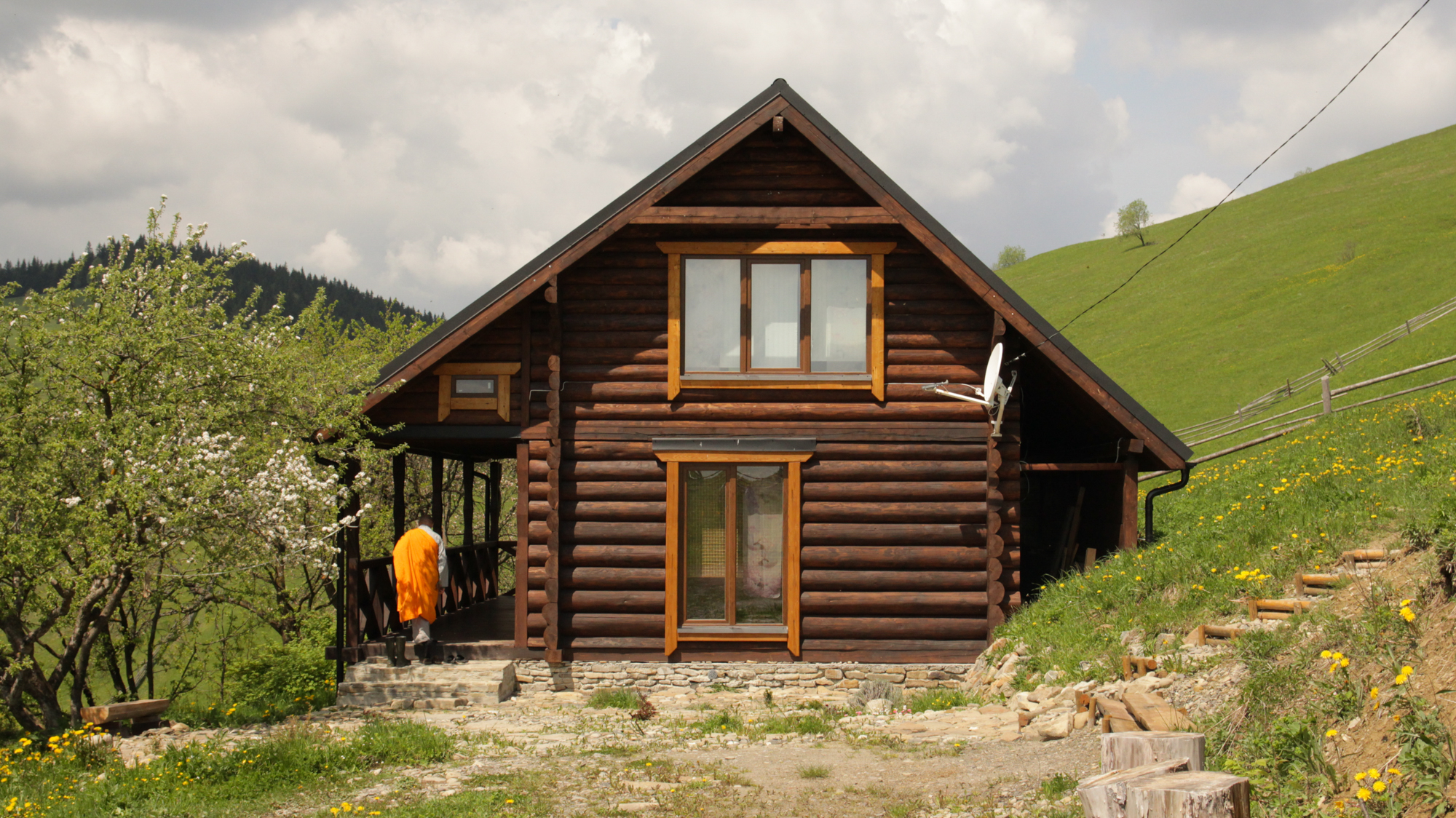 The Buddhist life is a strong religious tradition. The Five Precepts of Buddhism ask that those who practice do not to lie, steal, engage in sexual misconduct, harm any living creature and do not take intoxicating substances such as drugs or alcohol.
But Sergij still says that he prefer to live in Sangha, a Buddhist's community, rather than in a family. Sergij and the other monks tried to live this way, together, but now he lives alone. Monks can come and go whenever they want, but Sergij is in charge of taking care of the Place of the Way.
"We all can do something for this world. Everyone can rescue it—rescue the one person, one family, one city or all of humanity. In Buddhism, it is called the Way of Bodhisattva. It's your choice—to make better the world we live in".
Madelyn Ostendorf
Nazar Salaban
Oksana Rasulova
Дочитали до кінця! Що далі?
Далі — невеличке прохання. Будувати медіа в Україні — справа нелегка. Вона вимагає особливого досвіду, знань і ресурсів. А літературний репортаж — це ще й один із найдорожчих жанрів журналістики. Тому ми потребуємо вашої підтримки.
У нас немає інвесторів чи «дружніх політиків» — ми завжди були незалежними. Єдина залежність, яку хотілося б мати — залежність від освічених і небайдужих читачів. Запрошуємо вас приєднатися до нашої Спільноти.