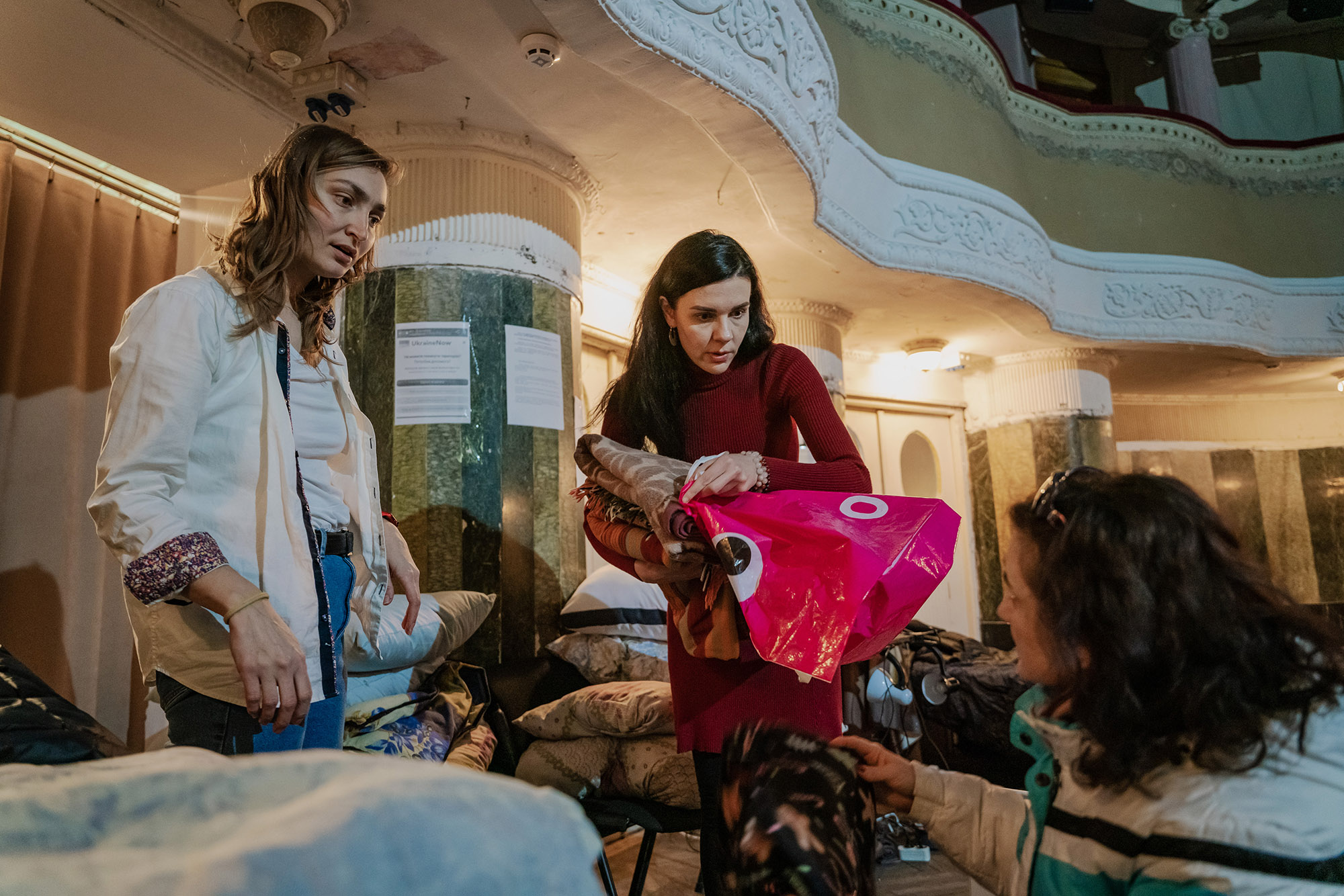 Military Hostel "Les Kurbas Theater"
A theater in Lviv shelters war refugees
I had tickets to the show. I had planned visiting Lviv for a day or two to relive, yet again, the little drama played on stage. By then, I had already seen Amnesia, or Little Marital Crimes about five times, and, as it happens with good plays, had found new meaning in it every time. I planned that it would be the same this time. Planned putting on a black dress and maybe even high heeled shoes. Only it was not meant to be. Instead of the dress, all last week I have been wearing a sweatsuit. Instead of the plans for tomorrow's return to Kyiv, there is the unknown. Instead of the play on the stage of the theater, there are beds for those who, like me, are homeless these days.
Five days ago, Russia attacked Ukraine and started shelling Ukrainian cities with no mercy. Five days ago, thousands of Ukrainians, scared by the war that many could not believe would happen, started heading to the west of the country where the chances to stay alive seem to be a bit higher. To host at least some of them, the Lviv Theater of Les Kurbas has opened a shelter right on stage.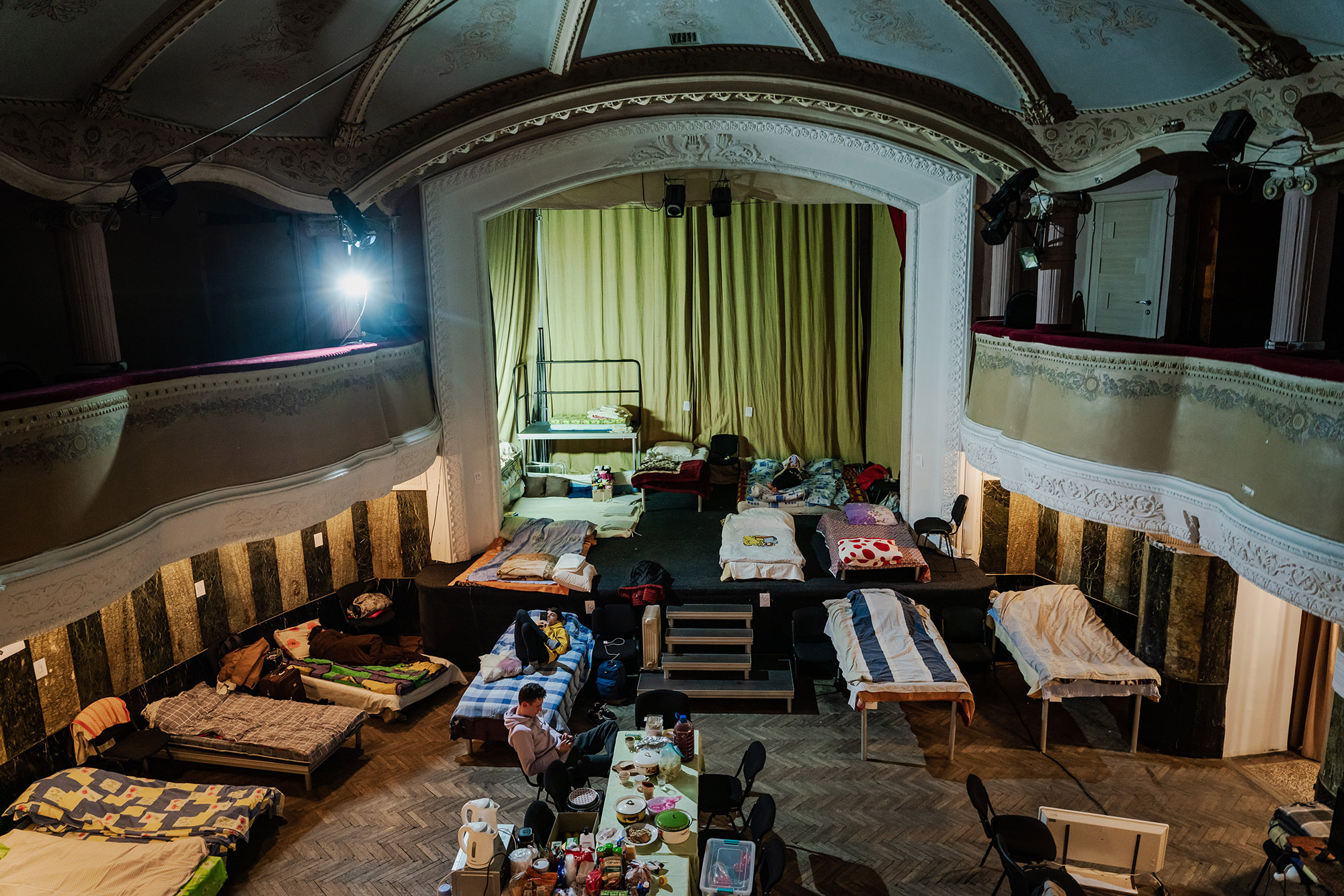 ***
"My entire family is in Kharkiv: my father, brother, and his seven months pregnant wife," she says to my first "How are you?". Natalia Rybka-Parkhomenko is a theater actress and singer in a band called KURBASY. She was the first to offer hosting refugees in the theater. "I am afraid to bother dad yet again. I do not message or call him, I just keep checking if he is online."
We are meeting in the theater, God knows on what date or day of the week. On the fifth day of the war—this is how we count now. From early morning today, the Russian military have been pommeling Kharkiv with BM-21 Grad multiple rocket launchers. At 4.14 pm, just before I entered the theater, Telegram brought the news: "As a result of the shelling in Kharkiv, 44 people were hospitalized. 7 people died. The shelling is still going on."
"I found out about the war from my father," Natalia says. "He called me that morning and said: 'It is hammering outside'. I was so shocked that I could not get my act together. Even my 8-year-old daughter seemed more like an adult than me. For a few days, I was not myself. And then I realized that I had to do something. I noticed that some people were arranging for where those who were fleeing the war could stay for a while, get some rest after the journey, and find out where and how to proceed. And I thought, why wouldn't we arrange such a place in the theater?"
Natalia's idea was supported by the theater's director Oleh Tsyona, as well as ordinary Lviv residents. There were so many people responding to the Facebook call for beds, blankets, towels, teapots and such, that all the needs were quickly met.
"From today on, we welcome those who have no place to stay in Lviv. In addition to staying overnight in the lobby of the Les Kurbas Theater, located at 3 Les Kurbas Street, here you can relax, have a coffee or tea and some snacks, and get professional help from a nurse, psychologist or lawyer," Natalia wrote on Facebook on the evening of the first day the theater shelter opened its doors. "We can host up to 30 adults and children on the stage of our ancient theater."
And the people came.
***
The edifice of the Kurbas Theater was built more than a hundred years ago for a variety show. The peeling plaster of these walls hides paintings by the Lviv artist and scenic designer Sigmund Balk. Unlike most state theaters, both the stage and the auditorium here are quite small. It is for this intimacy, among other things, that audiences love the Kurbas Theater. Today there are no chairs in the auditorium—only the beds, and on stage too. There are 18 beds in total, and currently only a few are occupied.
"Yesterday night every one of them was occupied. But in the morning people have moved on. Many go abroad. Others have found places for a longer stay in Lviv. We said from the beginning that the shelter in the theater will be temporary."
"Where did you find so many beds so quickly?" I ask.
"These are no beds. They are onstage mounts—special modular constructions we use to assemble temporary scaffolding of various heights and shapes for different performances. It is our ad-hoc know-how. None of us have any hotel experience. Let alone in time of war," Natalia smiles.
This lack of experience is compensated for by enterprising friends. For example, the staff of a nearby beauty parlor agreed to wash the bedsheets and clothes, when that became necessary.
"We should be a five-star hotel, because we have the most important thing by the standards of the time—our own bomb shelter," says Natalia and invites us down the stairs.
There used to be a separate door from the street to the basement for a café called "Sweet Gossip." Now, the residents of the theater come down here when they hear the air raid alarms.
***
Among those who have already experienced a few air raids from the theater basement are 28-year-old Daria and her two sons: 8-year-old Artem and 9-year-old Maxym. They came to Lviv from Avdiivka. This is not the first time the war has forced Darya to leave her home. In 2014, she likewise fled Avdiivka from shelling. She returned there after a while. And there you go again.
"We will probably go to our friends in Estonia. They invited us—they have a house there, so we have a place to stay," Daria says.
In her hometown, she used to work as a customer service representative for a large online store. And now she is left with two kids, no home, and no job.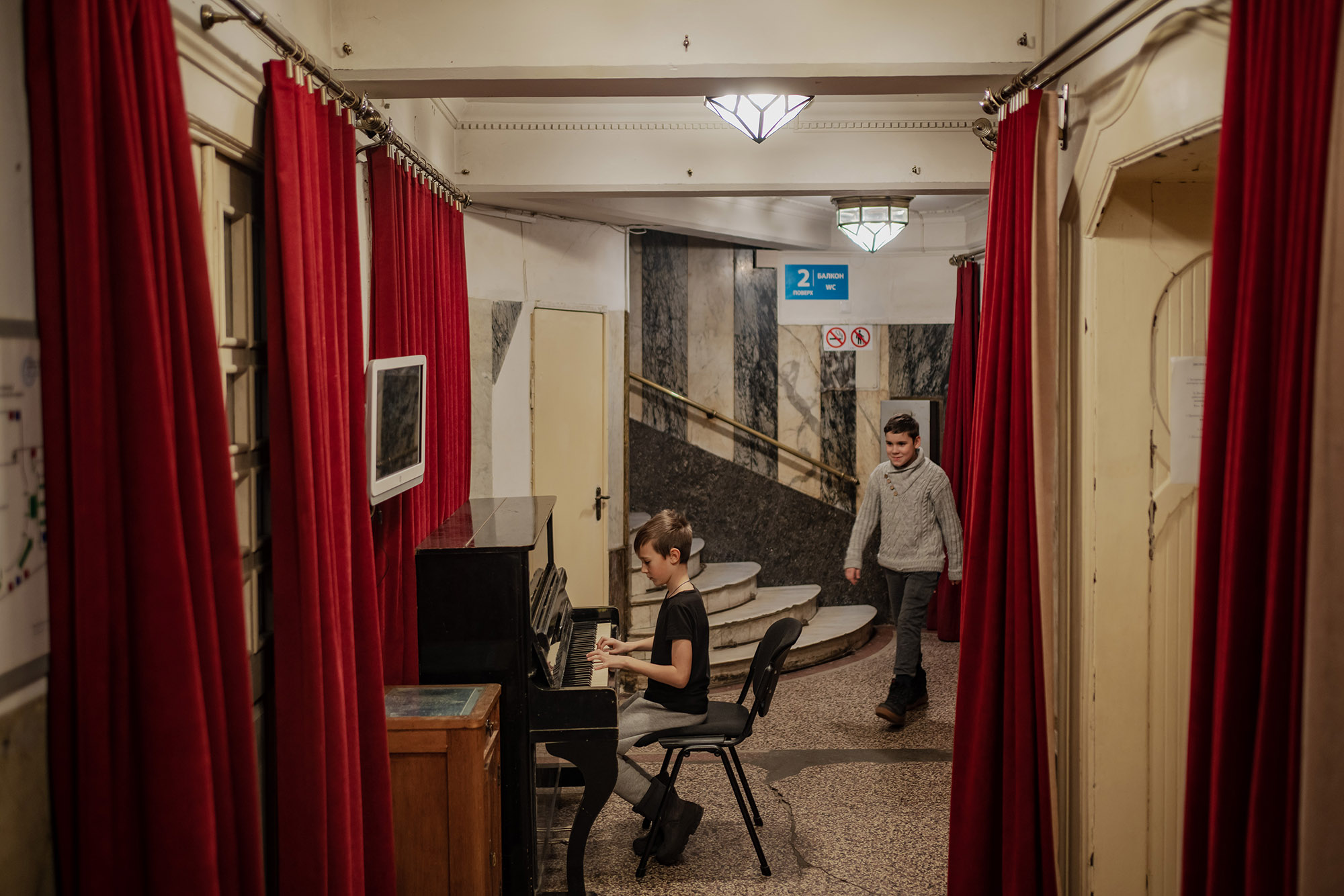 "This time, I packed off quickly. I did not want to take more than what was necessary, no cooking pots. Only the bare essentials and documents. The only thing I miss are my mother's paintings. She is an artist, and we have many of her works at home, but I did not take any along."
As we speak, the sounds of piano echo in the corridors. It is Daria's eldest son playing, hesitantly but with all his heart. Six months ago, she sent Maxym to a music school. When they decided to leave Avdiivka, he kept worrying that they would forget his portable electronic piano. And now fate has brought the kid here.
***
It is noisy in the dressing room. The actors have nothing to do at the moment—due to the war, all the events at the theater have been canceled until further notice. However, now the actors take turns receiving guests, helping them with everything they need, and supporting each other.
"We are all from different parts of Ukraine. Over there is our Natalia from Kharkiv. We also have Chernihiv, Pryluky, Zakarpattia, Crimea," says Olexandra Shutova, the head of the literary and dramatic department.
"Oh my!" Natalia interrupts her, reading something on her smartphone. "Zelensky signed an application for Ukraine's membership in the EU."
"It means nothing yet, of course," says one of the actors. "But it still feels good. Thus, little by little, we will win."
"Sure! I think to myself that everyone should do their own job now. It feels easier that way. But I also dream about how we will celebrate the victory," says Olexandra with a smile. "As well as live and remember everything that is going on here. Later, we will stage shows about it."
Дочитали до кінця! Що далі?
Далі — невеличке прохання. Будувати медіа в Україні — справа нелегка. Вона вимагає особливого досвіду, знань і ресурсів. А літературний репортаж — це ще й один із найдорожчих жанрів журналістики. Тому ми потребуємо вашої підтримки.
У нас немає інвесторів чи «дружніх політиків» — ми завжди були незалежними. Єдина залежність, яку хотілося б мати — залежність від освічених і небайдужих читачів. Запрошуємо вас приєднатися до нашої Спільноти.