— Hutsulshchyna is a utopia, a place of happy people. But whether the hutsuls are happy or not, you will never know about it, — Natalia Kumlik says about her land.
Natalia Kumlyk never believed she could be half the musician her father was. However, her father's death prompted the once pediatrician to the music she ran from her whole life. Whenever she closed her eyes, her father's voice rang out in her dreams.
"Play, play, play."
Kumlyk is not the only one in the Hutsul Region with music in her blood. Four musicians, each having learned to play on their own and because of different circumstances, now have one common goal. It is preserving the music of the ancestors and passing it on to the next generation. Some of them started playing music during childhood, some delved into only at the age of 28. But it does not matter, as long as the melodies of the Hutsul homeland do not disappear again.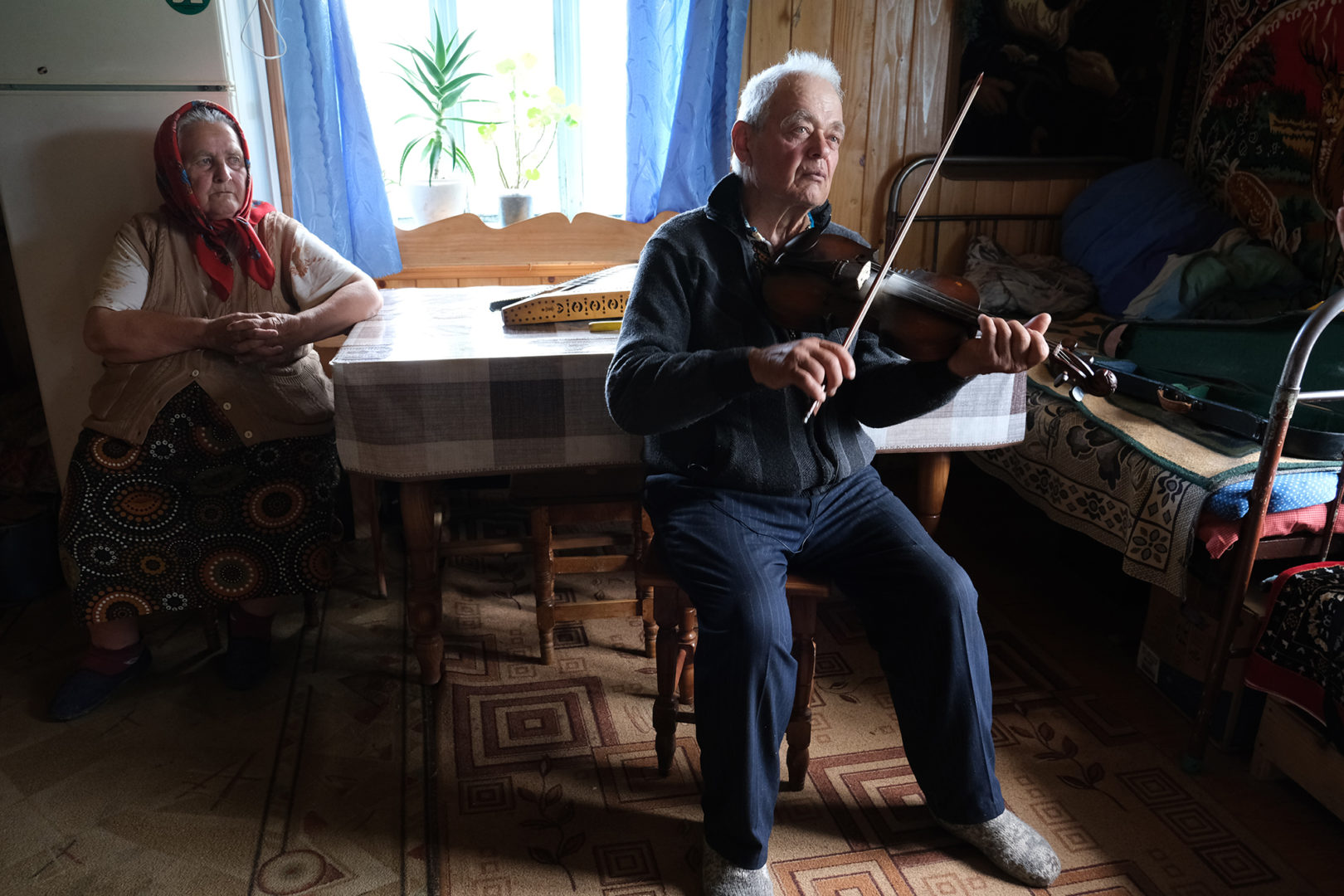 The Instrument Maker and His Legacy
Many Hutsul musicians can attribute their instrument to the old man in the little yellow and blue house down the long dirt road. He spends days making the traditional Hutsul instruments from scratch with hands worn from hard work. He hosts excursions in his small kitchen for school groups and tour groups, telling stories of his travels and playing homemade instruments that are never too far away from where he sits. One is stashed behind the kitchen table.
"Musicians can not exist without me… I renewed the music from the old pieces of info and from the pictures. I am making instruments for all of the Hutsul land," says Tafiychuk, 86, the instrument maker.
Tafiychuk grew up in this region surrounded by tradition and music at events. He taught himself how to play each instrument and how to make them by watching others. He made his first instrument when he was 6 years old, a traditional Hutsul pipe. He made his first violin when he was 12 years old. His first tsymbaly was made at the age of 23.
Tafiychuk has not stopped his art at his old age. He made a lyra, an instrument meant for funerals and masses, 14 years ago. He can make a koza, an instrument made from the hide of a goat, in two days. Traditional Hutsul music includes a multitude of instruments, and Tafiychuk can make them all. He cannot count how many of them he has made. He never wrote it down.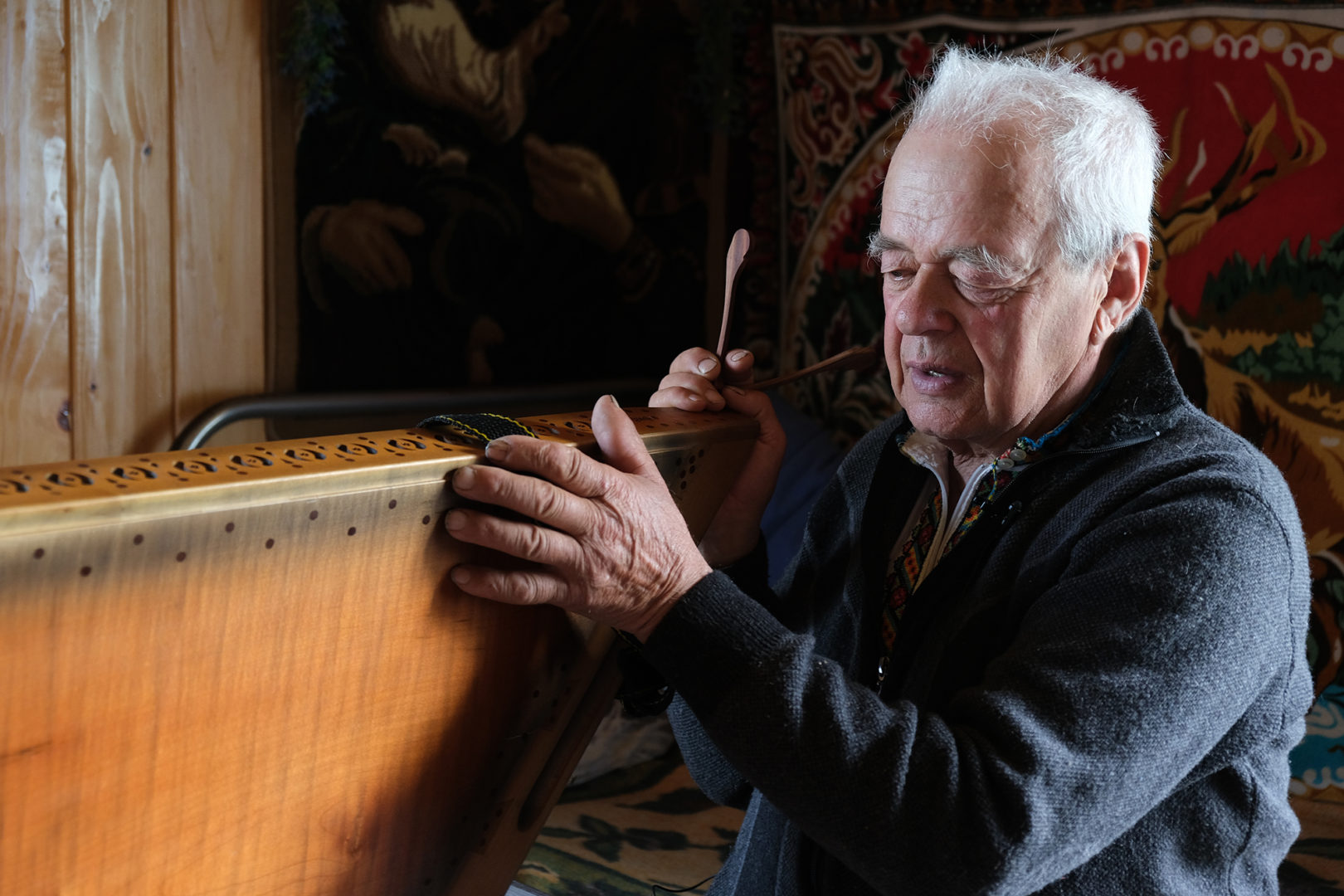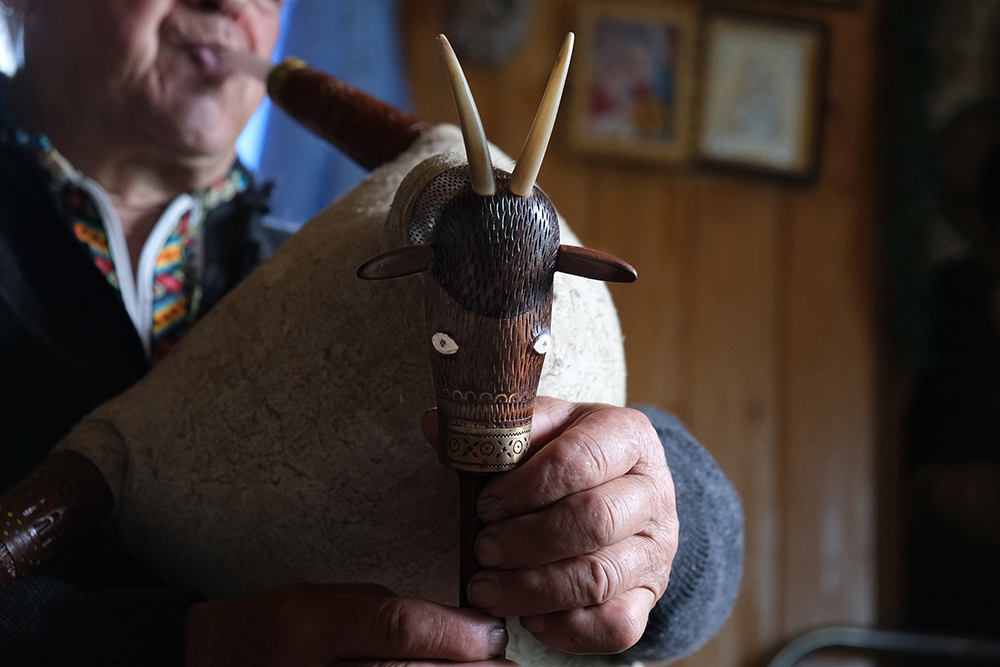 I do not have musicians in the family. Mom just played on drymba. And there was no more. Maybe grandfathers, great-grandfathers could, but I do not know that already. I do not know where I came from. My relatives even ask me where I got there with all this music. I don't know
Tafiychuk, like many Hutsul musicians, has played in numerous countries and been invited to many more. He has spread the Hutsul music to the U.S, Russia, Germany and Poland to name a few. He refused offers to live in both the U.S. and Germany because of his loyalty to the Hutsul land. Some have asked him to play in concert recently, but he believes he is too old for the life of a touring musician.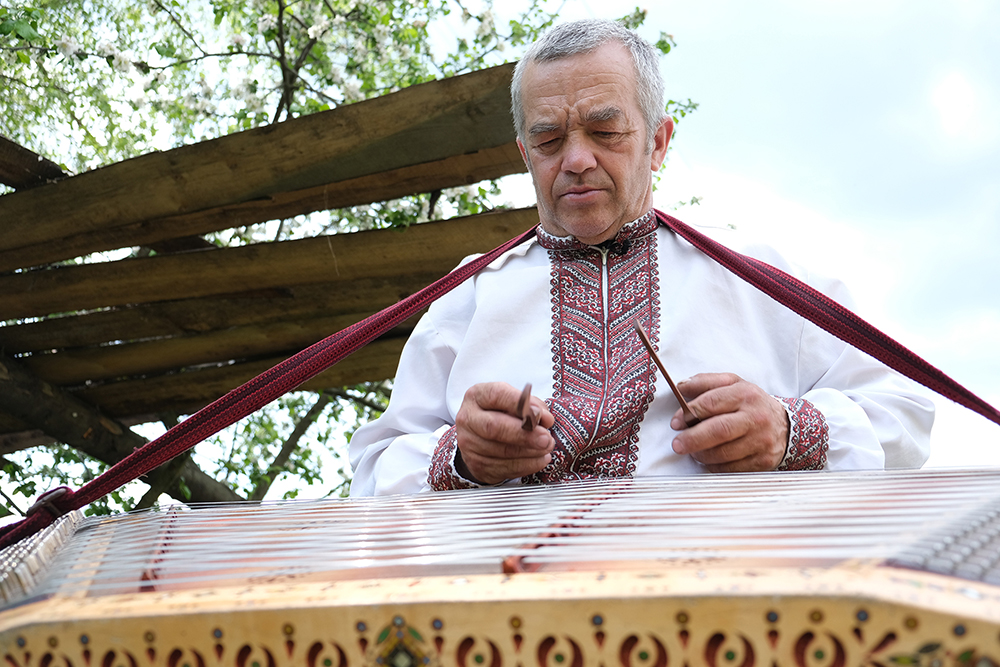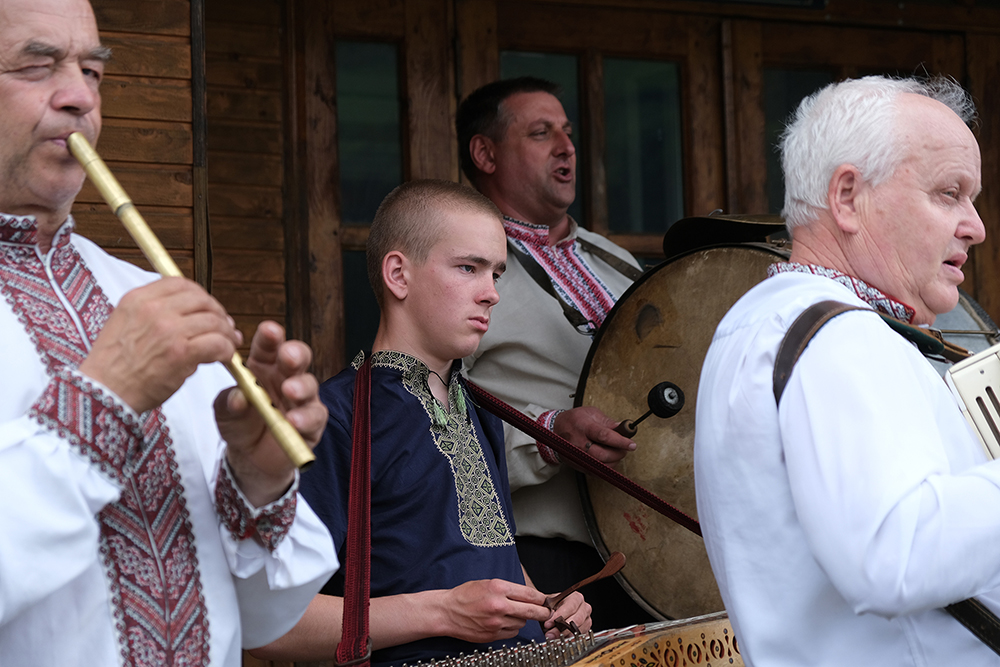 Tafiychuk's has passed his love of music down to his children. Yuriy Tafiychuk, 56, plays instruments just like his father and has begun teaching his youngest son to play. Both of them now play in an ensemble in the Hutsul region at real weddings and at show weddings performed for tourists from all over the world.
"Tsymbaly is the first instrument I learned to play. I started from the childhood. When I was in the 6th grade, I was already playing at the weddings. My dad only showed me the instrument and I started to play it myself. Music is my hobby, which became my constant occupation," said Yuriy Tafiychuk.
The Musician Business Man
As you approach a house high on a mountain in the village of Verkhovyna, you hear the sound of music floating down. There, in traditional Hutsul clothing, stands Mykola Iliuk on his front porch with the traditional Hutsul instrument, the trembita. Its solemn sound echoes down the hill to approaching ears in sharp contrast to the quiet mountain scenery. He welcomes the new travelers with a couple words and leads them into his house.
Mykola Iliuk follows in his grandfather's footsteps to preserve the traditional Hutsul music. His success in it, however, did not come easy.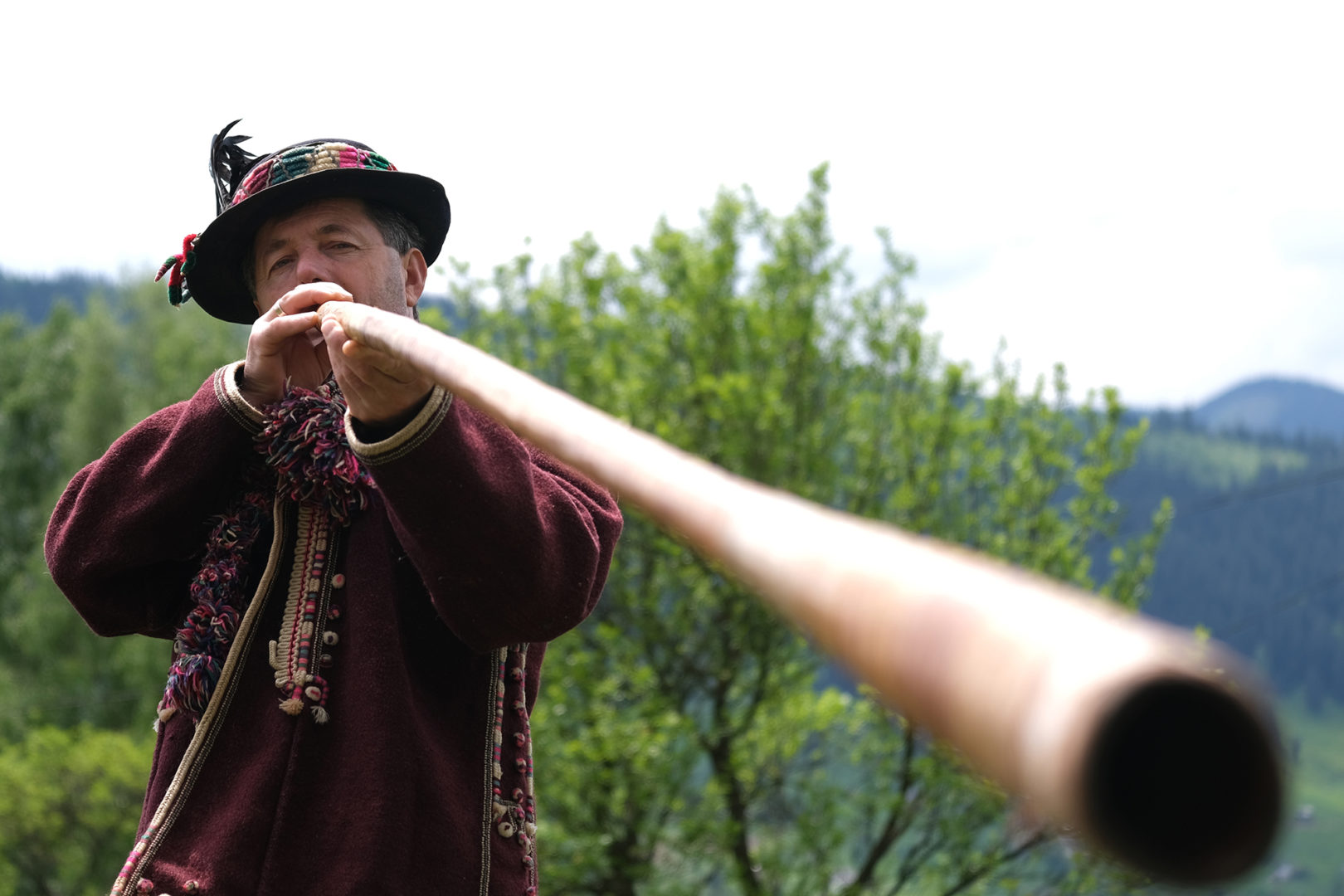 I wanted to play from childhood, but we did not have money. Our family had three children, we grew up without a father. We had to pay the cow to the musicians so that they taught me to play. It was really expensive
Iliuk's first instrument was a one-string violin borrowed from his neighbors. While he tried to teach himself, he eventually learned how to play music from multiple sources. He had a relative who knew how to play as well as neighbors who taught him the instruments. Iliuk recalls running from school to the relative, spending the night, and then running back to college just to learn to play.
From there, Iliuk went into the army. It was not until after that he decided to start practicing music professionally. He performed in a band at dances, weddings and parties around the world.
"We traveled with the ensemble almost all over Europe: Hungary, Romania, Czech Republic, Slovakia, Poland, Germany, Baltic States, France, and also were in Canada and America," said Ilyuk.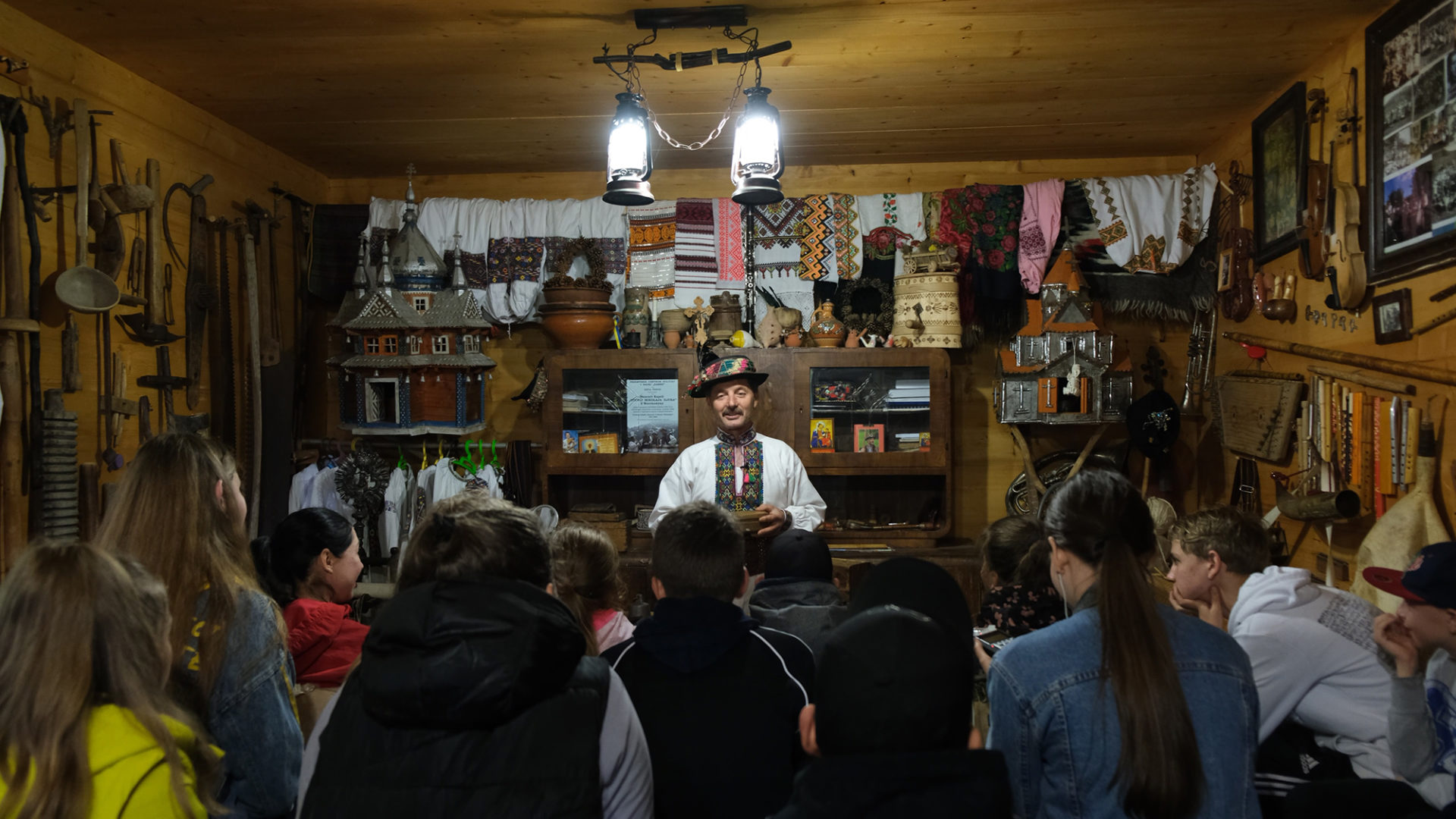 Iliuk's love for music transitioned into his museum, which is located in his home. It holds many objects from his ancestors, tools and other daily items of traditional Hutsul life. Many of the instruments in the museum were made by Mykhailo Tafiychuk.
Ilyuk has continued to pass on his love for music. He teaches lessons on the traditional Hutsul instruments. His children have taken an interest in his work as well with his daughter graduating from music school. She hosts the excursions when she returns home. His son knows how to play the violin.
"I think that now there is much more interest in Hutsul culture than before. Every year more people come to us and I am looking for something new to tell people about life, household items and the art of Hutsuls," said Ilyuk.
The Musical Doctor
According to Natalia Kumlyk's, no one thought her father's Hutsul music museum would be a success. As an orphan, he learned each of the 50 instruments he could play solely by copying others and teaching himself. Eventually he taught lessons to over 100 students in the Carpathian Mountains, but his daughter was never one of them. When he opened the first music museum in the area, his daughter was off going to school for medicine.
"He was never ashamed to work. He lived the music. There were no occasions with no music. He did everything for one hundred percent. He was obsessed with music, family, Hutsul land and Ukraine. There was nothing more important," said Kumlyk.
Kumlyk runs her father's museum of musical instruments five years after quitting her job as a pediatrician. She now plays many of the instruments she refused to as a little girl. She does not regret becoming a doctor, but she has found a new appreciation for the music her father held so dear.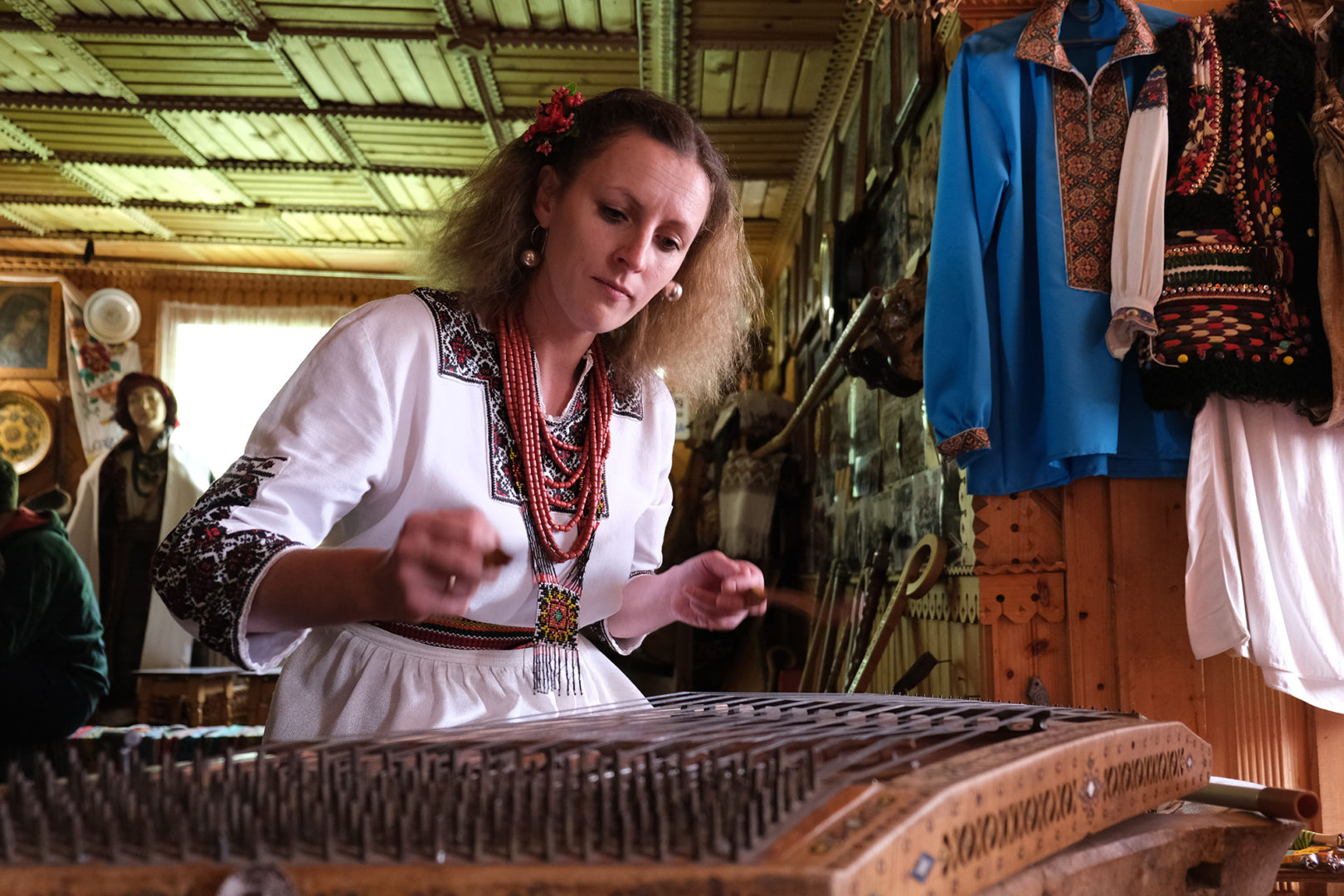 When my dad passed away, I saw him every night. He kept telling me only one word: play. Play, play, play. I came to the museum, opened the instruments and realized that I could do it. If I could study for 8 years, cure so many people, children, will I not be able to play this pipe?
Kumlyk learned as her father did. She listened to videos and recordings of her father and taught herself. She could not bring herself to watch her father play instruments because of tears, but she could hear them. She spent late nights asking God to help her learn to play. She currently knows how to play 15 instruments after 6 years of learning.
As with Iliuk, Kumlyk's children know how to play music, but they have not taken an interest in making it their career. Like her mother, Zynovia Kumlyk, 13, wants to be a doctor. She supports her children in their own choices.
"If they start doing music, I, for sure, will be happy. But if they choose something else – I will support that. Children should be happy. If they are not happy – I am not happy. This is my life credo," said Kumlyk.
She does not regret her decision to work in medicine one bit. Her enthusiasm for curing others with medicine has spread to curing others with music. Her melodies are her practice and her contribution to her father's legacy.

Emily Urban
Daria Mymka
Anna Deviatko
Дочитали до кінця! Що далі?
Далі — невеличке прохання. Будувати медіа в Україні — справа нелегка. Вона вимагає особливого досвіду, знань і ресурсів. А літературний репортаж — це ще й один із найдорожчих жанрів журналістики. Тому ми потребуємо вашої підтримки.
У нас немає інвесторів чи «дружніх політиків» — ми завжди були незалежними. Єдина залежність, яку хотілося б мати — залежність від освічених і небайдужих читачів. Запрошуємо вас приєднатися до нашої Спільноти.