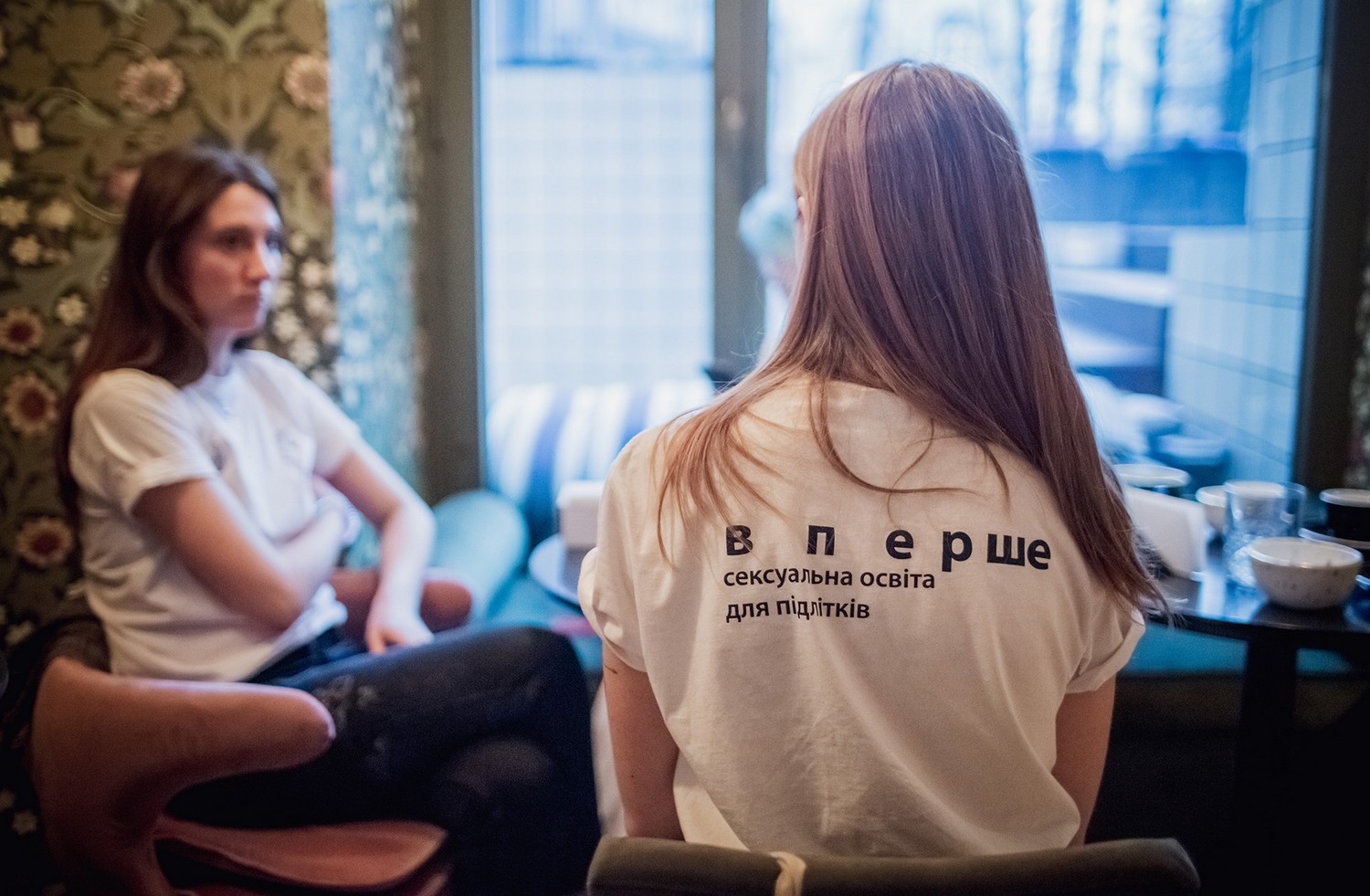 For the First Time
How human papillomavirus led three young women to create a project on sex ed
According to UNICEF data, Ukraine has one of the highest rates of HIV/AIDS infection among youth, but only 28% of young Ukrainians know the ways the virus is transmitted. The rate of teenage pregnancy in Ukraine is also one of the highest in the region: 44 out of every 1000 women ages 15 to 19. In a U-Report survey, 42% of respondents in Ukraine answered that their schools addressed the subject of sexual education, but the majority of them (37%) believed that it wasn't addressed very well, rating it 3 out of 5. A few young women from provincial Ukrainian towns decided to fight this and started a project to teach sex ed to kids—For the First Time.
The group's logo shows a waxing moon and their t-shirts feature planets and lightning. From the very beginning, one of the founders, Katia Miachina, decided that For the First Time's design had to be gender neutral—no bunnies, cars, pink, or blue. "I thought of yellow—a bright color. I thought about space—a place for exploration and new discoveries. The human body and head are also a space that teenagers begin to explore," Katia explains.
The Big Bang
"Good morning, everyone! I still haven't had my coffee, but I am ready to talk about sex! Today's question: What do you think? Are unconscious nocturnal emissions a sign that something abnormal is happening in your body?" The blonde girl recording this vertical-format video is sleepy but smiley. Right after this story in her Instagram feed there is a post that explains that wet dreams have nothing to do with disease, happen to most men, and are normal.
For the First Time's online history started in late summer 2018 just like this, by debunking common myths about sex, bodies, and relationships. But its general history began a few years earlier.
In spring 2015, Katia Miachina decided to get a check-up at the gynecologist. She went home over the weekend just so she could go to the doctor her mother trusted. She later got her results over the phone. Her mom was the one who answered. "You have some sort of papilloma," she said.
"At that time I knew about syphilis, gonorrhea—probably from Balzac or other such novels. I had been sexually active for a while, but I had still never been tested for STIs and I was hearing about human papillomavirus for the first time. So was my mom," Katia recalls.
Сomprehensive sex ed for teenagers does not exist in Ukraine, and this topic is strictly tabooed. Any attempt to find up-to-date information that is patient of youth, adequately outlined, and truly useful online on the topic of sex in Ukrainian results in zilch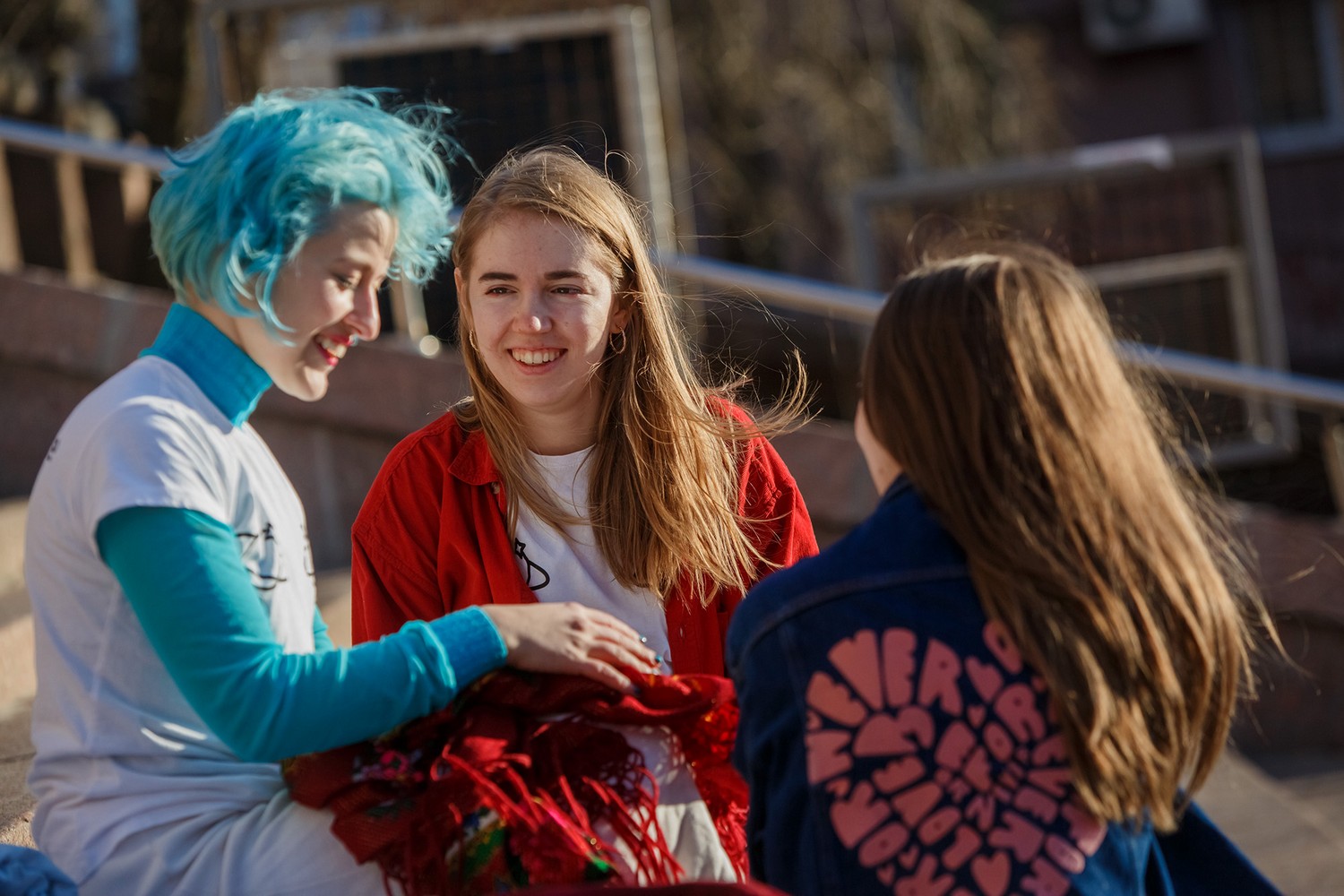 Google treacherously informed her: HPV is transmitted to partners and causes cancer. "That's it. I will die alone, frightened, and young," the images of her impending future began swimming around Katia's head. She had to go back to see the gyno—to get calmed down. "It passes," the doctor said aloofly. She prescribed a course of expensive injections to spur Katia's immune system.
After this, Katia got checked a second time. That time they found a few more strains of HPV. Only foreign websites on sex ed helped her understand that the strains of HPV that Katia was found to have had are not the most oncogenic and that HPV cannot be cured. A stronger immune system simply hinders it from reproducing. The money was wasted on the shots. Fear and panic were quickly squeezed out by a sense of injustice over never having been told about this—not at school, not at home, not in the movie Showgirls.
"Generally speaking, comprehensive sex ed for teenagers does not exist in Ukraine, and this topic is strictly tabooed. Any attempt to find up-to-date information that is patient of youth, adequately outlined, and truly useful online on the topic of sex in Ukrainian results in zilch," she later wrote.
Katia made a decision: if Ukraine has no such sites for sex ed, she must create one. But how? "I wasn't brave back then. I didn't feel I had the strength or the resources to make something like that. I was just always telling my friends that they had to use condoms," Katia recalls. Then she studied law and got rather far from sex ed.
Two and a half years later, by then a master's student in journalism, Katia spent three months in Slovakia on an exchange program. The city of Ružomberok in the south of the country, despite the mountains and a few large supermarkets, reminded her of her provincial hometown of Zelenodolsk among the Ukrainian steppe—there was nothing happening there. There was no school, just three or four classes a week, and no hanging out, the city grew empty and quiet after nine pm.
At their first opportunity, the youth would take the train out of Ružomberok either headed home or on a trip since train tickets are free for students in Slovakia. Katia would watch the trains from the window of her dormitory. The cars cut through the green of the coniferous forests and local dogs ran barking after them. Katia was taken over by the slow rhythm of the place, which was ideal for thinking and planning.
She returned to Ukraine with a well-formed concept for her future project. There were only a few details missing. And support. Her friends praised her project, but no one was rushing to help.
The Universe Expands
"Good evening! Myth-Busting Thursday here. And our question for today is 'Is HPV fatally dangerous to one's health?' We await your answers! Yulia Kovalchuk from Lutsk with hair the color of the deep blue sea smiles when she poses this question. But when she first heard about HPV, she almost fainted.
At that time she was living in Germany studying psychology at one of the universities in Berlin. Not long after her first sexual experience she went to see the gynecologist. She was sure that she didn't have any infections because she had used condoms, but she decided to get tested. The doctor diagnosed HPV. "I was scared, and it didn't help that HPV sounds like HIV," she recalls. Her gynecologist had more empathy and assured her that 80% of sexually active people have the virus. Yulia was surprised. It was so common, yet she had never heard of it before—not from her progressive parents who spoke quite openly with her about sex, not from relevant books, not at school or from her friends.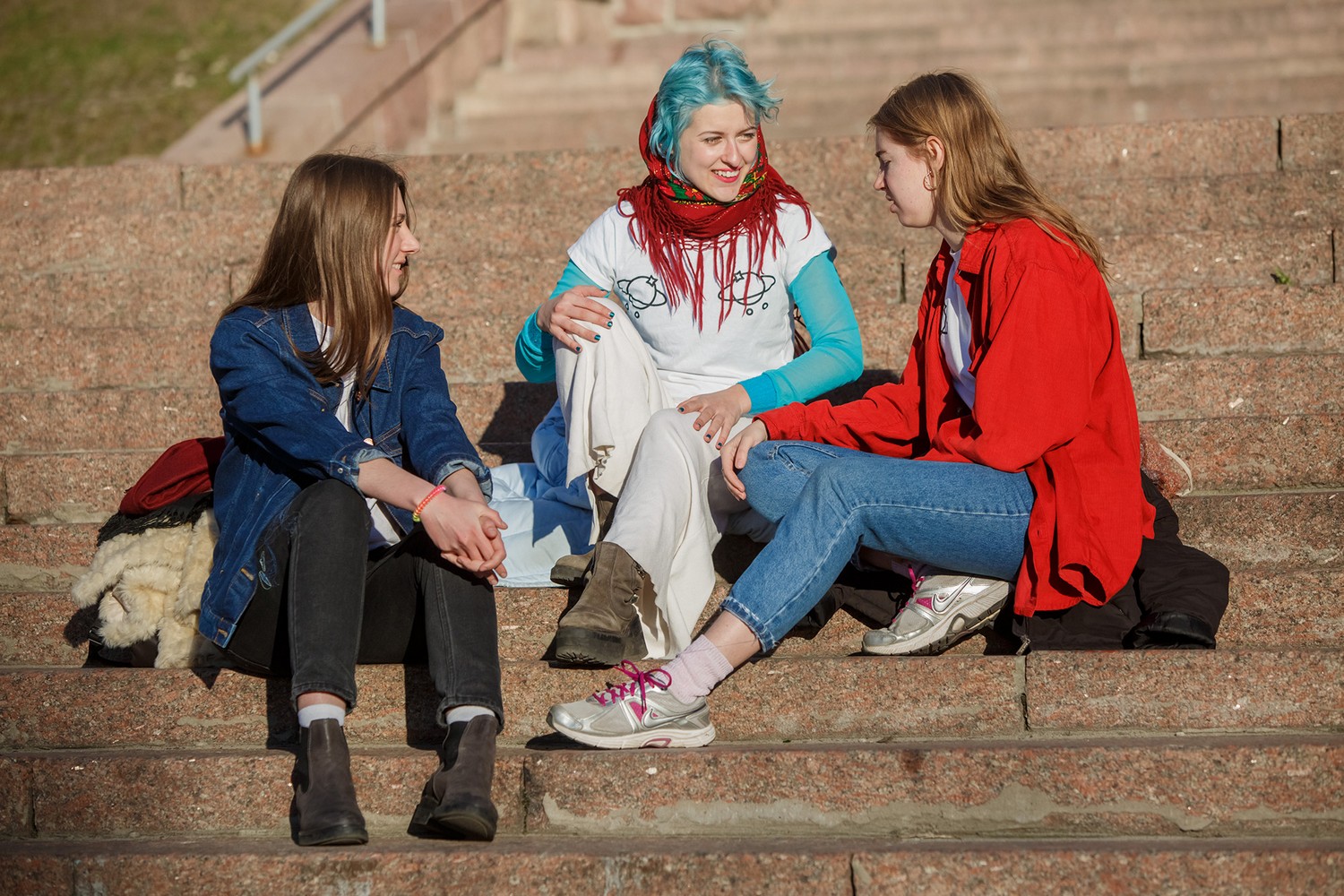 "After the school program, the biology lessons and training on how to use a condom, it seems like only totally reckless people get venereal diseases. But it turns out that they are quite common and that many of them, like chlamydia, are asymptomatic and condoms don't provide protection against everything," Yulia says.
After this, she looked up literally all STIs online—how many people have them, how they are transmitted, and which kind of sex increases the risk. She asked her friends from Ukraine who told her, for example, that they didn't know anything about their periods until they started or that they were scared by telegony, a pseudoscientific belief that genetic traits of a woman's former sexual partners could be passed on to her progeny. In a word, Yulia continued to be surprised.
When she finished her bachelor's degree, she started studying neuroscience, in particular the brains of pedophiles and rapists at the Institute of Sexual Medicine at the Charité hospital in Berlin. One January day in early 2018 she landed on her friend Katia's Facebook post. Just about her only relevant official sex ed lesson ever came when some "old guy" at her school scared the tenth-graders with some clips on abortion and assured them that sex was for animals and that decent people made love only for the continuation of the species.
"I am sure that almost all of you have a memory of a biology lesson that was awkward for everyone, where a blushing teacher attempted to talk to you about pistils and stamens. And I'm sure that this information was hardly useful." This was how Katia announced the start of her project. It resonated with Yulia and she decided to join up.
The Birth of a Star
"Do you agree with the statement that homosexual people should not express their feelings on the street where children could see them because this could influence the children's sexual orientation in the future? Answer here and tomorrow's story will have an expert's answer," Liza Panchenko from Svitlovodsk joined the young women in March. She was then studying at the same university as Katia, but in the media and communications department. Once she and Katia went to a charity hackathon for the IT company Symphony Solutions where Lviv programmers selected socially-oriented projects and made websites or apps for them.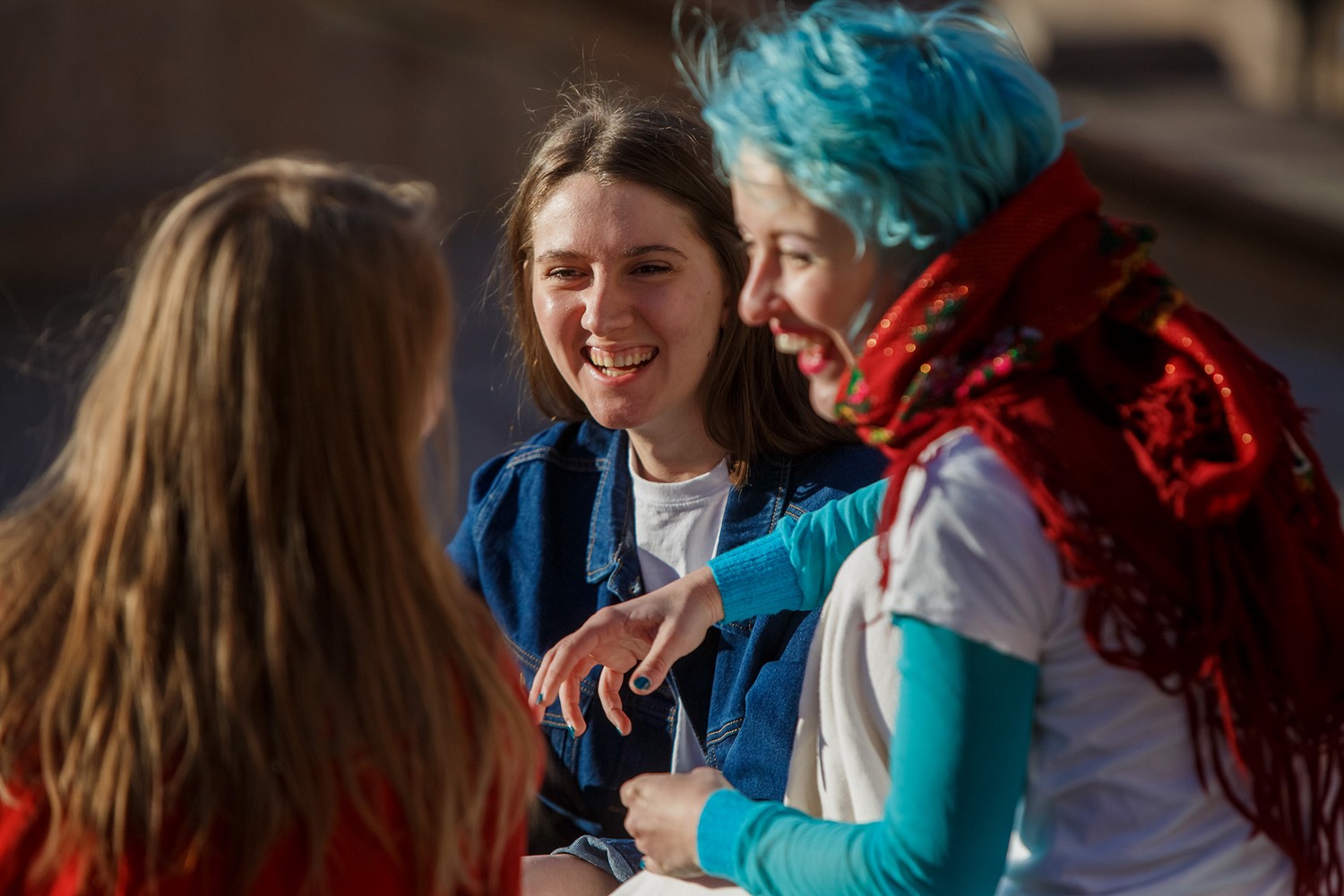 The downside to the successful lives of programmers who work at large companies is that they can feel like small cogs in a big machine. This was exactly how web developer Vitalii Stanishevsky felt. He made products for an American chain of brands that sold accessories and beauty products online, but it wasn't making the world any better. This is why early last spring Vitalii went to the same hackathon the young women attended. "One time I made a site for a Hungarian animal preserve and I liked that I could apply my knowledge to useful ends, which was why such charity projects were interesting to me," he explains. Katia spoke first.
"I was struck by her holistic vision and energy. She was enthusiastic about her idea and knew what she wanted," Vitalii remembers. He especially liked the idea of an anonymous service where you could ask questions, since asking about something intimate online, especially on the Russian or Ukrainian web, he says, was risking getting dirty, people would laugh at you, and you'd ultimately end up just with negative emotions and no answer. For the First Time's idea was to change this. Vitalii joined the young women at their work and then couldn't shake them: "They themselves were teenagers not that long ago and they know the problems facing their audience. These aren't some 50-year-old professors spewing hogwash at young people. They know how to present it in an interesting way. From the number of views, I can see that people like it."
Prior to joining For the First Time, designer Yulia Beniukh had not worked with sexual or educational subject matter, but she had worked, for example, with a Swiss project that implemented an electronic-voting system where it was impossible to cheat or vote for someone else. Hence she was familiar with the desire to make the world a better place and she joined the project pro bono. "I was immediately enthralled," Yulia says. "A wave started in 2014 where young people weren't just generating ideas, but fearlessly attempting to bring them to fruition. We are simply doing what we believe in."
A personal approach helps build trust, so from the very beginning we have shown not only drawings, but also our faces on Instagram
Liza's active participation in the project started in August with an Instagram post. She is the one who appears least often in For the First Time's stories, but she's behind all of them because she is in charge of social media. The site was launched on September 1. The young women started talking with teenagers about sex, bodies, self-acceptance, and relationships with the help of experts: gynecologists, sexologists, and psychologists.
"We don't allow each other to publish something unless we find confirmation in reliable sources," Yulia says. "Sometimes the girls suggest explaining a certain stereotype on the site, but I say it's too complicated," Liza explains. "It seems primitive to them. We all have different experiences and this is cool. After starting For the First Time we ourselves found out a lot of new stuff from the realm of sex ed." For example, the developer Vitalii learned that condoms shouldn't be carried in your wallet. "Now this is a dilemma for me: How can I carry them so they don't undergo extreme changes in temperature? And so on," he says.
There is also a section of For the First Time with personal stories. "Information is better digested like this and the teens can realize that they're not the only ones," Katia explains. "A personal approach helps build trust, so from the very beginning we have shown not only drawings, but also our faces on Instagram." But there's a downside to this openness. The young women, who aren't yet 25, have begun to think more about their behavior online. "Now I don't publish goofy jokes on Facebook and I make stories from bars only visible to my close friends—I just don't want to set a bad example for anyone," Yulia explains.
There is also an option to post a question on the site or ask for advice—anonymously, of course. The most common question is how to properly have sex for the first time. "My stepdad asks, 'How can you tell children how to have sex?'" Liza says. "Some people believe the more you tell kids about sex, the more sex they're going to have, but statistics show the opposite. Thanks to sex ed, teenagers have a more thoughtful attitude toward it and even put off having sex for the first time for a few years."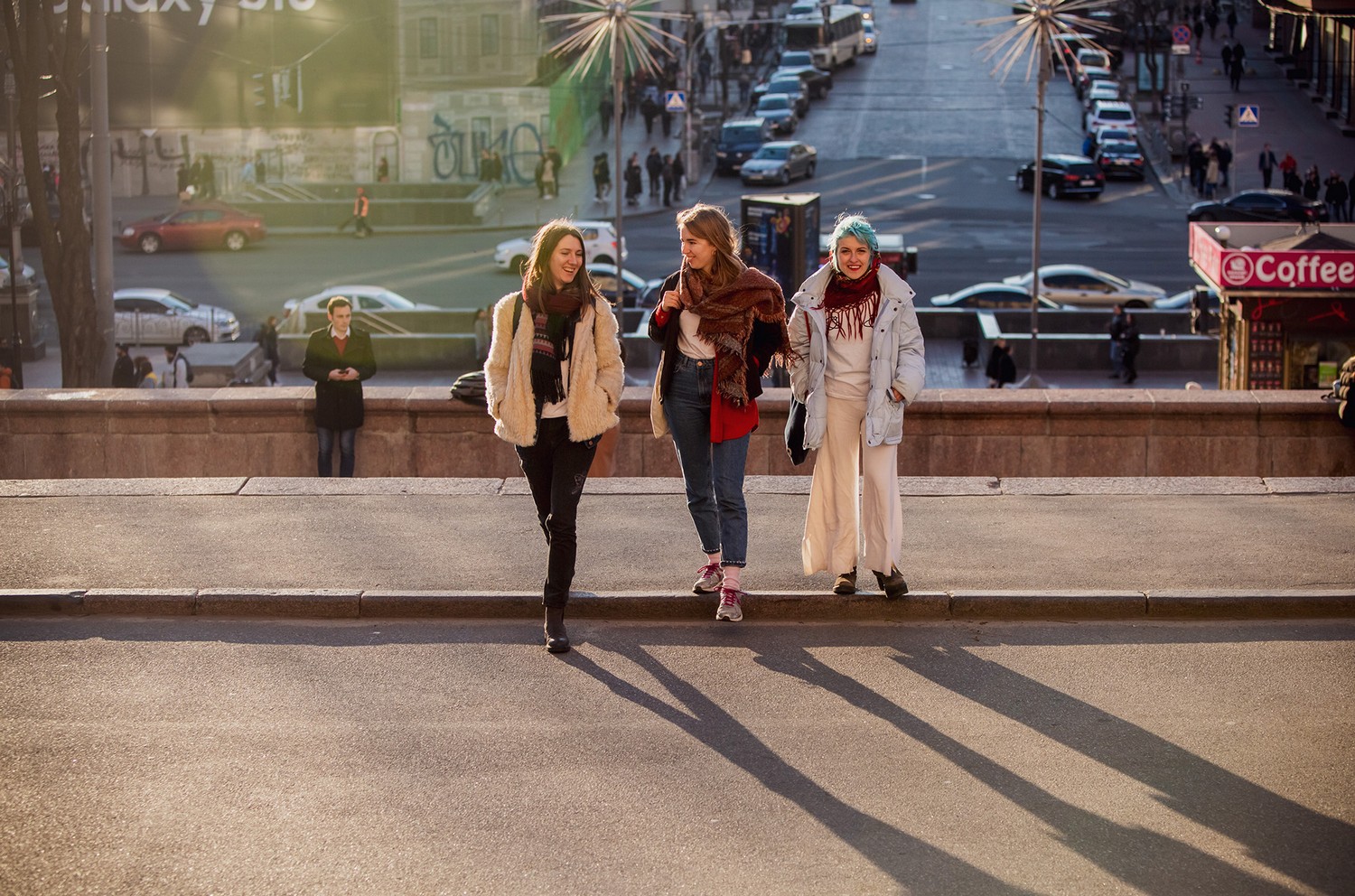 "I wish something like what we're doing now had existed when I was a teenager," Yulia says. Ten years ago, she was suffering from anorexia and bulimia, was shy about her small breasts, and thought all compliments she received were lies. To her mind, traditional gender roles are overly forced upon teenagers in Ukraine: girls have to be pretty and must shave, and boys have to be successful and not show their emotions. "All of this affects self-esteem and prevents us from discovering aspects of ourselves that society could take as unfeminine or unmasculine," she explains. "I'd like to change this."
The Event Horizon
An enormous, colorful, somewhat other-worldly kite floats over to a class from a Lviv boarding school for children with disabilities. Katia is behind it. "This is Alex the Alien. He's on our planet for the first time, so he has a few questions," Katia introduced the kite to the 7th, 8th, and 9th graders present. The kite flew over to one of the boys:
"Listen, on our planet everyone is the same sex, but you have girls and boys. What distinguishes them from each other? Are you a boy or a girl?
"A boy."
"Why are you a boy?"
"Well, I have short hair."
"Today I saw a woman with short hair. At least she said she was a woman. Are there no women with short hair?"
"There are. . . but I wear pants."
"Katia is also wearing pants. Is she a boy, too?"
"No. . ." .
"I know what the difference is!" the youngest—a fifth-grade girl who asked to go to the event and has proven the most active—suddenly exclaims. "Girls have breasts!" And thus, as part of the Big Day of Inclusion, Katia started talking to schoolchildren about the intimate zones of their bodies that no one else can touch without their permission, about the proper names of sex organs, and about active consent.
"You have to use a toy that doesn't look like a person so that kids start talking about the taboo subjects they're embarrassed about with strangers through games and laughter," Katia explains. This was For the First Time's first in-person event.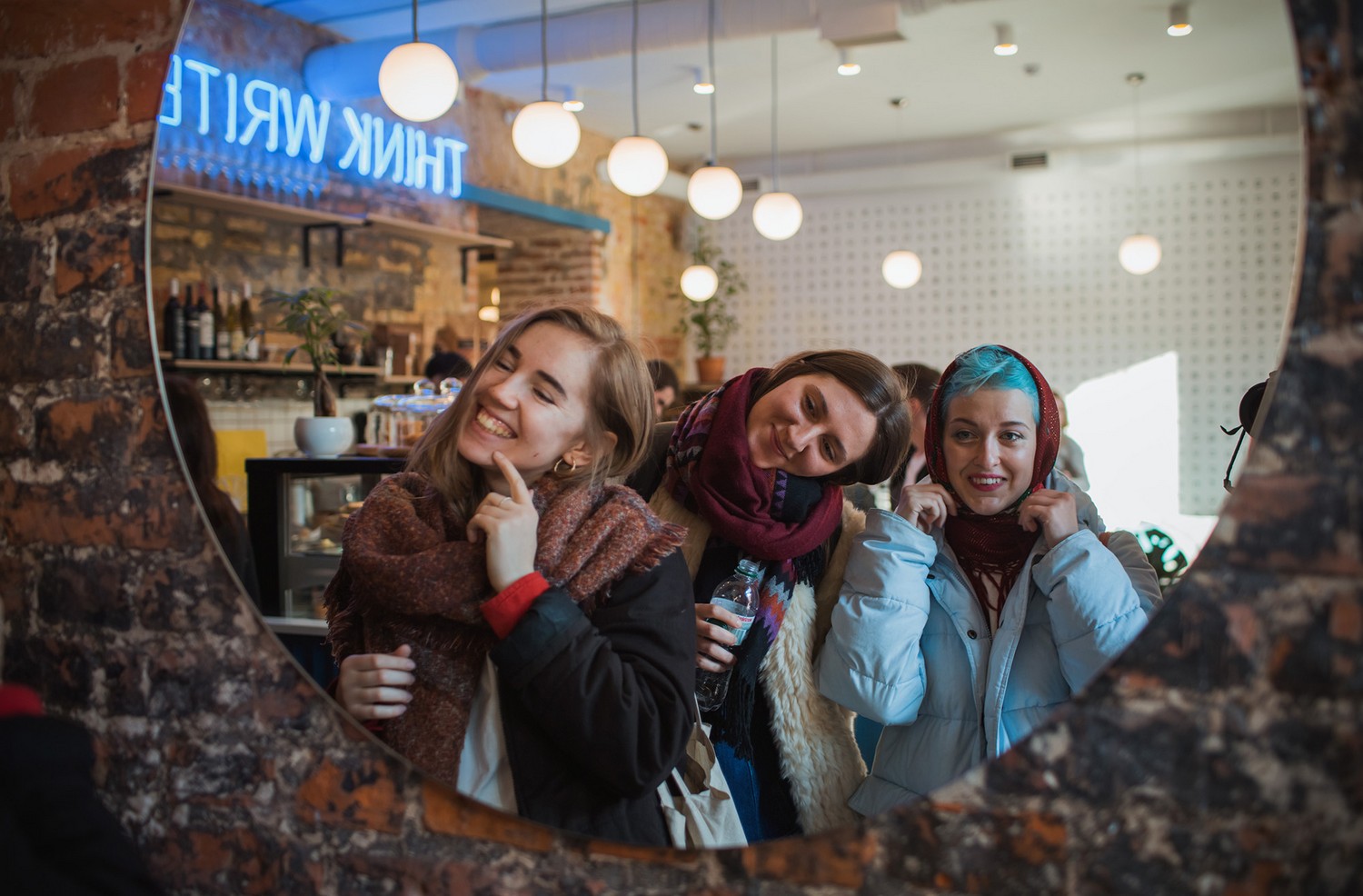 Teaching sex ed offline is a bit more complicated than online. For example, at Gogol Fest, a lecture by the founder of the festival was planned to start at the same time as Yulia's and initially only two or three people showed up. How can you deliver a lecture to so few people? Later some more people showed up, but the power went out. How can you deliver a lecture without a presentation? "The curator came with a flashlight and said that this had been done on purpose for an intimate atmosphere. And then the questions started. The lecture was supposed to last an hour, but it went on for two, and then teens followed me around with their questions," Yulia recalls.
Their lecture at the Lviv library was a challenge for the young women. They were afraid that rightist activists could show up. Katia even asked her boyfriend, an American soldier, to stand guard at the door. But it wasn't necessary. "I think we were saved by the intimate setting," she says. "We have few users, so we hadn't even landed on the right's radar. Besides that, we're a Ukrainian-language project. If we had been talking about controversial subjects in Russian, there would be more space for criticism."
"Offline communication is cool because you immediately see the effect of this information on other people. Someone asked us how to say 'no' and then thanked us: 'You've given me confidence,'" Yulia says. "This is why sex ed is important." "The first ten times you say the word 'sex' in front of school kids they're going to laugh, but then they get used to it and stop. They have a lot of questions and they take condoms without any shame," says Katia.
Among older people, the young women explain, there are lots who don't know what lube is. The twenty-five-year-olds are most interested in the topic of safety—contraception and sexually transmitted diseases. Teenagers have a bunch of questions about having sex for the first time—when to start, what to do, if you're not ready and your partner is pushing you.
In the fall the young women joined the Teenergizer project, an initiative of the National Youth Council of Ukraine to come up with recommendations for parliament on how to start formal and informal sex ed in Ukraine
In the fall the young women joined an initiative of the Teenergizer project and the National Youth Council of Ukraine to come up with recommendations for parliament on how to start formal and informal sex ed in Ukraine. The majority of For the First Time's meetings happen online over Skype and Facebook Messenger since it's hard to get everyone together in the same place.
Yulia recently completed her master's in Berlin; the publication Kloop took Katia off to Kyrgyzstan. Liza is the only one who lives permanently in Ukraine. Simultaneously with the launch of For the First Time in late summer, the team for one of the current presidential candidates offered Liza a job. "But we quickly got sick of each other," she recalls. At the present, Liza works as a freelancer for other projects since everyone in For the First Time works on a volunteer basis.
A few months after they launched their site, the young women registered their community organization. "We want For the First Time to always be free for teenagers, our target audience. For us to be able to do this and also have money to eat, we need funding which is much easier to get when you're a registered CO," explains Katia, who six months ago was the PR manager for the CO Building Ukraine Together, as a way of understanding how the entire civil sector works in general.
The young women have already applied for grants and appealed to international organizations for aid, but for now their only real money came in December when Katia announced a crowdfunding campaign on her Facebook page for her birthday. "Unfortunately, everyone around us, potential donors in particular, think that if we're doing this cool project we must have money," Katia explains. "But we understand that this is super important. Sometimes I have the feeling that I'm wasting my time on the things that actually pay me money, but not on For the First Time."
For now the project is still in its beta version. It's mostly made up of texts that teenagers don't really read. This is why the young women are planning to "youthify" For the First Time by adding games, tests, and other interactive formats.
By expanding the galaxy.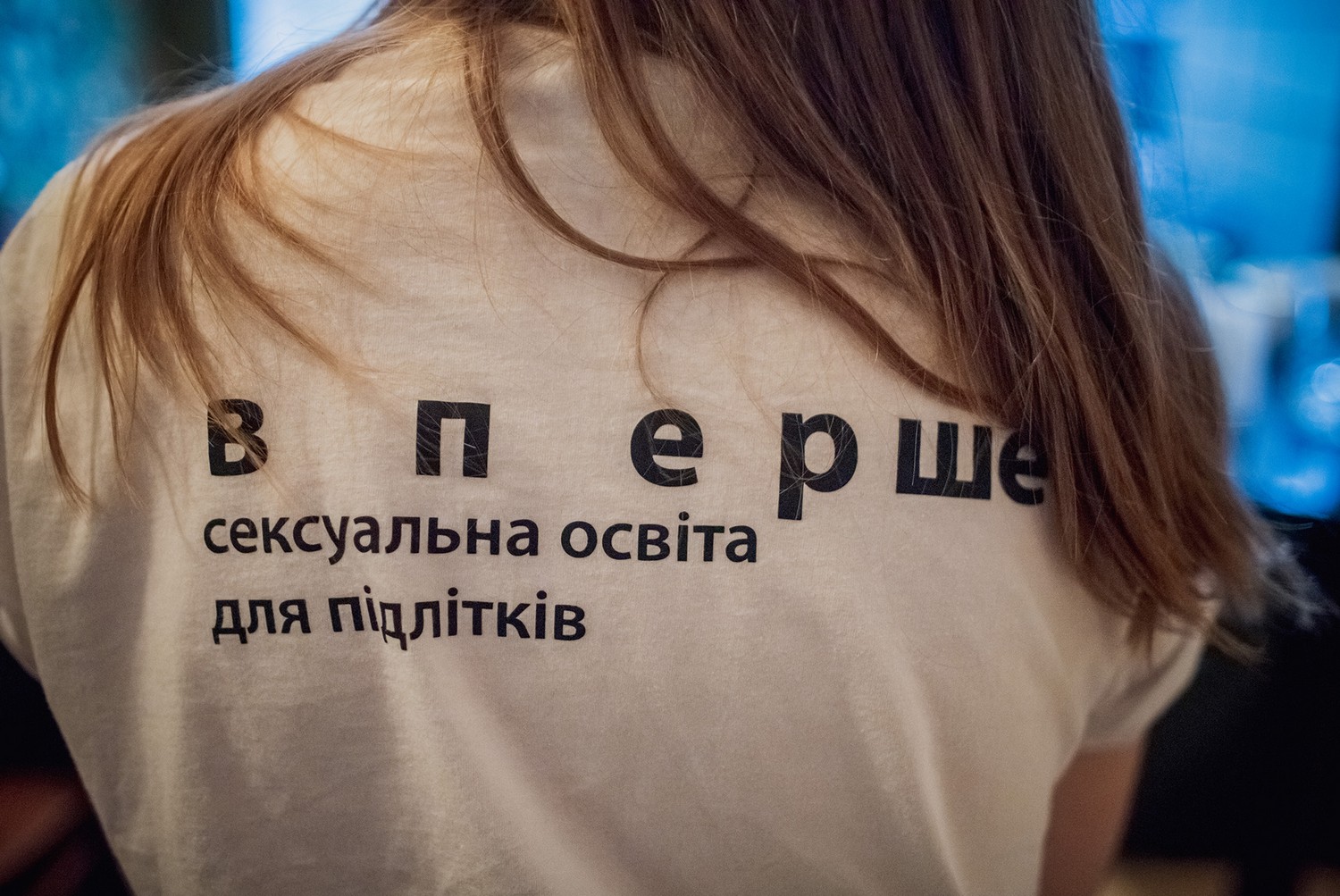 Translated by Ali Kinsella.
[This publication was created with support of the Royal Norwegian Embassy in Ukraine. The views and opinions expressed in this publication are those of the authors and do not necessarily reflect the official position of the Norwegian government].
Дочитали до кінця! Що далі?
Далі — невеличке прохання. Будувати медіа в Україні — справа нелегка. Вона вимагає особливого досвіду, знань і ресурсів. А літературний репортаж — це ще й один із найдорожчих жанрів журналістики. Тому ми потребуємо вашої підтримки.
У нас немає інвесторів чи «дружніх політиків» — ми завжди були незалежними. Єдина залежність, яку хотілося б мати — залежність від освічених і небайдужих читачів. Запрошуємо вас приєднатися до нашої Спільноти.